Trump stumps for Georgia Republican as Dems spend big for historic upset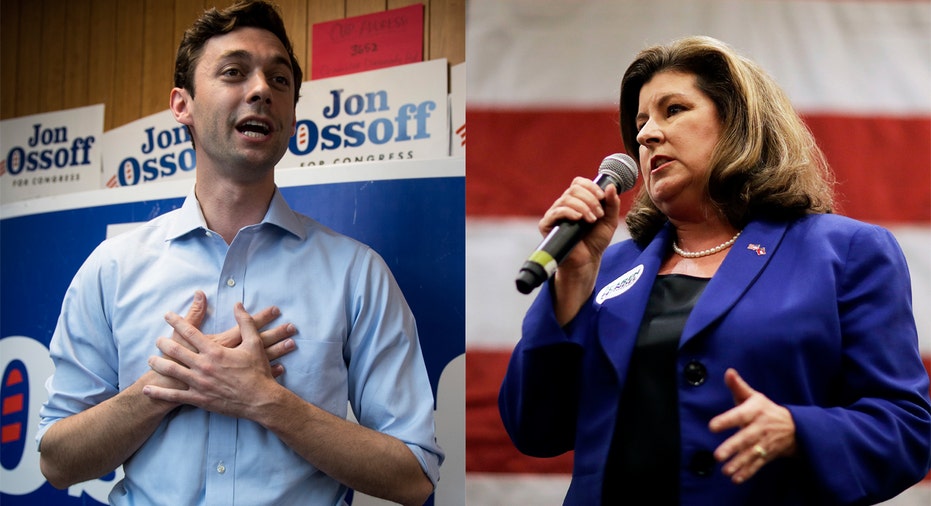 Georgia's special runoff election between Republican Karen Handel and Democrat Jon Ossoff has morphed into a battle for national party dominance with millions of dollars on the line.
Republicans, who have historically held the seat, are looking for a Handel win to boost momentum for their legislative agenda as roadblocks have stalled progress on big ticket policies such as tax reform and health care – key cornerstones of Trump's campaign.
"A [Republican] loss will signal momentum for the Democrats, especially picking up a seat once held by [former House] Speaker Newt Gingrich and HHS Secretary Tom Price," Kevin Paul Scott, an Atlanta-based Republican strategist, told FOX Business.
Handel, who leads in local fundraising, has drawn most of her funds, $1.3 million, from Georgia, followed by $332,252 from Washington, D.C. and $170,143 from Virginia. Her total contributions clock in at about $4.3 million.
However, Democrats have elevated 30-year old Ossoff to national fame with $23.6 million in total contributions to match. Since the beginning of the election cycle, Ossoff has received $1.6 million in donations from California, $1.2 million from New York and $962,617 from Georgia, according to the Federal Election Commission. He also boasts endorsements from political legends including civil rights icon John Lewis, actress Jane Fonda, as well as a string of celebrities such as comedian Chelsea Handler and television personality Rosie O'Donnell.
Some believe the national to local funding imbalance could make Ossoff less accountable to the constituents he would be elected to represent.
"[Ossoff] will feel a stronger sense of accountability to the extreme left of the Democratic Party than the voters of the 6th district of Georgia," Scott said.
The 6th Congressional District seat was vacated by Health and Human Services Secretary Tom Price earlier this year. Price had occupied the seat since 2004, in a district that has been under Republican control for decades.
While President Trump barely edged out a victory in Georgia's 6th district over rival Hillary Clinton this past November — by a margin of just 1.5 percentage points — Rep. Tom Price won the seat handily, by more than 23 percentage points. Polling data suggests the race Tuesday will be very tight.
President Donald Trump took to Twitter Monday to stump for Handel, warning Americans that health care and tax reform are on the line.
....because he doesn't even live there! He wants to raise taxes and kill healthcare. On Tuesday, #VoteKarenHandel.

— Donald J. Trump (@realDonaldTrump) June 19, 2017
A win by Ossoff would be the first Georgia Congressional seat to flip during a special election since 1872, according to an analysis by the University of Minnesota.