Trump promises high paying jobs with new apprenticeship order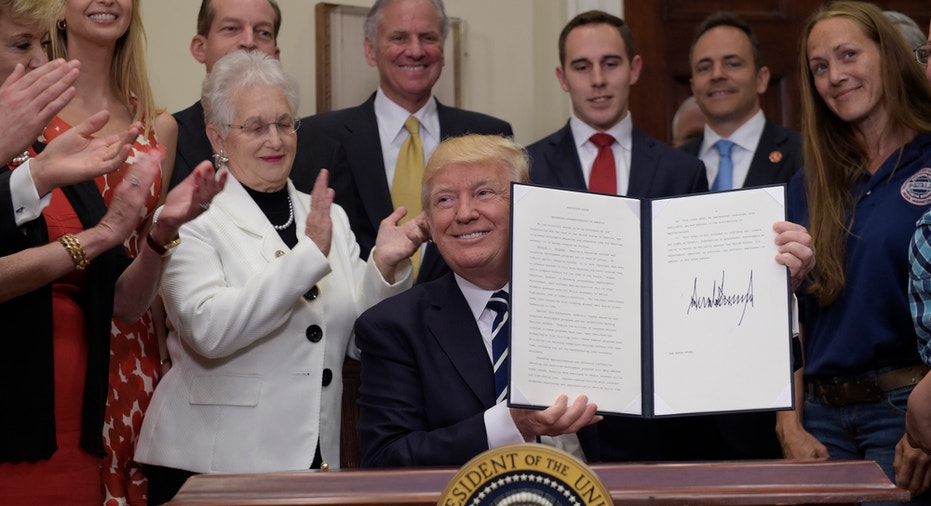 President Donald Trump issued an executive order Thursday to expand apprenticeship programs in an effort to close the skills gap weighing on businesses and workers in the nation's labor market.
"We're empowering these companies, these unions … to go out and create new apprenticeships for millions of our citizens … [to] place students into great jobs without crippling debt ... instead apprentices earn while they learn," Trump said Thursday.
The order, developed with the help of the Department of Labor, will give businesses, trade unions and other third parties more flexibility to develop "high-quality" technical education programs that could be eligible for expedited review by the Department of Labor, according to an administration official. It will also provide more funding and create a task force of business leaders to help promote the programs across new sectors, as well as assess the effectiveness of the job-training programs currently in place.
White House officials have pointed to 6 million job openings across the United States—the highest level since 1980, it says—and the 8.4 percent U-6 unemployment rate as illustrative of the skills gap in action. Americans want to work, but executives are having trouble finding workers with the appropriate skills to fill open positions, they say. Labor Secretary Alexander Acosta and Trump's special adviser, daughter Ivanka Trump, have said this week that apprenticeship programs are a way to equip workers with the necessary training so these jobs don't remain unfilled.
The president has sold training programs as an affordable and secure alternative to a traditional four year degree. The administration said Thursday that 90 percent of apprentices find employment upon completing their training programs and the average starting salary is $60,000. Technical program grads also see a "$300,000 lifetime increase in earnings" and don't owe student loans, according to the administration.
Secretary Acosta said earlier this week business leaders have been eager to work with the administration on workforce development and indicated apprentices are in demand across the labor market. Amazon (NASDAQ:AMZN), which currently offers a "career-choice" training program, expects its level of participants to double by the year 2020, according to Dave Clarke, the company's SVP of Worldwide Operations.
Ivanka Trump met with business leaders Wednesday in a roundtable discussion on workforce development and one of the CEOs in attendance, Judith Marks of Siemens, told FOX Business the meetings with administration officials have been "very positive" and helpful for both sides. She also said it was important to implement these programs at the local—not federal—level because that allows businesses to work with community colleges to develop the appropriate curriculums.
Next week Congress will vote on the Perkins Act, which would increase appropriations for career-technical education programs to $1.23 billion by 2022 and return oversight authority from federal officials to local ones. The bill has enjoyed the support of lawmakers from both sides of the aisle.