Trump government shutdown threat rattles markets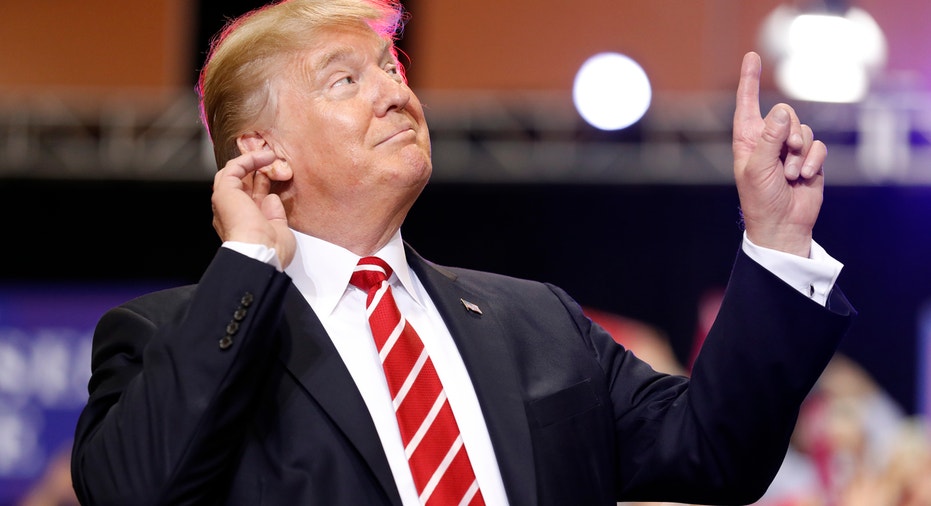 President Donald Trump's threat to shut down the U.S. government to secure funding for a wall along the Mexican border rattled markets on Wednesday and cast a shadow over coming efforts in Congress to agree to raise the country's debt ceiling and pass spending bills.
Wall Street analysts estimate Congress has just 12 working days when it returns from its summer recess on Sept. 5 to raise the debt ceiling before the U.S. Treasury exhausts the last of its options to remain current on all of the federal government's obligations.
With that deadline looming in early October and Trump raising the prospect of a government shutdown in a speech on Tuesday evening if Congress does not agree to fund the wall, U.S. stocks and the dollar weakened, and investors pivoted to the safety of U.S. Treasury securities on Wednesday.
The Dow Jones Industrial Average fell about 0.3 percent, the S&P 500 dropped 0.25 percent and the Nasdaq Composite slid 0.32 percent. The benchmark S&P also fell below its 50-day moving average again on Wednesday, a key level it has struggled to maintain since falling below on Aug. 10.
Credit ratings agency Fitch said on Wednesday that if the debt ceiling is not raised in a timely manner, it would review the U.S. sovereign debt rating, which is its measure of confidence in the soundness of the U.S. economy.
Trump made building a border wall to deter illegal immigration a central part of his 2016 election campaign but the issue of funding it has not gained traction as many lawmakers question whether it is necessary.
"If we have to close down our government, we're building that wall," Trump said at a rally in Phoenix. "We're going to have our wall. The American people voted for immigration control. We're going to get that wall."
The debt ceiling will be among the first order of business for Congress when lawmakers return from their summer break next month. Republicans control both chambers of Congress as well as the White House but have yet to pass any significant legislation this year. In addition to raising the ceiling on the amount the United States may borrow, they want to pass a budget blueprint for the fiscal year beginning on Oct. 1.
DOESN'T INSPIRE CONFIDENCE
"Trump saying he would be willing to shut down the government over the wall obviously doesn't really inspire much confidence in anyone," said Michael O'Rourke, chief market strategist at JonesTrading in Greenwich, Connecticut.
"Even if it is just a negotiating tactic, the overwhelming majority of the country and definitely most people in financial markets don't think that is an issue worth shutting the government down over."
Democrats also slammed Trump for his threat about the wall funding.
"If the president pursues this path, against the wishes of both Republicans and Democrats, as well as the majority of the American people, he will be heading towards a government shutdown which nobody will like and which won't accomplish anything," Senate Democratic Leader Chuck Schumer said in a statement.
Even before Trump's comments on wall funding, Republican lawmakers faced the hurdle of reconciling traditional party divisions between hard-line fiscal conservatives and more moderate figures.
The Trump administration has asked Congress to extend the federal borrowing capacity to meet U.S. payment obligations with a "clean" bill that does not include any other provisions, something that Republicans who seek conditions to rein in spending may well balk at.
DISTRACTIONS
U.S. stocks, cheered by Trump's election in November and his promises of a business-friendly agenda that includes tax cuts, have stumbled in recent weeks as a result of turmoil in Washington, with the Trump administration repeatedly distracted by controversies and tensions with North Korea.
"The bottom line is the administration and Congress have proven incapable of passing anything and getting anything done," said O'Rourke of JonesTrading.
Notably, one corner of the Treasury market was not benefiting from investors seeking safe haven in that area on Wednesday.
Treasury bills maturing on or near the perceived deadline for the debt ceiling to be raised were under pressure, with their yields rising even as longer-dated Treasury yields fell.
This reflected a modest but growing concern that should Congress fail to raise the ceiling, the U.S. government might be considered to be in technical default as it could be forced to prioritize payments to creditors.
Trump's Phoenix rally was part of an early re-election campaign effort. His campaign sent out an email on Wednesday asking recipients to sign a petition to senators to approve wall funding.
Past episodes when the debt ceiling has become a political football have triggered rough spells for the market, and a standoff in August 2011 famously cost the United States its top-notch bond rating from credit rating agency Standard & Poor's.
Then, the political jostling between congressional Republicans and the Obama administration as the debt ceiling deadline approached resulted in the most jarring two weeks financial markets have endured since the 2007-2009 global financial crisis.
The S&P 500 fell nearly 17 percent in 11 trading days and benchmark 10-year Treasury note yields plunged nearly a full percentage point in the same period. Although lawmakers came to a last-minute agreement to stave off default, S&P followed through with its threat to downgrade the U.S. credit rating, lowering it from "AAA" to "AA+."
(Reporting by Chuck Mikolajczak in New York and Doina Chiacu in Washington; Additional reporting by Karen Brettell, Dion Rabouin, Sinead Carew, Sam Forgione and Richard Leong in New York; Tim Ahmann in Washington; Writing by Dan Burns and Frances Kerry; Editing by Bill Trott)