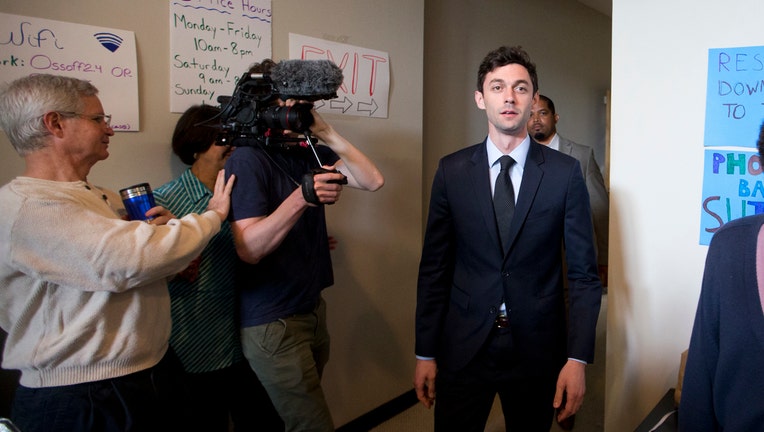 The special election to fill Health and Human Services Secretary Tom Price's vacated Georgia House seat Tuesday has the GOP on edge, as liberals across the nation toss money at their top candidate hoping to inject momentum into a party struggling to find its way in the wake of the 2016 election.
"This election is significant because the Democrats have made it a referendum on Trump. A Democrat win in a very Republican district would provide much needed momentum for a flailing Democratic Party," Kevin Paul Scott, an Atlanta-based Republican strategist, told FOX Business.
The front-runner, a Democratic, 30-year old political newcomer, Jon Ossoff, has garnered national attention in recent months and even drew the ire of President Donald Trump Tuesday morning.
Democrat Jon Ossoff would be a disaster in Congress. VERY weak on crime and illegal immigration, bad for jobs and wants higher taxes. Say NO

— Donald J. Trump (@realDonaldTrump) April 18, 2017
Republicans must get out today and VOTE in Georgia 6. Force runoff and easy win! Dem Ossoff will raise your taxes-very bad on crime & 2nd A.

— Donald J. Trump (@realDonaldTrump) April 18, 2017
Ossoff has raised more than $8.3 million for his House campaign from 200,000 donors across the country, according to the latest FEC report. In fact, 95 percent of his donations are from out of state. He has endorsements from a string of celebrities and political legends including civil rights icon John Lewis, actress Jane Fonda, comedian Chelsea Handler and television personality Rosie O'Donnell.
On the other hand, one of the Republican front-runners — former Georgia Secretary of State Karen Handel — said 90 percent of her donations have come from in-state sources. Her campaign said it has raised $436,000.
"Ossoff is the hand-picked candidate of liberal elites, almost completely funded from out-of-state. The only reason this is even a race is due to a deep Republican bench in the 6th district, with a great slate of candidates vying for the job," Paul said.
Tom Price has occupied the seat in question since 2004 and it has been under Republican control for decades. If Ossoff were to best his Republican opponents, it would be the first time a Georgia Congressional seat flipped during a special election since 1872, according to a political scientist at the University of Minnesota.
"For [Republicans] it's not a good sign when they have to pour money into districts that have been easy wins for them," Atima Omara, a Democratic National Committee member, told FOX Business.
As Democrats look ahead to the 2017 gubernatorial races and the 2018 mid-term elections, a win in a district that traditionally hasn't even been on their radar could provide a much needed source of hope for the party, which lost pointedly in November.
"[This is people] wanting to see change in Washington, a continued rebelling against the Trump administration and what Republicans are doing in Congress … for 2018, I think that will continue," Omara said.
More from FOXBusiness.com...
If one or both chambers of Congress flip in 2018, that could put a larger dent in the Trump administration's policy agenda, which is off to a slow start so far this year. The administration has yet to pass any major pieces of legislation requiring Congressional approval.
There are 18 political hopefuls in the race and the all-candidates primary requires the winner to secure more than 50 percent of the vote or the race will advance to a runoff election between the top two contenders. A runoff election would take place on June 20.
While President Trump barely edged out a victory in Georgia's 6th district over rival Hillary Clinton this past November—by a margin of just 1.5 percentage points—Rep. Tom Price won the seat handily, by more than 23 percentage points.