Top Senate Democrat Promises Fight to Block Trump High Court Pick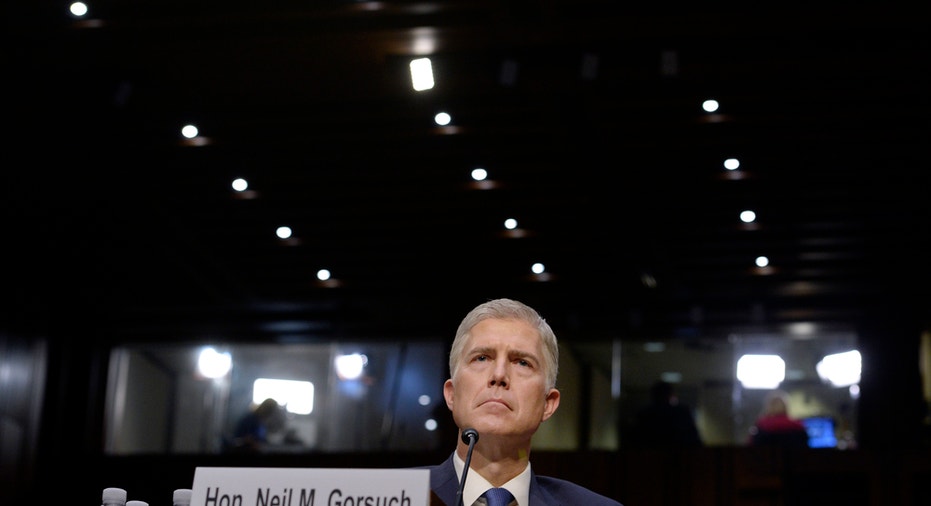 The top U.S. Senate Democrat on Thursday pledged to pursue a procedural hurdle to try to block the confirmation of Republican President Donald Trump's Supreme Court nominee Neil Gorsuch, a move that could provoke a nasty partisan fight and change the way the Senate does business.
Republicans hold a 52-48 majority in the 100-member Senate, leaving Democrats with an uphill battle to prevent Gorsuch's confirmation. But Senate rules enable them to insist on 60 votes to clear a procedural move known as a filibuster to allow a final up-or-down vote on confirming Gorsuch to the lifetime job on the nation's highest court.
Trump has called on Senate Republicans to change the long-standing rules in order to allow a simple majority vote on confirmation if Democrats resort to a filibuster. If eventually confirmed as expected, the federal appeals court judge from Colorado would restore a conservative majority on the nine-seat high court, fulfilling one of Trump's top campaign promises.
As the Judiciary Committee opened its fourth and final day of Gorsuch's confirmation hearing, the spotlight turned to whether he gains the support of vulnerable Democratic senators facing re-election in 2018. The support of eight Democrats would short-circuit a filibuster.
"After careful deliberation, I have concluded that I cannot support Judge Neil Gorsuch's nomination to the Supreme Court," Democratic leader Chuck Schumer said on the Senate floor, a day after Gorsuch finished marathon Judiciary Committee testimony.
"He will have to earn 60 votes for confirmation. My vote will be 'no,' and I urge my colleagues to do the same."
Democratic committee members on Tuesday and Wednesday pressed Gorsuch on rulings he participated in that they said showed a inclination to decide in favor of corporate interests and against what they called "the little guy." Democrats expressed frustration about Gorsuch's refusal to answer questions on whether landmark Supreme Court rulings favoring abortion, contraception and gay rights were correctly decided.
Conservative activists have said they have identified 10 possible "yes" votes for Gorsuch among Democrats seeking 2018 re-election in states Trump won in the 2016 presidential election.
Democratic Senator Bob Casey, up for re-election in 2018 in one of those states, Pennsylvania, announced on Thursday he would vote against Gorsuch and support a filibuster.
"I don't believe that Judge Gorsuch, his judicial approach, would ensure fairness for workers and families in Pennsylvania," Casey said, expressing "serious concerns about Judge Gorsuch's rigid and restrictive judicial philosophy."
Casey said he was unaware of any discussions among Democrats about a deal to advance Gorsuch's nomination in return for a guarantee from Republicans that the next Supreme Court nomination would need 60 votes to proceed to a Senate confirmation vote.
Democratic Senator Tammy Baldwin, facing re-election in Wisconsin next year, also opposes the nomination, a spokesman said. West Virginia's Joe Manchin and Florida's Bill Nelson, Democrats facing voters next year, remain undecided on Gorsuch, their spokesmen told Reuters.
Several Judiciary Committee Democrats, including its top Democrat Dianne Feinstein, told Reuters they would not comment on whether they would support a filibuster.
UP FOR GRABS
Another vote potentially up for grabs is that of Michael Bennet, a Democrat from Gorsuch's home state of Colorado. He is not up for re-election next year and his state voted for Democrat Hillary Clinton in 2016. He introduced Gorsuch to the Judiciary Committee on Monday, but did not commit to supporting confirmation, promising an "open mind."
Schumer said Supreme Court nominees picked by the previous two presidents, Republican George W. Bush and Democrat Barack Obama, received at least 60 votes. If Gorsuch does not get such support, "the answer isn't to change the rules. It's to change the nominee," Schumer added.
Schumer said Gorsuch failed to convince him he would be "an independent check on a president who has shown almost no restraint from executive overreach" or that he would be a neutral justice "free from the biases of politics and ideology."
Gorsuch remained calm this week under sharp questioning by Democrats, paving the way for the Judiciary Committee to vote on the nomination on April 3.
Majority Leader Mitch McConnell plans a full Senate confirmation vote before senators begin a recess on April 7.
On Thursday, the committee heard from witnesses supporting and opposing Gorsuch, including representatives of the American Bar Association, the lawyers group that evaluates high court nominees and gave Gorsuch its highest rating of "well qualified."
Feinstein noted that Merrick Garland, Obama's Supreme Court nominee who the Republican-led Senate last year refused to consider for confirmation, also earned the ABA's highest rating.
Another witness was Jeff Perkins, father of an autistic son who Gorsuch ruled against in 2008 in a special-education dispute using legal reasoning repudiated by the Supreme Court in a related case on Wednesday.
Perkins said Gorsuch set a "new low standard" for educational benefits school districts must offer disabled students. "I was devastated," Perkins said of Gorsuch's ruling.
(By Lawrence Hurley and Andrew Chung; Additional reporting by Mohammad Zargham, Julia Edwards Ainsley, Dustin Volz and Timothy Gardner; Editing by Will Dunham)