Timing of Release of Donald Trump's Tax Plan Is in Dispute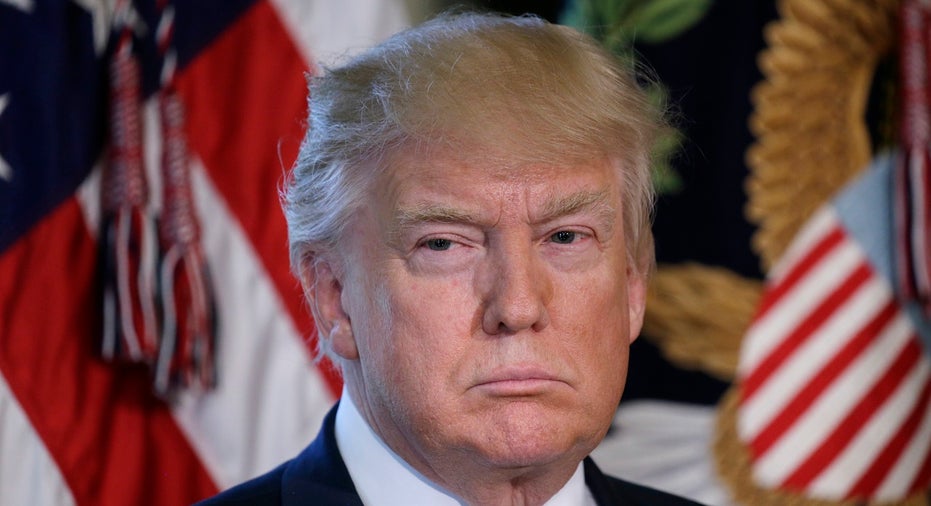 President Donald Trump said he would be making a "big announcement" next week about his proposal for overhauling the tax code, but his budget director said that it might be June before the White House releases its detailed plan, and that even broad principles could be weeks away.
In brief remarks while signing executive orders on Friday, Mr. Trump didn't go into any specifics about a tax proposal that was one of the central promises of his 2016 presidential bid. But with the 100-day milestone arriving on April 29, the White House has seemed eager to show it is leaving an early imprint on the nation.
The tax overhaul "process has begun long ago, but it really formally begins on Wednesday, so go to it," Mr. Trump said during a visit to Treasury Secretary Steven Mnuchin's office across the street from the White House.
Earlier in the day, Mr. Trump told the Associated Press in an interview that businesses and individuals can expect to receive a "massive tax cut" under his plan. The package, he said, would be released on "Wednesday or shortly thereafter."
Senior administration economic officials were caught off-guard by Mr. Trump's comments. White House aides and lawmakers have said the work is proceeding more slowly, with fundamental questions still unresolved about which taxes would be targeted and how rates would change.
Mick Mulvaney, Mr. Trump's budget director, said in an interview Friday -- before Mr. Trump's remarks were publicized -- that he didn't believe the administration would release a specific tax plan by the time it puts out its official budget at the end of May.
"You might see us floating some principles before then," Mr. Mulvaney said. "But in terms of a piece of paper you can look at and say, 'Here's our bill.' I don't think it will be ready by May."
It wasn't clear Friday how to reconcile the diverging timetables of Mr. Trump and his budget director, or whether the administration would be prepared to release any new tax details by next week. Administration officials have sent mixed signals on its tax plans. Last week, Mr. Trump said he wanted to advance a health-care overhaul first and didn't want to discuss taxes.
Asked about Mr. Trump's statement, a White House aide said the president allowed himself some "wiggle room" in saying the announcement could come Wednesday or "shortly thereafter."
Trump economic advisers have been meeting privately with lawmakers to try to reach a consensus on a tax plan, hoping to avoid the sort of partisan splits that led to the collapse of a proposed health-care overhaul last month.
The plan as described by Mr. Mulvaney still seemed a work in progress. He described officials, in internal meetings, posting on a "white board" different approaches, including a payroll tax cut aimed at easing the financial burdens of middle-class households.
"We're going through a process right now," Mr. Mulvaney said. "We're backing in. We're starting with a concept of dramatic economic growth and how we get tax policies that accomplish that."
Some key points remain unresolved. For instance, Mr. Mulvaney said the administration has yet to decide whether to try to raise as much revenue after any overhaul as the tax code currently pulls in. If the overhaul is revenue-neutral, that would allow the administration to advance legislation through the Senate with a 51-vote majority with changes that are permanent. If the bill adds to the deficit over a decade, on the other hand, the tax-code changes would expire after nine years.
White House National Economic Council Director Gary Cohn on Thursday indicated any changes to the tax code needed to be permanent to substantially boost business investment, suggesting the administration will opt for a revenue-neutral bill.
A risk for the administration is that overpromising on substance could ultimately disappoint markets, which initially rallied strongly after Mr. Trump's election but have given up some of those gains in recent weeks.
Mr. Trump "is still using campaign-style rhetoric when the market has begun to expect legislative language. There's a seeming chasm between the president's expectations and the legislative realities," said Isaac Boltansky, an analyst at Compass Point Research & Trading, an investment firm focused on the financial-services sector.
The Dow Jones Industrial Average closed down 0.15%, or 30.95 points, to 20547.76 on Friday, a day after rallying following comments where Mr. Mnuchin said tax plans were advancing apace. Markets are up 3.6% since Mr. Trump's inauguration in January but down 2.7% from the peak on March 1.
While Mr. Trump tries to make good on his tax pledge, he is also facing the prospect of a partial government shutdown when the current bill funding the government expires on April 29.
Mr. Mulvaney said Friday the administration doesn't expect any lapse in funding, but the Office of Management and Budget notified government agencies to begin preparations on Friday for a partial shutdown just in case.
Funding for a border wall is Mr. Trump's top priority in negotiations with Democrats on legislation to keep the government funded, Mr. Mulvaney said.
In exchange, the White House was ready to agree to Democrats' request to continue funding payments that help support an Affordable Care Act provision to lower costs for low-income consumers.
Mr. Trump had threatened last week to withhold what are known as "cost-sharing" payments provided by ACA after a federal judge ruled the payments weren't appropriately authorized by the Obama administration.
Democrats have sought assurances that the payments will be funded. An abrupt withdrawal would pose an immediate threat to fragile health-insurance markets.
"The idea of funding Obamacare is about as troublesome for us as building a wall is for them, but again, this is how negotiations are supposed to -- how deals are supposed to -- get done," said Mr. Mulvaney.
He suggested the White House won't budge on its request for money to build the border wall. "From the very first day, the wall remains our top priority," Mr. Mulvaney said.
Democrats said the Trump administration is injecting new demands into the negotiations that increase the risk of a shutdown.
One Democratic leadership aide said Friday: "The president ran for office saying the border wall would be paid for by Mexico."