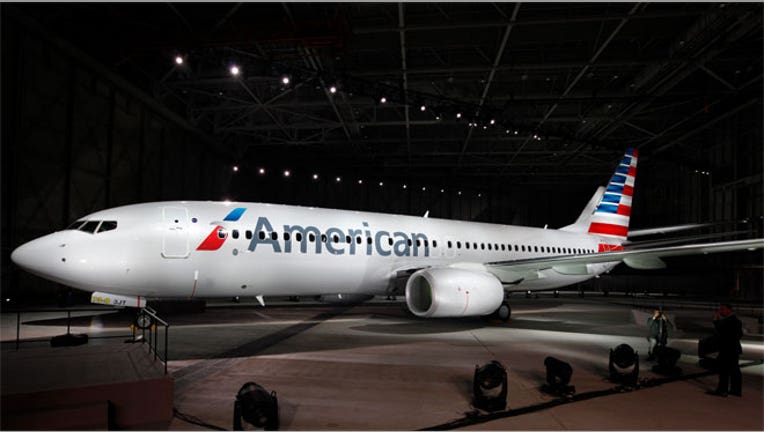 After barely batting an eye at a series of major consolidations in the airline space, the Justice Department rocked the industry on Tuesday by unleashing a full-frontal assault on the proposed $11 billion merger of American Airlines and US Airways (NYSE:LCC).
The government's decision to file suit to block the creation of the world's largest airline was fueled by concerns the tie-up will allow carriers to jack up prices on consumers and create a monopoly in certain markets.
Despite the tough talk coming from Washington, the nature of the airline industry makes it easy to see how American and US Airways can quickly placate the government's worries by agreeing to divest routes, landing rights or even terminals.
"My gut is telling me that at the end of the day these guys ought to be able to find a way to get this merger in some way, shape or form approved to satisfy the competitive concerns and take advantage of efficiencies," said John Mayo, a professor at Georgetown University.
If that line of thinking is true, the lawsuit represents a stepped-up negotiating tactic by the DOJ aimed at turning up the heat on the airlines and forcing them to agree to unload assets to save the marriage.
"The government is showing the cards in its hand and saying, 'Beat this. We're willing to go to court so either give us what we want or we're going to litigate this,'" said Ankur Kapoor, a partner at Constantine Cannon.
Of course, Kapoor said it's also possible the government has decided to really put the brakes on this deal, as it did in 2011 when the DOJ scuttled AT&T's (NYSE:T) proposed $39 billion acquisition of T-Mobile (NYSE:TMUS) over antitrust concerns.
'Competing' Arguments
With a judge poised to confirm the reorganization plan of bankrupt American Airlines parent AMR Corp. on Thursday, the decision to file suit to block the deal at this late stage took some by surprise.
"Once they were in the merger dance, the Justice Department should have made the appropriate noises," said Anthony Michael Sabino, a professor at St. John's University. Then again, he said, "maybe they waited until the last minute" to gain "leverage" in the negotiations.
Investors were certainly caught off guard. Shares of Tempe, Ariz.-based US Airways tumbled as much as 12% on Tuesday in response to the DOJ suit.
US Airways and American said they plan to "mount a vigorous and strong defense" against the DOJ and called the government's assessment of the merger "wrong."
"Blocking this procompetitive merger will deny customers access to a broader airline network that gives them more choices," the airlines said.
The government's case hinges on the argument that the US Airways/American tie-up will make the shrinking U.S. airline industry even more concentrated, with four airlines controlling more than 80% of the country's commercial air travel market.
Further, the merger would hand the combined company control of 69% of the takeoff and landing spots at the key hub of Washington Reagan National Airport, the government said.
'Straw That Broke the Camel's Back' 
Some airline execs raised their eyebrows at the DOJ's efforts to block this deal, considering it allowed the combinations of Delta Air Lines (NYSE:DAL) and Northwest, United Airlines and Continental (NYSE:UAL) and AirTran and Southwest (NYSE:LUV).
"Once you have permitted consolidation you've got to allow others to consolidate in order to sustain effective competition," Bob Crandall, former chairman of American Airlines, told FOX Business.
But Mayo said it's precisely because of those mergers that the government felt compelled to act.
"This is the straw that broke the camel's back. And it's a big straw. This is going to create the world's biggest airline," he said. "Those mergers have created both the potential for improved efficiency and financial stability, but they also begin to raise the specter of greater control by airlines over pricing."
Pricing concerns were highlighted by the DOJ suit, which pointed to 2012 comments from US Airways President Scott Kirby, who said fare increases were implemented "because of consolidation."
"Airlines are the ultimate mobile capital. If business isn't good in Milwaukee, they can move their business to Dallas."
Consolidation "allowed the industry to do things like ancillary revenue…That is a structural permanent change to the industry and one that's impossible to overstate the benefit from," Kirby said at an industry conference.
When DOJ officials "start hearing concerns about upward movement of pricing coming directly from the principals of a merger, they get really excited and nervous," said Mayo.
Those pricing comments represent "significant ammunition for the DOJ to move forward with the case," Mayo said. "The DOJ has enough clout, teeth and credibility to bring US Airways and American to the table. That's very clear."
Time to Talk Settlement?
The DOJ suggested it's open to a negotiated settlement, which is how earlier this year it resolved antitrust concerns over the $20.1 billion sale of a stake in Corona maker Grupo Modelo to Anheuser-Busch InBev (NYSE:BUD).
"If anyone wants to come to us and propose a settlement, we are always prepared to listen," Bill Baer, the assistant attorney general for the DOJ's antitrust division, told reporters on Tuesday in response to a question from FOX Business.
Sabino sees a 95% chance the antitrust suit will be negotiated out in the coming weeks or months, with the airlines agreeing to sell off routes, landing rights or terminals. Such a resolution would allow the government to settle the lawsuit and the bankruptcy judge to approve the deal.
"This one ought to be worked out because it is in a business space that is very amenable to that sort of remedy," said David Garcia, an antitrust partner at Sheppard Mullin.
That's because the DOJ complaint identifies more than 1,000 city pairs that it sees competitive issues in, giving a clear road map to a potential resolution.
By comparison, it's much tougher in other industries to persuade companies to give up major factories or entire product lines to satisfy antitrust concerns.
"Airlines are the ultimate mobile capital. If business isn't good in Milwaukee, they can move their business to Dallas," said Mayo. "There are going to be ready and willing buyers for those assets because of demand for passenger travel."
It'll be up to the American and US Airways to determine whether or not they can stomach enough asset sales to both satisfy the government's concerns and maintain the desired efficiencies.
Of course, the alternative is to either beat the government in court or risk going it alone against increasingly-dominant industry rivals.
FOX Business reporter Jennifer Booton contributed to this report.