The Honeymoon's Over on the Iran Nuclear Deal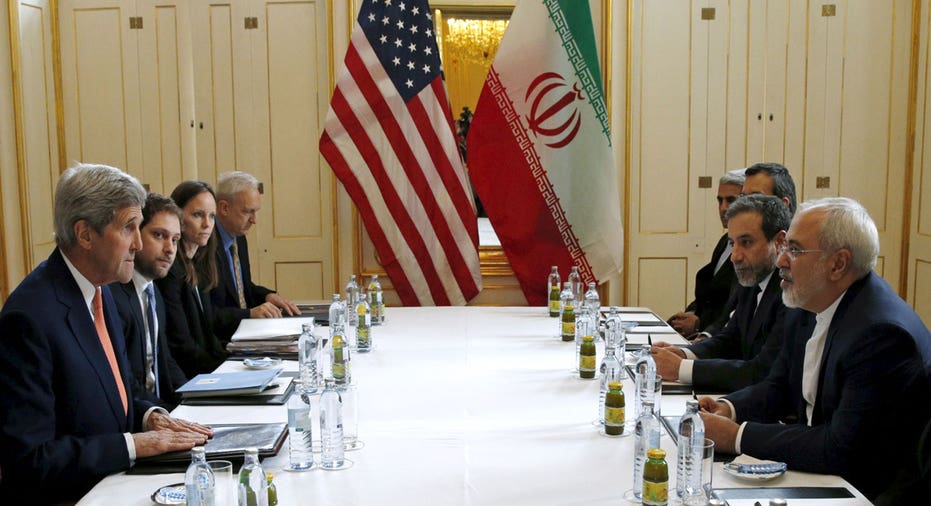 It's been one year since the U.S. signed a nuclear pact with the secular government of Iran.
In our time together we have gained some centrifuges but had to withstand some subterfuges too. Yes, we enjoy greater access to nuclear facilities once outside our reach. And heavy water excesses by Iran are now promptly remedied. But for all the benefits of getting inside Iran's velvet rope, lingering issues remain.
Iran continues to be a state sponsor of terror. Dark armies like Hamas, Hezbollah and Houthi rebels all enjoy the support of Iran. The nuclear agreement "calls for" a cessation of ballistic missile launches. Yet their rockets flew. Let's hope this misty language does not portend the fog of war. Of course German reports of continued attempts by Iranian interests to obtain nuclear material in the waning days of 2015 are brushed aside by the those who say the start date of prohibition was midnight New Year's Eve this year.                        
Such a comfort...
And Iran has quietly become the most powerful foreign nation in Iraq, deftly filling subtle and more obvious vacancies created by America's near-entire withdrawal as the terror group ISIS has claimed territory there.
Not convinced about the waning influence of American force in Iran? Western media has reported that the U.S. recommended that Mosul not Fallujah be the next city liberated from the caliphate's clutches. But the Iraqi government was persuaded otherwise—and all signals point to Iran.
Fallujah lies as close to Baghdad as Fort Worth, Texas is to Dallas. In other words, too close for comfort. Thus the U.S. was overruled, and our role in Fallujah was kept to 21 sorties and our Apache helicopters were on standby. Iraqi forces and Shiite militias took the lead.
Those Shiite militia forces, fortified by Tehran, led a surprising campaign with the Iraqi army spanning just weeks to reclaim Fallujah. It was common knowledge that ISIS forces and administrators considered Fallujah home. It wasn't shocking that the city fell so fast, but we didn't anticipate that ISIS would leave Fallujah somewhat intact--at least compared to its pattern of scorched earth and shattered architecture.
Shiite militia's like Fallujah too. They argue it is premature to withdraw. So they roost, causing angst among remaining Sunni families inside the city.  And a great many Sunni families, sensing Iran's long reach, won't return, forming a diaspora across Iraq and the Middle East.
Perhaps the prettiest lipstick we can put on the nuclear deal is that we are modestly closer to understanding what Iran is doing with its nuclear program, and we have begun to turn Iran into an entrepreneur's candy store for the West.
Already billions of dollars of deals have been inked with European companies to modernize Tehran's airport and transport the good citizens of the world. Iran estimates it needs at least 500 aircraft to replace its creaking airline fleet. The first big winner was Europe's Airbus agreeing to sell 118 jets to the long foreclosed trading partner. Not to be outdone, Mitsubishi of Japan just signed a deal for 80 regional jets for in-country travel. Embraer of Brazil and Bombardier of Canada are also in the hunt.
Most telling of all is America's Boeing (NYSE:BA) which just recently agreed to sell jets to Iran Air in a deal that could be worth $25 billion-- dwarfing any deal with Iran since the 1979 revolution. Our biggest deal in the region was a 2010 military aircraft deal worth $60 billion with longtime ally Saudi Arabia.
The trouble is Congress is saying "Not so fast!" Just weeks after Boeing announced its deal, the House of Representatives passed measures that may ban both the Boeing deal and the Airbus transaction—centerpieces of new Western relations with post nuclear-deal Iran.
The target of the measure is the Treasury Department's little known but powerful Office of Foreign Assets Control. They authorize licenses for Boeing and even for French based enterprises like Airbus—because some critical aircraft components are made in the USA. Senate approval stands between the signed measures and law, but for the time being these planes are in a ground hold on the runway.
Traditional first year anniversary gifts are paper—and both sides may be thinking their deal isn't worth what it is printed on.
Peter D. Kiernan is an award winning New York Times bestselling author who is also an entrepreneur, venture capitalist and philanthropist following a multi decade career on Wall Street. Today he spends much of his time fighting poverty as a 26 year member and former Chair of the board of the Robin Hood Foundation.
He is a regular contributor to the FOX Business Network and appears frequently on national TV and radio talk shows, as well as many different public forums.