The Highlights: Trump's First News Conference as President-Elect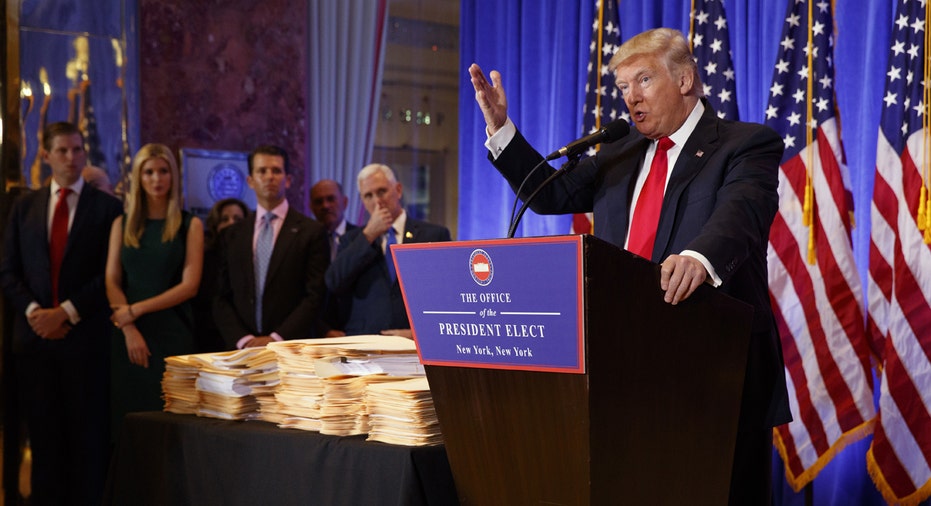 The following are highlights from U.S. President-elect Donald Trump's hour-long news conference in New York on Wednesday, nine days before he takes the oath of office.
TRUMP ON LATEST NEWS ON RUSSIA AND THE ELECTION
Trump blasted the release of an unsubstantiated intelligence report saying he had been compromised by Russia and was vulnerable to blackmail, characterizing it as "nonsense that was released by, maybe the intelligence agencies, who knows, but maybe the intelligence agencies ... It should never have been written, it should never have been released."
"I think it's a disgrace that information would be let out. It's all fake news. It didn't happen. It's phony stuff. It was a group of opponents who got together, sick people, who put that out."
"That's something that Nazi Germany would have done."
Responding to another question about the Russian report, he said, "I think it's pretty sad when intelligence reports are leaked out to the press. First of all, it's illegal."
The president-elect praised some news organizations, singling out The New York Times, for not initially reporting on the document, adding, "I just want to compliment many of the people in the room ... I have great respect for the news and great respect for freedom of the press."
Trump, who strongly criticized CNN for its reporting of the story, refused to take a question from a reporter for the network, telling him, "I'm not going to give you a question. You are fake news."
"Some of the media outlets we are dealing with are fake news ... All I can ask for are honest reporters."
"As far as hacking, I think it's Russia. But we also get hacked by other countries and other people and I can say that."
Asked whether he accepted that Russian President Vladimir Putin tried to help him win the presidential election, Trump said, "If Putin likes Donald Trump, I consider that an asset, not a liability."
"I have no dealings with Russia. I have no dealings in Russia...I have no loans with Russia at all."
TRUMP ON PHARMACEUTICAL COMPANIES
"We have to get our drug industry coming back," he said, adding it had been "disastrous and leaving left and right."
Trump also called for new bidding procedures for U.S. drug companies, saying, "They're getting away with murder (with drug prices) ... There's very little bidding for drugs. We're the largest buyer of drugs in the world and yet we don't bid properly. We're going to start bidding and we're going to start saving billions of dollars."
TRUMP ON HIS SUPREME COURT PICK
Asked about nominating a Supreme Court justice, Trump said, "So, as you know, I have a list of 20. I've gone through them. We've met with numerous candidates. They were outstanding in every case ... I'll be making the decision on who we will put up for justice of the United States Supreme Court, a replacement for the great, great Justice (Antonin) Scalia. That will be probably within two weeks of the 20th (of January). So within about two weeks, probably the second week.
"It will be a decision which I very strongly believe in. I think it's one of the reasons I got elected. I think the people of this country did not want to see what was happening with the Supreme Court. So, I think it was a very, very big decision as to why I was elected."
TRUMP ON MILITARY AIRCRAFT PROGRAMS
"The admirals have been fantastic, the generals have been fantastic" ... He said the F-35'S costs were "billions of dollars way over budget. "We're going to get those costs way down, and we're going to get some competition and it's going to be a beautiful thing."
TRUMP ON JOBS
"I said I will be the greatest jobs producer that God ever created, and I mean that."
TRUMP ON TALKS WITH MEXICO BEFORE BUILDING BORDER WALL
Trump said he would not wait for negotiations with Mexico to be completed before starting to build a wall along the two countries' border.
"I could wait about a year and a half until we finish our negotiations with Mexico, which will start immediately after we get into office; but I don't want to wait."
TRUMP ON VETERANS
Trump announced the nomination of Dr. David Shulkin as secretary of Veteran Affairs. Shulkin is currently under secretary for health at the VA.
"We're going to straighten out the VA for our veterans. I have been promising that for a long time ... We interviewed at least 100 people (for VA head), some good, some not so good ... Our veterans have been treated very unfairly."
TRUMP ON HIS TAXES
"I'm not going to release tax returns because, as you know, they're under audit" by the Internal Revenue Service. (Compiled by Jonathan Oatis; Edited by Tom Brown)