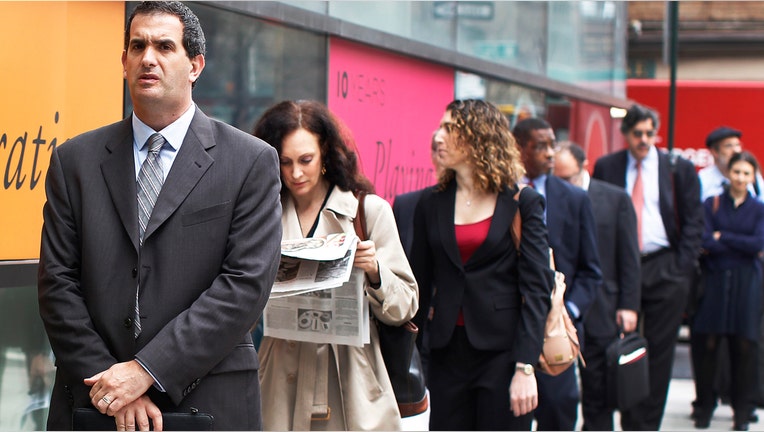 The key to lifting inflation to a level deemed comfortable by Federal Reserve policy makers is rising wages. When wages move higher it will put more money in consumers' pockets and they will start spending more. And when they do prices will rise accordingly.
That's the theory, anyway.
That theory will come under sharp scrutiny again Friday when the Labor Department releases its September jobs report. The data will have huge implications for the Fed's decision whether or not to raise interest rates later this year.
Fed officials want to be confident that inflation is moving upward toward the central bank's 2% target before they raise short-term interest rates for the first time in nearly a decade.
As has been the pattern throughout much of 2015, the September jobs numbers are expected to show strong momentum in job creation – analysts are predicting 203,000 new jobs were created -- and the unemployment rate could fall to an even 5% for the first time since April 2008.
The wild card, as usual, will be wage growth. Despite strong monthly gains in new jobs throughout 2015 and the rapidly falling headline unemployment rate, wage growth for most Americans has remained stubbornly weak.
Consider the August report: the average hourly wage paid to U.S. workers in August rose  just 0.3% over July's hourly wage. The typical worker earned $25.09 an hour, up a meager 8 cents from a month earlier. The year-over-year figures were slightly more reassuring as hourly wages rose 2.2% in August 2015 from August 2014.
That 2.2% year-over-year figure, however, is well below the 3%-3.5% wage growth range set by economists as a threshold that would help push prices higher and lift inflation toward the Fed's 2% target rate.
The weak wage growth has been attributed to so-called slack in the labor market. Slack is caused when employers have a surplus of workers to choose from, which allows them to keep wages low. Economists say the U.S. labor market has been beset with slack in part because many Americans are working temporary or part-time jobs when they'd prefer to be working fulltime. That surplus of temporary and part-time workers eager for fulltime work means employers don't have to raise wages to attract workers.
But that might be changing.
Tightening Labor Market
David Kelly, chief global strategist at J.P. Morgan Funds, said Friday's report should show "rising year-over-year wage gains in September" which, he said, should provide "a fresh layer to the mountain of evidence of a tightening labor market."
Those Fed officials anxious to raise rates from the near-zero range where they've been held since 2008 have repeatedly cited the tightening labor market as a primary justification for raising interest rates, possibly before the end of the year.
In a speech on inflation in Amherst, Mass., last week, Fed Chair Janet Yellen reiterated her oft-stated belief that inflation is currently moving higher toward the Fed's 2% target range. Inflation in the U.S. has been running at about 1% for months, pressured lower recently by rapidly falling energy prices in addition to weak wage growth.
Yellen said she expects inflation "will return to 2% over the next few years as the temporary factors that are currently weighing on inflation wane." Namely the unexpected plunge in energy prices that has dropped the price of a gallon of gas to its lowest level in years and the stubbornly weak wage growth.
New York Fed President William Dudley, a close Yellen ally, said Monday he remains confident that factors keeping inflation below the Fed's 2% target rate will "flush out" and push inflation higher in the next year or two.
Weakening economic conditions around the globe, notably in China, have pushed commodities prices lower have and combined with a strong U.S. dollar and weak U.S. wage growth to hold inflation below the Fed's target range.
But with inflation poised to move higher and the U.S. economy still growing, the Fed "will probably raise rates later this year," Dudley said.
Yellen and Dudley have both indicated that labor market data could always be better but in general the numbers have achieved the first part of the Fed's dual mandate of full employment. The second part of the mandate, price stability, has been more problematic.
The Fed initiated a series of unprecedented accommodative policies in the wake of the 2008 financial crisis and now central bankers are anxious to wind down those programs and return U.S. monetary policy to "normal."
The Fed was seemingly poised to raise rates in September but that timetable was disrupted by signs that China's economic growth was slowing. The Fed has two meetings left in 2015, one in October and the other in December. Most economists believe if the Fed moves this year it will come at the December meeting.