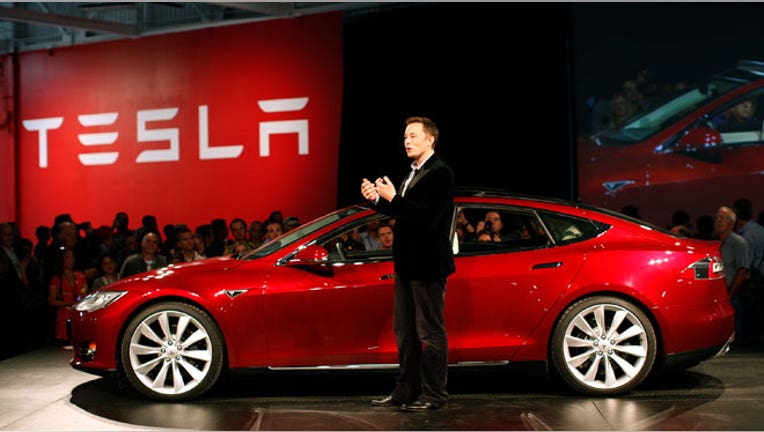 Nevada looks to be the winner for Tesla Motors' (NASDAQ:TSLA) new $5 billion battery factory, but the win comes at a cost for state taxpayers.
Tesla is seeking up to $3 billion in new tax breaks to help fund about half of its cost for the new battery factory, which Tesla has already disclosed in regulatory filings would be located outside Reno, Nev., about 235 miles from its auto assembly plant in the San Francisco Bay area.
"The total capital expenditures associated with the gigafactory through 2020 are expected to be $4-5 billion (sic), of which approximately $2 billion is expected to come from Tesla," the company said in its latest regulatory filings.
Although news reports indicate the breaks could amount to $400 million annually, it may be more like $600 million. Nevada beat out California, Texas, New Mexico, and Arizona for the new $5 billion battery plant, which is expected to create 6,500 jobs, plus generate economic growth. State legislators are likely betting this growth will offset the costs of the tax breaks.
Tesla needs that $600 million a year through 2020, when its battery factory is expected to be fully operational, because it's experiencing significant cash burn. It has $2.6 billion in cash versus $4 billion in liabilities. Tesla has also disclosed its overhead costs are now rising 20% on a year-over-year basis, and research and development expenses are increasing 30%. Capital expenditures continue to bear down as Tesla expands the number of factories and charging stations (the count for the latter now stands at 183 globally).
"Before we go to the next stage of pouring a lot of concrete, we want incentives there that make sense and are fair to the state and Tesla," said Tesla CEO Elon Musk about a month ago.
Excitement over Tesla's future has caused Wall Street to give this momentum stock a $35 billion market capitalization, versus General Motors' (NYSE:GM) $55 billion. Tesla sold 39,149 cars through June 30, while GM sold north of 9.7 million vehicles last year alone. Tesla has posted net losses of $581.93 million from January 2012 through June 2014, while GM has posted net income of $13.84 billion over the same period, according to a FOX Business analysis of data from FactSet Research Systems.
Fueled by … Tax Breaks
Tesla has relied heavily on tax breaks to sustain itself. Hundreds of millions of taxpayer dollars have supported Tesla throughout its time as a publicly-traded company, money that has also floated CEO Elon Musk's other companies such as SpaceX and SolarCity (NASDAQ:SCTY).
Tesla takes advantage of all sorts of government credits and subsidies, including regulatory credit sales through federal CAFE standards and zero-emission vehicle credits.
Though Musk is big on talking about the free-market, his firm needs a lot of taxpayer help to survive.
Indeed, that's the reason why Tesla engineered the bidding war among state and local governments in Arizona, California, New Mexico, Texas, and Nevada so as to grab as much in the way of tax dollars for the new gigafactory, which will make lithium-ion batteries for Tesla vehicles.
California state senator Ted Gaines, (R-Roseville), who fought to get the Tesla battery factory in the Golden State, has said that Tesla was playing the five states off each other to get the best tax breaks and subsidies.
Tesla CEO Musk said the company expects to be able to build 100,000 vehicles annually by the end of next year, up from 35,000 this year. But it now wants to make 500,000 electric cars annually by 2020, so the company needs the $5 billion battery plant it's planning to build over the next three years to bring the price tag of its cars down as rivals like Germany's BMW race into the market with their own electric vehicles.
Tesla expects that the new gigafactory will deliver "a major reduction" in the cost of its battery packs "of greater than 30%" on a per kilowatt per hour basis by the end of the first year of production.  Tesla continues to open stores throughout North America and Europe, and opened its first store in China last year.