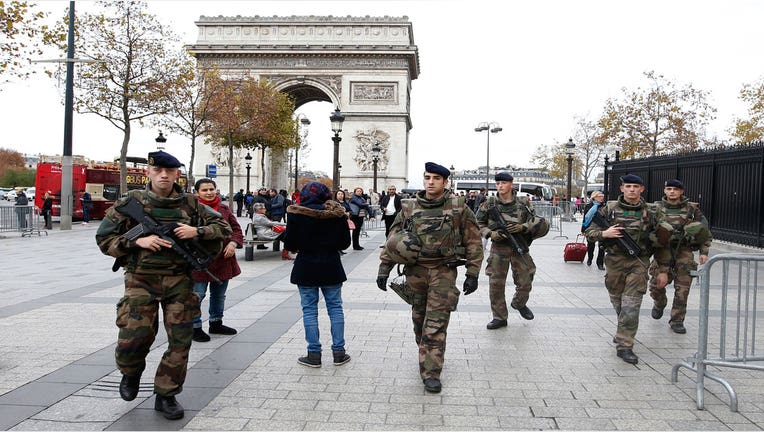 It's impossible to put a price on human life after 129 were killed and hundreds injured in the terrorist attacks in Paris last week. This follows the 224 souls who perished earlier this month after a bomb likely downed a Russian charter jet over Sinai Egypt and more than 40 others killed in Beirut last week when bombs exploded in a crowded neighborhood.
Along with the human and emotional toll, France and other countries as well as multinational corporations, are facing, with almost certainty, rising costs to combat and prevent future attacks. "It will require more and more resources," said Daniel Karson, Chairman, of Kroll, during an interview with FOXBusiness.com. Karson, who oversees the global security firm, added that the world is now "in a permanent struggle" with terrorism. While the attacks in Paris were so-called soft targets, he says it prompted many global corporations to re-evaluate their security plans.
Last year, the cost of "containing terrorism" was $117 billion, according to the Global Terrorism Index (GTI), which is tracked by the Institute for Economics and Peace. The institutes notes that the cost of preventing terrorism is far more than the cost of terrorism itself, which jumped 61% to a record $53 billion. Two terror groups, ISIL also known as ISIS, and Boko Haram, were responsible for 51% of terrorist deaths, according to GTI.
France's swift action with airstrikes in Syria, as well as increased security measures throughout the country and in/around its borders, combined with Russia's $50 million dollar reward for information on its airliner which Russian officials believe was downed by a bomb, are fresh examples of the rising cost of terrorism this month alone.
Although it's too soon to calculate the global economic toll of these recent events, the 9/11 World Trade Center terrorist attacks, the deadliest on U.S. soil since Pearl Harbor in 1941, is often cited as a review. The attacks claimed the lives of nearly 3,000 and injured over 6,000 and in the years following the economic costs tied to the terrorist act rose to a reported $3 trillion, as reported by the New York Times.
The Organization for Economic Cooperation and Development (OECD), based in Paris, provided FOXBusiness.com with its report, 'The Economic Consequences of Terrorism' which outlined some specifics on the financial aftermath of 9/11. Some of those include, roughly $27 billion was tied to the physical assets, federal, state and local government costs as well as rescue and cleanup efforts. The report also notes New York City lost 200,000 jobs, some of which were relocated. In the days following the 9/11 attacks, Congress cleared $40 billion in emergency spending. Days later an additional $5 billion in direct grants was authorized, as well as $10 billion in federal grants for the U.S. airlines. 9/11 was also the largest insurance event in history with cost estimates between $30 billion and $58 billion, as noted in the report.
Billions more were estimated to be spent on Homeland Security and other measures which continue today in the U.S. and are expected to increase around the globe following the recent incidents in Paris, Egypt and Beirut.