Supreme Court rejects Samsung appeal of patent loss to Apple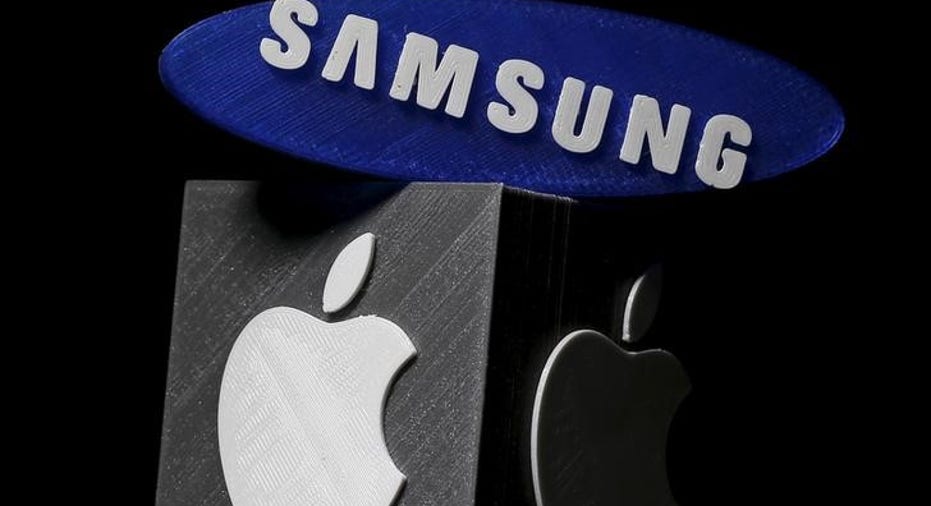 (Reuters) - The U.S. Supreme Court on Monday refused to step back into the years-long feud over patents between the world's top smartphone makers, declining to hear Samsung's <005930.KS> appeal of a lower court ruling that reinstated a jury award of about $120 million in favor of Apple<AAPL.O>.
The justices left in place a 2016 ruling by the U.S. Court of Appeals for the Federal Circuit that upheld a verdict that found South Korea's Samsung Electronics Co Ltd had infringed Apple Inc's patents on several popular features of the California-based company's iPhone. Those included slide-to-unlock, autocorrect and quick links, which automatically turn information like addresses and phone numbers into links.
The Supreme Court in December 2016 sided with Samsung in a separate case over its fight with Apple. In that one, the justices threw out a $399 million damages award against Samsung to its American rival for copying key iPhone designs.
A judge in California in October ordered a new trial over damages in that case.
The current appeal stems from a May 2014 verdict by a jury in federal court in San Jose, California ordering Samsung to pay $119.6 million for using the Apple features without permission. Infringement of the quick links feature accounted for nearly $99 million of the damages.
A three-judge panel of the Federal Circuit, a Washington-based court that specializes in patent matters, had originally overturned the verdict, but it was reinstated in an October 2016 ruling by a full slate of 11 judges on that court.
Appealing to the Supreme Court, Samsung said that the patent court's judges did not follow proper procedure in reviving the verdict because they made the decision without considering additional legal papers or hearing oral arguments. The judges also wrongly changed the law related to invalidating patents and awarding injunctions, Samsung added.
In a dig at the patent court, Samsung told the justices in legal papers that they have "long served as the bulwark when the Federal Circuit tips the balance too far in favor of patent-holders' rights at the expense of innovation and competition."
Apple urged the justices to leave the jury award in place, saying there was nothing "novel or important" to review in its rival's appeal. The Trump administration backed Apple's view.
(Reporting by Andrew Chung; Editing by Will Dunham)