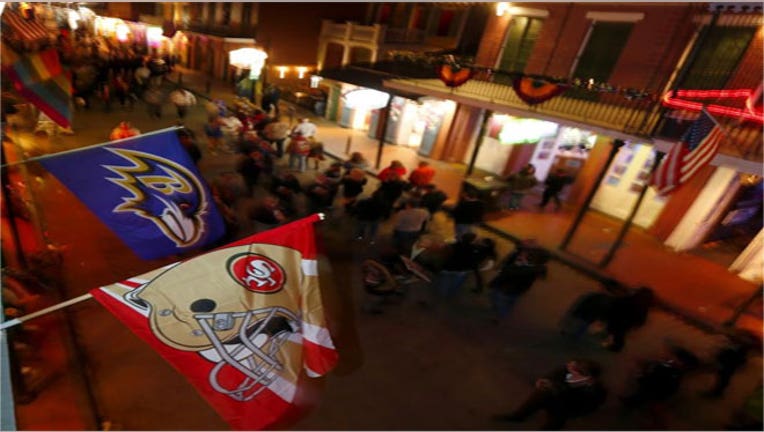 New Orleans is gearing up to host its first Super Bowl since Hurricane Katrina devastated the city 7 ½ years ago. The showdown between the San Francisco 49ers and the Baltimore Ravens is expected to attract more than 150,000 visitors over the weekend -- and the big game will give "The Big Easy" a significant financial boost.
New Orleans could see a 25% increase in direct spending over last year's game, according to PricewaterhouseCoopers. The report says Super Bowl XLVII could generate about $185 million in local spending by the NFL, fans and media. This year's figure is less than the 10-year high set in Dallas two years ago, but $35 million more than Indianapolis last year.
Hundreds of millions of dollars have been spent to prepare New Orleans for the game. A new streetcar line that transports people from the main train and bus station to the Mercedes-Benz Superdome opened earlier this week, and the airport also underwent major changes totaling $350 million. Meanwhile, more than $10 million was spent on improving streets in the city's heavily visited French Quarter.
Hotels
Local businesses in New Orleans are looking to profit from the big game.  Despite the fact that more than 4,000 hotel rooms have been added in the city over the past few years, empty rooms are hard to find. The Holiday Inn Express Harvey-Marrero, which is less than 10 miles from the stadium, had last-minute room accommodations available for $510 a night, according to Hotels.com. Rooms are available the following weekend for $145 per night, so that's a 250% increase for Super Bowl weekend.
The Bluegreen Club La Pension, which is located downtown in the Warehouse-Arts District, also had a few rooms available starting at $2,650 per night.
TV Ads
TV ads are extremely pricey this year; a thirty-second spot during the game will cost companies as much as $3.8 million, a record average price for the coveted slot. Last year's thirty-second slot averaged $3.3 million, according to superbowl-ads.com.
A report from Kantar Media says the Super Bowl has garnered $1.85 billion of network advertising sales from 2003 through 2012, with more than 130 marketers advertising during that time. Anheuser-Busch InBev (NYSE:BUD), PepsiCo (NYSE:PEP) and General Motors (NYSE:GM) are the biggest payers, spending $248.6 million, $182.7 million and $97.2 million, respectively.
The massive audience is what drives companies to spend so much on advertising. Last year's Super Bowl attracted 111.3 million viewers, making it the most watched U.S. telecast of all time.
Super Bowl XLVII is turning out to be an expensive one. What are you most looking forward to about Super Bowl Sunday? Are you surprised by any of the prices? Let us know in our Comment section. 
Tickets
If you're looking to attend the game, there are nearly 2,000 tickets still available, but you better be ready to fork over some serious cash.  The current average ticket price for the Super Bowl is $2,795.08, according to TiqIQ. The cheapest ticket on StubHub.com is selling for $1,199 for a pair in the nose-bleed corner of the end zone. The highest priced ticket is a 300 level suite selling for $137,500.
But the prices may not stay this high until game time. "Super Bowl ticket prices are starting to drop steadily," said Chris Matcovich, senior director of data & communications at TiqIQ. "So far they have dropped 12% since last Monday and should continue to drop as the game approaches. We feel that prices should drop conservatively, on the low end, into the $1,000 to $1,500 range."
Food
What's a football game without lots of food? Restaurants are looking to cash in by offering deals to lure fans through its doors. Just steps away from the Superdome, Walk-On's Bistreaux & Bar is selling tables and throwing special parties on game day.
"We're expecting to be very, very busy. We're gearing up for more people to come to town," said Scott Taylor, President of Last Concepts, which operates Walk-On's Bistreaux and Bar, Schlittz and Giggles Pizza, Happy's Irish Pubs and the Roux House. "We're doing private events and pre-sold tables."
The restaurant is holding a Big Bowl Bash outdoor viewing party on Sunday starting at 4:30 p.m. ET.  "One thousand tickets are available for $100 each," said Taylor. "It's a great deal and a great place for fans to watch the game." The event includes food, drinks and live music.
Walk-On's is also hosting a VIP Tailgate from noon-4 p.m. on Sunday sponsored by ESPN for $400. Other options include indoor parties starting at $200 per ticket.
"We're hiring more employees for this weekend to help with our events," said Taylor. "We're adding temporary employees and bringing in employees from other locations outside of New Orleans to help us."
Bonus for the Big Win
A cash bonus for winning the game is an added incentive for players. Sunday's champion will earn an additional $88,000 per player, while the loser gets $44,000 per player.
Super Bowl XLVII will kick off at 6:30 p.m. on February 3.