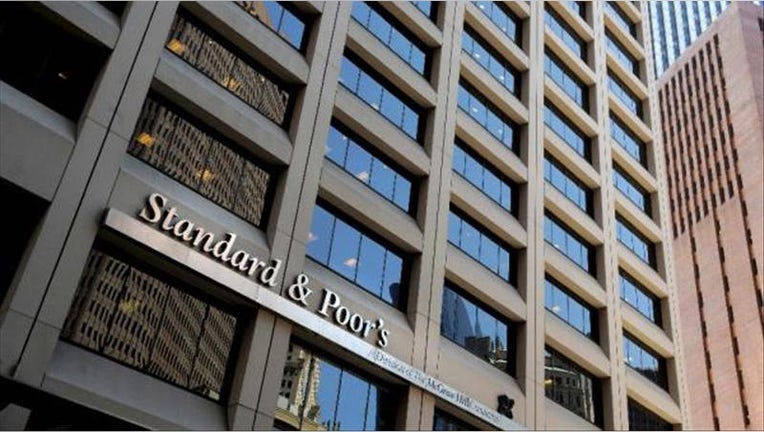 Ratings company Standard & Poor's upgraded its outlook on the U.S. to "stable" from "negative" on Monday and said "tentative improvements" on the political and economic fronts have bought Washington extra time to grapple with long-term challenges.
The move comes almost two years after S&P shook up Washington by becoming the first ratings company to remove the nation's pristine "AAA" rating due to widespread concerns about soaring debt and deficit levels.
But S&P affirmed its "AA+" credit rating on the U.S. on Monday and said the revised outlook to "stable" indicates the likelihood of a near-term downgrade is less than one in three. News of the upgraded outlook helped boost stock futures ahead of the opening bell.
Now S&P projects U.S. general government deficit plus non-deficit borrowing requirements to dip to about 6% of gross domestic product in 2013, down from 7% in 2012, and to less than 4% in 2015.
The ratings firm also sees net general government debt as a share of GDP staying "broadly stable" for the next few years at about 84%, allowing policymakers "some additional time to take steps to address pent-up age-related spending pressures.
While S&P acknowledged the "high level" of the country's external indebtedness, it cited the "strengths" of the U.S. economy, monetary system and the dollar's status as the world's key reserve currency -- a role it doesn't see changing any time soon.
"We see tentative improvements on two fronts," S&P wrote.
First, the ratings firm pointed to the year-end deal to bring the U.S. back from the fiscal cliff. The compromise "did result in some fiscal tightening" by allowing previous tax cuts to expire and "also engendered a fiscal adjustment, albeit in a blunt manner."
S&P said it anticipates "some political posturing" when lawmakers debate raising the government's debt ceiling near the end of September, but the current outlook assumes no dramatic disruptions to spending or debt service.
Secondly, S&P said the U.S. has benefited from stronger-than-expected economic growth by the private sector, higher remittance to the government by mortgage giants Fannie Mae and Freddie Mac. Those two factors helped prompt the Congressional Budget Office to cut its projections for future government deficits.
S&P said it believes U.S. economic performance will "match or exceed" its peers' in the coming years.
To be sure, S&P said its current rating already factors in the inability by Washington politicians to "react swiftly and effectively to public finance pressures" in the long term compared with those of highly-rated countries. Gridlock in 2011 surrounding the raising of the debt ceiling helped spark S&P's initial downgrade.
The ratings firm also acknowledged that it sees "some risks" that the recent improved fiscal performance "could lead to complacency."  S&P warned a "deliberate relaxation" of fiscal policy without "countervailing measures" to fix long-term challenges could "place renewed downward pressure on the rating."