Some Risk, More Reward for CEOs Embracing Trump's Sit-Down Meetings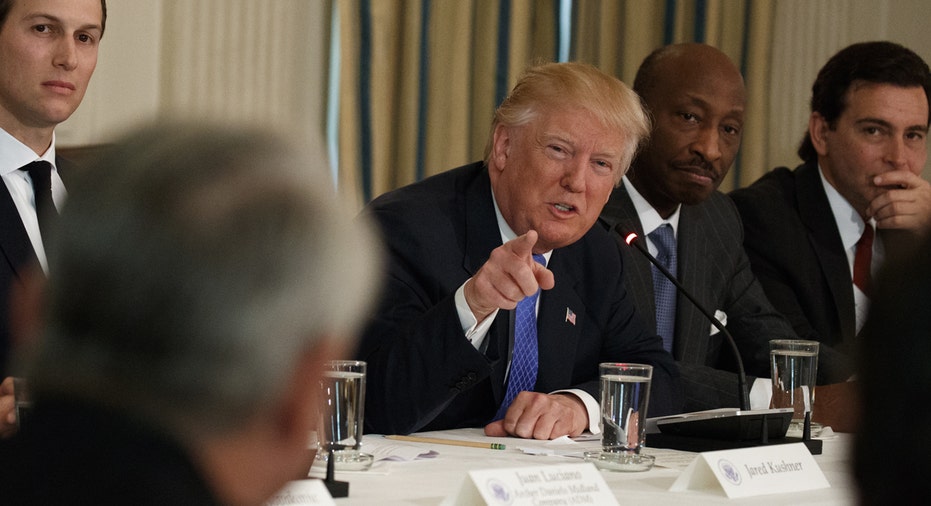 American CEOs were back at the White House Thursday, and this time it was manufacturing chiefs making the trip, as business leaders continue to embrace the chance for a seat at the table in D.C.
Trump, Vice President Mike Pence and cabinet members were on hand for talks covering deregulation, tax reform, trade, infrastructure, job training and the workforce of the future, according to the White House. The meeting included the CEOs from Dow Chemical (NYSE:DOW), United Technologies (NYSE:UTX), Johnson & Johnson (NYSE:JNJ), Caterpillar (NYSE:CAT) and a host of others.
"Today we have 24 CEOs from the largest manufacturing companies in the country and even in the world. They represent--people in this room--nearly $1 trillion of sales and two million employees, large majorities of which are in the United States. They share our commitment to bring manufacturing back and to create jobs in this country," Trump said.
Since Inauguration Day, Trump has made a weekly habit of meeting with heads of industry, business owners and economic advisers. The president's C-suite get-togethers are already proving to be much more frequent than those of his most recent predecessors. In his first two months in office, Trump has gathered business leaders from a range of sectors seven times, while former President Barack Obama hosted two such meetings in his first year, and former President George W. Bush huddled with business leaders three times during his second year in the White House.
Following Thursday's meeting, Dow Chemical CEO Andrew Liveris told reporters he and other leaders in attendance were "very encouraged" by Trump's pro-business policies.
"Some of us have said this is probably the most pro-business administration since the founding fathers. There is no question that the language of business is occurring here at the White House," Liveris said, adding that the country needs to offer more apprenticeship programs and technical education programs for students who want to work in the manufacturing industry.
Trump hosted automotive and manufacturing CEOs in separate meetings during his first week as president. Trump also has held meetings with small business owners and members of his Strategic and Policy Forum, which is led by Stephen Schwarzman, the CEO of private-equity heavyweight Blackstone (NYSE:BX). The group also includes J.P. Morgan's (NYSE:JPM) Jamie Dimon, General Motors' (NYSE:GM) Mary Barra and Walt Disney's (NYSE:DIS) Bob Iger, among others.
Working Together for Business
While the CEOs at Thursday's meeting would stand to gain from the floated border adjustment tax, a piece of the GOP's tax reform plan that would essentially equal a tax on any imported goods – while exports would be tax free, some of the nation's top retail executives, including AutoZone (NYSE:AZO) president and CEO Bill Rhodes, JCPenney (NYSE:JCP) CEO Marvin Ellison and Target (NYSE:TGT) CEO Brian Cornell, met with Trump at the White House last week to voice their concerns on the debated measure. Trump has in the past called the potential reform "too complicated," so it is unclear whether it has White House support. Retailers, many of which are already struggling to attract shoppers away from online sales, have complained that it would force them to pass the cost to consumers.
Executives who have attended have largely publicly applauded the sit-downs with President Trump, voicing optimism over the impact of potential reforms to the tax code and federal regulations.
Ford (NYSE:F) CEO Mark Fields, who visited the White House twice during Trump's first week, has said the Trump administration's policy agenda "encourages all of us as CEOs as we make decisions going forward," despite past criticisms from Trump over the auto industry's production footprint in Mexico. Fields again took a seat at the table Thursday.
Harley-Davidson (NYSE:HOG), whose leaders traveled to the White House earlier this month, said its team had a constructive meeting with President Trump.
"He was very interested in how Harley-Davidson has been such a successful American manufacturer for more than 114 years and it was a good opportunity for us to share our perspective on the future of U.S. manufacturing and how it can help unify the country," Harley-Davidson said in a statement to FOX Business. "We left that meeting with a sense that the president wants to promote the ongoing growth of American manufacturing and that he appreciated what we had to say."
Joy Weatherup Anthis, owner of JWA Construction Management in DeWitt, N.Y., was among the 10 small business owners who attended a roundtable with Trump in January. She said the president was receptive to the group's concerns about regulations, the lack of skilled labor and other issues that hinder growth.
We haven't had many presidents who really have a strong business background, so I think that's a good thing for American companies.
"Frankly, I found it refreshing," Weatherup Anthis told FOX Business. "I feel like the administration is convinced that we need change. If they don't reach out [to businesses], then they don't know what the issues are."
Some executives and business owners have faced blowback from customers for any perceived involvement with the White House's economic agenda. One of those executives is Uber CEO Travis Kalanick, who dropped out of Trump's advisory council after customers and employees complained.
Tesla (NASDAQ:TSLA) and SpaceX chief Elon Musk resisted pressure to leave the White House Strategy and Policy Forum. In a tweet before a meeting in early February, Musk said he would express his objections to Trump's immigration policy, but he wouldn't leave his seat at the table.
"Advisory councils simply provide advice and attending does not mean that I agree with actions by the Administration," Musk wrote, adding that his focus is on pushing for sustainable energy and opening up space exploration. "I understand the perspective of those who object to my attending this meeting, but I believe at this time that engaging on critical issues will on balance serve the greater good."
Casey Patten, the owner of D.C. sandwich shop Taylor Gourmet, was targeted by boycotters and received threats after attending a White House roundtable of small business owners, according to reports. But from a brand perspective, the benefits of meeting with the president could outweigh any immediate negative attention for mom and pop, said Jasmine Hu, assistant professor at Notre Dame's Mendoza College of Business.
"Research has shown business leaders of smaller companies want to take a more active role in connecting with politicians because it's a way to promote their companies' reputations and expand the business," she explained, adding those who sit down with the president can play a bigger role in helping shape decisions coming from the White House, which will likely trickle down to the overall business climate and impact customers who shop at their stores.
"From a fundamental perspective, when business leaders are involved, they are more likely to support the collective decisions made during those meetings. So, President Trump is more likely to get support from those business leaders," Hu said.
Weatherup Anthis believes Trump's meetings create "a sense of optimism" for businesses as they seek ways to grow.
"Small business is really what drives our economy. The fact that he wanted to start by meeting with small business owners, I think that was really smart," she said.
All Eyes on the Oval Office
Since Trump's surprise election last November, both Wall Street and Main Street eyes have been keenly focused on how the newly-minted president will execute on his campaign promises of lower taxes, less regulation and more fiscal spending in the form of infrastructure investments.
U.S. stocks have surged more than 13% since Election Day as Wall Street investors are awash with optimism, banking that Trump's crusade against anti-business policies will pay off.
As manufacturing leaders gather at the White House Thursday, shares of GM and Ford are up 19.2% and 10.4%, respectively, since Trump's election victory in November. Boeing is up 23% over the same period. General Electric (NYSE:GE), whose stock retreated in the 12 months before the election, has gained 3.1%.
Retailers have also seen a boost. The SPDR S&P Retail ETF, which tracks the retail sector, is up 5% since Trump's election.
Though America appears to be divided in the early days of Trump's presidency about the way he's going about bringing policy change, it's important to note the best way to understand what American businesses need is to go directly to the source, said Van Conway, CEO of consulting firm Van Conway Partners. From a branding perspective for the companies involved in the meetings, Conway said he doesn't see any downside because everyone now has the ability to put their wants and needs on the table.
"He was a CEO and he wants to hear from other CEOs to get their input," Conway said. "We haven't had many presidents who really have a strong business background, so I think that's a good thing