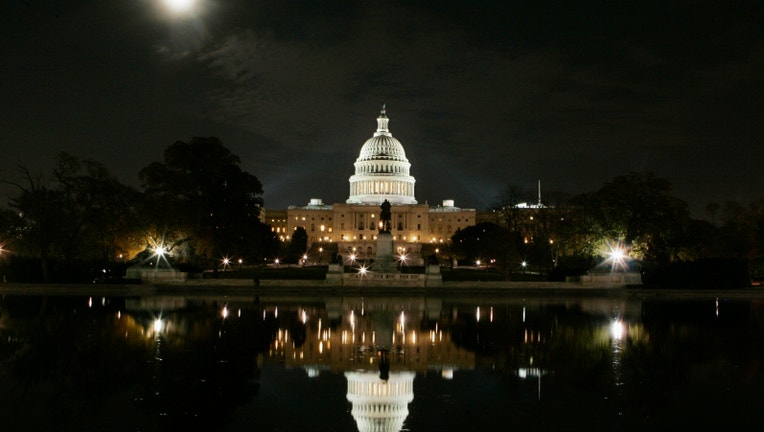 Leave it to Wall Street to divide lawmakers on Capitol Hill.
The Senate approved a two-day stop-gap funding measure to keep the government running until 11:59:59 Saturday night, avoiding an immediate government shutdown Thursday.
The passage gives lawmakers in D.C. time to mull $1.1 trillion spending legislation OK'd in the House earlier in the night by a narrow margin of 219 to 206.
The House approval comes after the body went into recess shortly after 2 p.m. ET after debate on the bill which would fund the government through September 2015, and avoid, at midnight,  a possible government shutdown.
Ahead of the vote, it seemed as though Republicans felt they had the support needed to pass the bill. In fact, Wednesday night, House Majority Whip Steve Scalise said "We're going to be there, we're all working to get to the same place."
But it didn't play out exactly as some anticipated.
There are several parts of the legislation both sides have beef about including Republican opposition to a lack of action on President Obama's sweeping executive action announced last month on immigration. Others take issue with a provision to expand how much money political donors can give to parties – essentially giving bigger donors more political influence.
But here's where Wall Street comes in, and perhaps the reason Republicans suddenly weren't able to muster the votes necessary in the early part of Thursday afternoon. The bill also includes language to roll back provisions of the 2010 Dodd-Frank law.
Under Dodd-Frank, financial institutions that enjoy a government backstop, like FDIC insurance, must push out certain derivatives to subsidiaries. A provision in this funding bill would allow these banks to keep more of these derivatives in house. Some Democrats argue Republicans are putting taxpayers at risk of a bailout at the request of Wall Street. Supporters argue the measure makes the financial system safe, as these derivatives would be kept in better-regulated banks as opposed to subsidiaries.
Democratic Senator Elizabeth Warren, who many speculate as mulling a bid for president in 2016, came out swinging against the spending bill saying it would allow derivatives traders to gamble with tax dollars and then receive a bailout from the government if their bets go sour.
"These are the same banks that nearly broke this economy in 2008 and destroyed millions of jobs. The same banks that got bailed out by the taxpayers are now raking in record profits," she said in a statement.
Potomac Research Group Chief Political Strategist Greg Valliere said in a note early Thursday morning Congress is near the finish line, but Democrats are howling.
"Elizabeth Warren now has her pretext to run for president; her passionate anti-Wall Street crusade has fresh ammunition," he wrote. "The bottom line…this is a messy process, but there are clear implications for 2015 in the budget bill. We've gotten a preview of things to come – a very pro-market, pro-business, pro-Pentagon climate is firmly in place; the issue to watch is the weakening of regulations."
But not all Democrats were opposed to the bill. Fox News reported President Obama and Vice President Joe Biden were working the phones to garner Democrat support in order to help get the bill through the House and avert a shutdown.
The Office of Management and Budget released a statement Thursday outlining the White House's opposition to the Dodd-Frank changes, but favoring passage of an overall bill to keep the government open.
"The Administration supports House passage of H.R. 83, making appropriations for fiscal year 2015 and other purposes….the administration is opposed to the inclusion of a rider that would amend the Dodd-Frank Wall Street Reform and Consumer Protection Act and weaken a critical component of financial system reform aimed at reducing taxpayer risk.
The statement added the administration's opposition to changes to the Federal Election Campaign act regarding donor contributions to national parties.
Minority Leader Nancy Pelosi blasted the White House for attempting to compromise with Republicans to support the spending bill's passage, calling it a "moral hazard," and a "hostage" and "ransom."
"I'm enormously disappointed the White House feels the only way they could get a bill is to go along with this," she said.
And while White House staff lobbied house Democrats Thursday to support the funding bill, including personal phone calls from the president and vice president, Pelosi wrote her colleagues urging them to oppose the bill and the White House.
"It is clear from this recess on the floor that the Republicans don't have enough votes to pass the CRomnibus.  This increases our leverage to get two offensive provisions of the bill removed: the bank bailout and big money for campaigns provision," the letter read.
On the other side of the aisle, House Speaker John Boehner said in a statement the bill is a good one he hopes Congress will pass.
"It protects jobs, it stops wasteful spending. In fact, we've now reduced overall discretionary spending some $176 billion since the 2010 fiscal year…it's a good bill and I think it reflects the people's priorities," he said in a statement.
If the situation sounds familiar, it is. Lawmakers went through a similar process last year, but were ultimately unsuccessful in reaching an agreement on a spending bill before their midnight deadline, resulting in a partial government shutdown that lasted 16 days.
FOX Business' Rich Edson contributed to this report from Washington D.C.