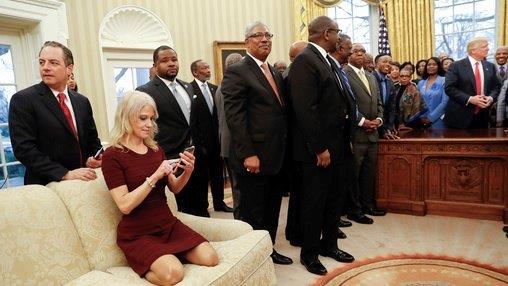 President Trump praised America's historically black colleges in his Saturday address, saying, "I also want to honor and promote the achievements of historically black colleges and universities throughout our nation.  They do a fantastic job." And, on Monday, Trump met with leaders of America's historically black colleges and universities.  But Trump's outreach efforts were overshadowed by criticisms of a photo of the meeting at the White House in which Kellyanne Conway, a White House senior advisor, is kneeling on a couch in the Oval Office.  Milwaukee County Sheriff David Clarke discussed the controversy over the photo.
"Well, look, the leftist media's in panic mode right now.  Donald Trump, President Donald Trump, is doing an outstanding job of outreach.  He has this magnetism about him and people are drawn to him, so he's reaching out to some traditional demographics that Republicans don't really pay a lot of time with, spend a lot of time with," Clarke told the FOX Business Network's Stuart Varney.
According to Clarke, the reaction to Conway is fake news, a distraction from Trump's outreach efforts.
"The liberal mainstream media wants this to be the news, but most people now are beginning to realize this is kind of an example of fake news. She's sitting, kneeling on a couch, it's fake news, who cares about that.  What's important here was Donald Trump's, President Trump's, outreach to historically black colleges and also other aspects of the black community."
More from FOXBusiness.com
Despite the media's focus on other issues, such as Kellyanne Conway in the photo, Varney asked if Trump's message was getting through to the black community.
"We saw it during the election, he got more black votes than any Republican candidate over the last, I don't know, two or three elections."
But when Varney interjected, "Only 8%," Clarke responded, "It's a start, you have to build on it, this isn't going to flip overnight, okay, it's a process."