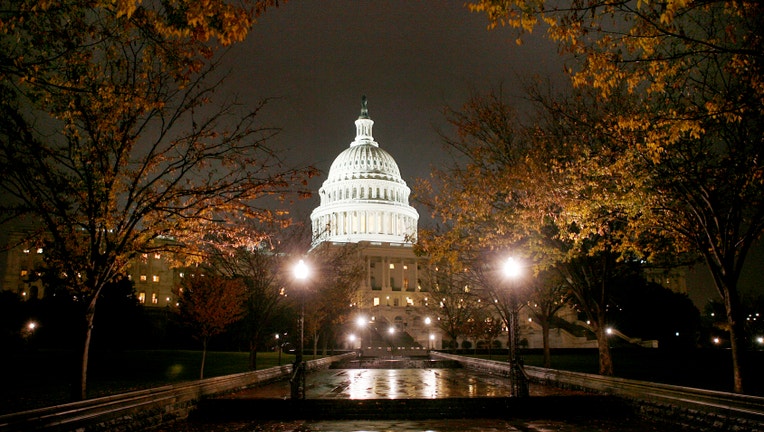 After a turbulent day on Capitol Hill, and multiple failed negotiations in both chambers of Congress, Senate leaders assembled a proposal aimed at staving off a potential debt default.
Contours of the new legislative framework include a continuing resolution to re-open the partially shutdown federal government and fund it through January 15, and increase the debt ceiling through February 17. The proposal also includes a measure allowing the president and Treasury Department the ability to enact "extraordinary measures" to pay America's bills during future debates in Congress over the debt ceiling, along with a provision for income verification for people who receive subsides on the Affordable Care Act's medical insurance exchanges.
Unlike any other proposal seen in this fiscal fight in recent weeks, this one includes instructions for a bipartisan committee to report by mid-December on a way forward for the nation's fiscal issues.
The measure put forward by Senate Majority Leader Harry Reid and Minority Leader Mitch McConnell is similar to other proposed measures Monday night. Except this time, there is no inclusion of a delay for the ACA's transitional reinsurance tax.
This plan from the Democratic-controlled chamber of Congress comes hours after talks broke down among members of the Republican-powered House on a way to end the fiscal nightmare plaguing the Capitol. The House was expected to take up a measure to stave off a debt ceiling breach likely to happen Thursday when the Treasury Department exhausts its extraordinary measures which has allowed the government to continue paying its financial obligations.
However, before the measure ever made it to the House floor for debate, due to a lack of support and votes to ensure its passage, the measure was scrapped and the body adjourned for the night, passing the buck back to the Senate.
The scrapped House proposal would have restored government funding and raised the debt ceiling by the same standards, but it would have also taken away the ability to enact extraordinary measures, and included a provision mandating all Congress members, administration officials, and cabinet members be included in the Affordable Care Act without federal subsidies or waivers.
Before the new Senate measure ever receives final approval, it faces a number of procedural hurdles, that could, at any point, fail, or prolong the process well past Thursday's deadline. Indeed, a filibuster or any single member objecting to the measure could throw the entire voting process to the weekend.
What Exactly Happens on the 17th?
The October 17 deadline is the Treasury Department's self-imposed, drop-dead date for running out of "extraordinary measures" it has used for the past several weeks to allow the government to continue to pay its bills. However, as Treasury Secretary Jack Lew has reiterated time and again, on Thursday, those measures will be exhausted, and Treasury will have only $30 billion cash on-hand to allocate to finance its obligations. At that point, Lew warns failure to pay any legally obligated bill on time – not just debt payments – will result in a higher risk for default, and consequently a potential downgrade from ratings companies like Standard and Poor's, Moody's, and Fitch.
In 2011, when the threat of default was present and Congress was up against a very similar deadline with the debt ceiling, the Dow plummeted 600 points in just one session on the heels of a credit downgrade from S&P from a platinum 'AAA' to 'AA+'.
Analysts worry a similar event could happen if S&P or other major ratings firms decide to downgrade their outlook on U.S. debt before or after the mid-week deadline approaches.
In a sign of growing tensions, Fitch put America's 'AAA' credit rating on 'negative watch' as pressure on Capitol Hill mounts, and inaction from Congress forces the nation to butt up against it's debt ceiling deadline.
Rebound on Wall Street?
U.S. equity markets took a thrashing on Tuesday as uncertainty swirled over whether Congress will pass legislation in time to avert a potentially caustic default. However, stock-index futures pointed to solid gains in early trading: Dow futures climbed 63 points, or 0.42%, while S&P 500 futures advanced 0.51%. In Asia, the Japanese Nikkei 225 ticked up by 0.09%.
Analysts at Nomura told clients late Tuesday "it is not entirely clear what happens next, but there is a clear path to a resolution" despite recent "roadblocks."