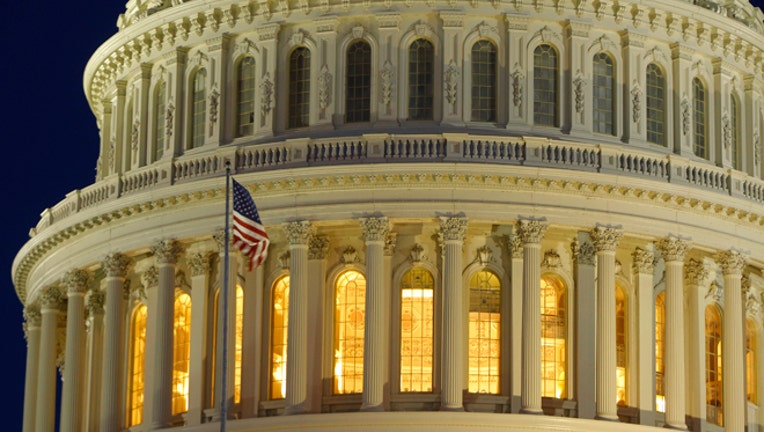 Senate negotiators worked Monday evening to cobble together a palatable solution aimed at staving off a debt ceiling breach Thursday.
The last-minute hustle came after a scheduled meeting at the White House among top lawmakers was postponed Monday afternoon to give policymakers in the Senate time to further discuss legislative framework.
The body stands adjourned until 10 a.m. ET Tuesday, and the plan now is for Senate GOP leaders to introduce a new proposal to rank-and-file Senate Republicans at an 11 a.m. ET meeting. The legislation would suspend the debt ceiling until February 15 and fund the government through January 15.
A senior Democratic aide told FOX News the medical device tax Republicans have been keen on repealing in past negotiations, is out at the insistence of Senate Majority Leader Harry Reid and the president. In its place, the source said, is a one-year delay of income verification.
In addition to stop-gap funding, lawmakers are also discussing a one-year delay in the transitional reinsurance tax included in the Affordable Care Act, President Barack Obama's key piece of legislation. Beginning in the new year, through 2016, employers of self-funded health plans, and insurance companies offering insured health plan products, are subjected to an annual fee of about $63 per person aimed at funding reinsurance payments to insurers covering high-risk patients in the individual market.
The negotiations come on the heels of foreboding comments earlier in the day from the president about the potential for a debt default if Congress fails to agree on a solution by Thursday.
But what about the House?
Even if the Senate manages to muster-up the votes to pass the legislation its currently negotiating, it faces an uphill battle in the House. A number of House GOP sources tell FOX News' Chad Pergram if the Senate plan does not include a provision to pull the subsidy exempting congressional staff members from participating in the ACA, or the "conscience protection" which does not require Catholic institutions, hospitals, universities, etc. to cover abortions under the ACA, then it will likely not receive much support from House Republicans.
Wall Street: Anxious, But Not Downright Frightened
Though it seems compromise is hard to come by in Washington, Stephen A. Myrow, managing director at ACG Analytics says there's still hope.
"It has taken two weeks, but the shutdown has become a battle over the issue that typically causes a shutdown -- spending -- instead of other high-profile, topics such as Obamacare.  Treasury Secretary Jacob Lew's Thursday, October 17th debt limit deadline is finally the action-forcing mechanism that will assure an agreement gets reached, passed and signed into law within the next 96 hours," Myrow wrote on Monday.
In a note to clients Monday, Goldman Sachs said the easiest thing to get both parties to coalesce around might be a two or three month deal, if a longer-term agreement can't be reached.
"This would allow congressional leaders to sidestep the sequestration issue in this round of talks, since the cuts do not take effect until around January 15, 2014. In the interim, Congress would then try to replace some of the cuts under sequestration with other sources of budgetary saving spread over ten years," the investment bank said.
The bank said it still expects a deal to emerge within the next few days, but cautioned a compromise coming after the Oct. 17 drop-dead date issued by Treasury isn't out of the realm of possibility.
"If a bipartisan deal is reached in the Senate, getting the bill through the House would still be a tricky proposition and Republican leaders may not want to put such a bill to a vote until other options have been exhausted," the New York-based bank wrote.
It also reiterated the mid-week deadline wouldn't actually be a date on which the U.S. would begin to default on its obligations. Instead, Goldman said Treasury will have just about $30 billion of cash on hand at that point, which it could use to finance debt for "several more days, and perhaps longer."
Sharing in the cautious optimism, Wall Street traders, investors, and analysts don't seem to be too pessimistic about the ongoing lack of progress on Capitol Hill. At the opening bell, U.S. equities sold off – the Dow briefly fell 100 points – before settling out and pairing back losses. That comes on the back of a rally at the end of last week.
Greg Valliere, chief political strategist at the Potomac Research Group, said in a note to clients on Monday, the threat of default dissipated last week and that's not so much what traders are focused on this week – instead it's another worry facing Wall Street.
"It's the likelihood that a deal late this week will simply kick the can down the road, setting up still another shutdown crisis later this fall, then another during the winter, then another in the spring.  This will do real damage to the economy -- business and consumer psychology will slump even further amid this persistent and corrosive uncertainty," he wrote.
Valliere expects a deal to emerge late Wednesday, but warns conservative efforts to reject an unpalatable deal from the Senate at the eleventh hour shouldn't be underestimated.
While Wall Street remains only somewhat concerned about a debt deal, bond markets remain deeply worried about a possible debt ceiling breach and potential default. Concerned senior Treasury officials met Sunday to discuss market reaction to debt negotiations – or lack thereof. Notably, bond markets were closed Monday for the Columbus Day holiday, so it is difficult to gauge the reaction to inaction this weekend.
Peter Boockvar, chief equity strategist at The Lindsey Group, said Monday most finance ministers at the G-20 meeting over the weekend believe some kind of deal will emerge before the Oct. 17 deadline but still, concerns remain.
"We must watch for the longer term implications on our bond market from the perspective of foreigners who own half our debt. The same level of appetite is unlikely to be there and we've already seen early evidence of that in both the weak action in the U.S. dollar and the amount of bonds foreigners have purchased this year," he wrote.
Citigroup warned forebodingly on Friday that even if a debt deal does come before the borrowing authority lapses, the damage to the U.S. economy could already be done, impacting the Fed's desire to begin tapering QE3.
And Barclays analysts Koon Chow and Guillermo Felices on Monday affirmed that viewpoint. The investment bank said it foresees the $85-billion-per-month bond-buying program to continue through December, while the more bearish Citi forecast calls for QE through March.
FOX News' Chad Pergram and Rich Edson contributed to this report from Washington D.C.