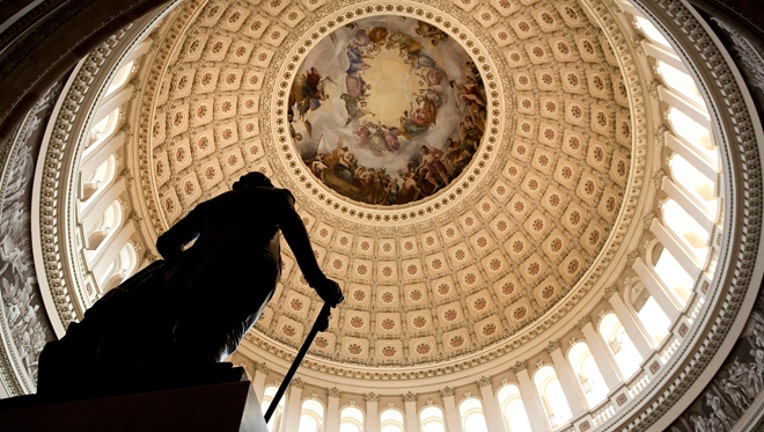 Fewer than 24 hours remain before the United States exceeds its borrowing authority, according to a self-imposed deadline the Treasury Department set weeks ago. Meanwhile, Congress continues to debate the terms on which it will allow the president and Treasury to continue borrowing under an increased debt ceiling.
But the consequences of not raising the nation's borrowing limit could be dire. Analysts fear credit ratings companies including  Standard and Poor's, Moody's, and Fitch could downgrade U.S. sovereign debt ratings. S&P already cut the U.S. to 'AA+," but the other two have America rated at a pristine 'AAA.'
Signs of fear shone through the cloud of disagreement on Capitol Hill Tuesday when Fitch warned it could take action to downgrade the U.S. by putting U.S. credit on 'negative watch.' The ratings firm cited concerns about whether lawmakers would be able to reach a solution to extend the nation's borrowing power by Thursday.
And if a debt downgrade does indeed happen, it could send financial markets into a tailspin. In 2011, when S&P downgraded U.S. credit to 'AA+' from 'AAA' following a similarly bruising battle on Capitol Hill, the Dow Jones Industrial Average plummeted more than 600 points in a single session – sending shock waves through the market and fears about whether other ratings services would follow suit.
Worse still, if Congress does not manage to agree on a solution by Thursday, the U.S. Treasury has said it has only about $30 billion in cash reserves on-hand with which to pay the nation's bills. If it depletes that reserve, it will have to begin selectively choosing which debts to pay and which to hold off on – and that could force the U.S. into credit default. Last week, Citigroup and others warned the drama on the Hill could be too little too late, and speculated the damage to the U.S. economy might already be done.
Action on the Hill
Late Tuesday night, after talks broke down repeatedly in both chambers of Congress throughout the day, Senate leaders cobbled together an effort aimed at staving off a potential market meltdown and default.
The deal includes a continuing resolution to re-open the partially shutdown federal government and fund it through January 15, and increase the debt ceiling through February 17. It also provides a measure allowing the president and Treasury the ability to enact "extraordinary measures" to pay America's bills during future debates in Congress over the debt ceiling, along with a provision for income verification for people who receive subsidies on the Affordable Care Act's medical insurance exchanges.
Unlike any other proposal seen in this fiscal fight in recent weeks, this one includes instructions for a bipartisan committee to report by mid-December on a way forward for the nation's fiscal issues.
Wednesday morning, Senate leadership crafted a plan to send to the House for debate and approval. This comes as an effort to meet the constitutional requirement that revenue bills start in the House – and move into the Senate for final approval by late afternoon.
But it's not so cut and dry – there's still plenty of opportunity for Senators to object to the measure and kill its chances of making it to the Republican-controlled body. If just one Senator objects, procedural obligations could force debate and push the legislation well into the weekend.
And even if it does manage to pass the Democratic-controlled Senate, there's no guarantee the House will say yes.
In past proposals, the House has laid out measures providing stop-gap funding to re-open the partial government shutdown and raise the debt ceiling. But it has insisted that included in those proposals be provisions to alter or repeal some part of the Affordable Care Act, President Obama's hallmark law.  But those measures were non-starters for the Senate, which quickly denied them – putting Congress back at square one to find some kind of compromise.
Word on the Street
Despite the dire warnings from some credit rating services, President Barack Obama, Treasury Secretary Jack Lew, and others, Wall Street still doesn't seem to be too concerned about the threat of default, and remains optimistic, for the most part, that Congress will come to an agreement rather than risk the economic reputation of the United States.
Following the House's "done deal" sentiment on a bill it had to pull at the last minute, before it even got to the floor, due to a lack of support and votes to pass it, U.S. stock-index futures traded sharply up overnight and through to the opening bell on Wall Street. U.S. equity markets opened plowed full steam ahead with the rally -- as of midday, all three major averages were up more than 1%. 
Although overall sentiment on the Street is mostly positive, some individual traders and analysts warn   there's serious risk to the markets if Congress fails to get a deal done by the end of the night.
Michael Block, chief strategist at Rhino Trading Partners, warned clients the "yoyo of emotions" from headlines about Congress have made the market untradeable for many investors. He added the latest sentiment data showed more analysts are looking for a market correction than are betting for more gains no matter what the outcome from the debt ceiling fight.
The Potomac Research Group's chief political strategist, Greg Valliere, said, essentially, the weight of the world rests on one man's shoulders.
"But here we are with a simple bottom line: John Boehner has to capitulate today and allow House Democrats to provide the votes to pass a measure to raise the debt ceiling and re-open the government.  We all knew this a month ago, which begs the question of why the country had to endure a debilitating fiasco with such a predictable conclusion," Valliere wrote in a note to clients Monday.
He added the Washington, D.C.-based consultancy's bottom line forecast hasn't changed from the get-go, and said it still expects a last-minute deal that avoids a default, but creates two new fiscal crises – really, just more of the same drama, just pushed off to a later date.
"Our premise of getting a 'kick the can' deal this week hinges squarely on Boehner, and we think he'll do the right thing," Valliere said.
Still, not everyone is hopeful. On a much more bearish tone, Alastair McCaig, market analyst at London-based brokerage IG, said hope is all but lost at this point. "It can only be assumed that U.S. traders don't realize that the light at the end of the tunnel is actually a train," he said.