Senate Confirms Janet Yellen as Fed Chair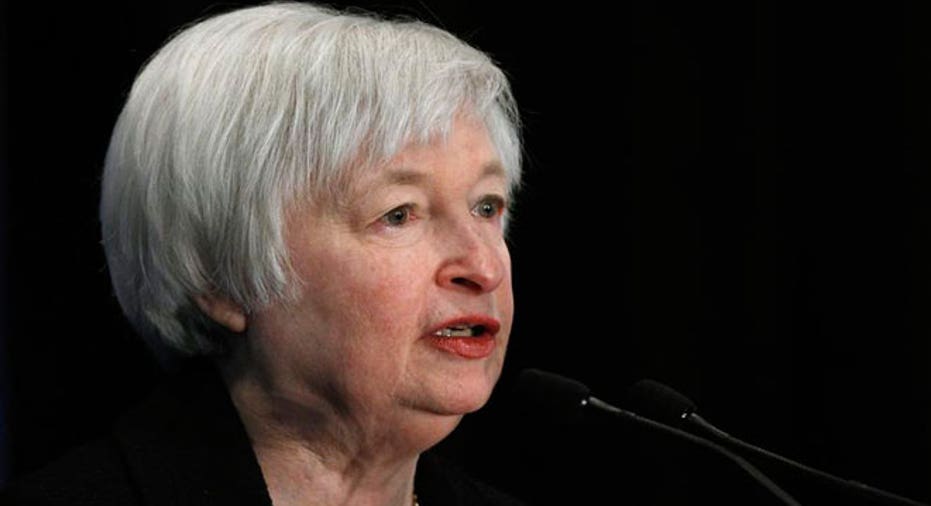 Janet Yellen, a key force behind the Federal Reserve's unprecedented and controversial efforts to boost the U.S. economy, was confirmed by the Senate on Monday to lead the central bank just as it begins to unwind that stimulus.
When she succeeds Ben Bernanke, whose second four-year term as Fed chairman expires on January 31, Yellen will become the first woman to run the Fed in its 100-year history and just one of a handful of women heading central banks globally. She is currently the Fed's vice chair.
The vote to approve her was 56-26. Yellen won resounding support from Democrats, but many Republicans voted no.
The Fed cut overnight interest rates to near zero in late 2008 and has quadrupled its balance sheet to more than $4 trillion through a series of massive bond purchase programs meant to push down longer-term borrowing costs.
Yellen, 67, spent years defending those efforts, arguing both as Bernanke's deputy and before that as head of the San Francisco Federal Reserve Bank that they would reduce borrowing costs and spur hiring and economic growth.
Now those policies appear to be working: the U.S. unemployment rate fell in November to a five-year low of 7 percent and the economy grew in the third quarter of 2013 at its fastest pace in almost two years.
Yellen's main task in the world's most powerful financial post likely will be to navigate the central bank's way out of its extraordinary stimulus, beginning with dialing down its bond-buying program.
In December, Bernanke began the process, leading the central bank to its landmark decision to shave the bond purchases to $75 billion this month from a previous monthly pace of $85 billion.
The entire program, known as QE3 because it is the Fed's third such effort at so-called quantitative easing, will likely be shuttered by late 2014 so long as the economic recovery proceeds as forecast, Bernanke said.
Many Republicans and several of Yellen's own Fed colleagues see the wind-down of that program as long overdue and warn that the buildup of bonds on the Fed's balance sheet could stoke inflation or asset-price bubbles.
"This expansionary monetary policy cannot continue into perpetuity without causing real and lasting damage to our economy," said Senator Charles Grassley, an Iowa Republican.
Those concerns notwithstanding, analysts by and large expect Yellen to stick with the "dovish" approach to policy that she has long been known for, with a focus on reducing unemployment, particularly if inflation continues to run well below the Fed's 2 percent target.
Yellen has long argued that the Fed should tolerate slightly higher inflation if that is the cost of fighting high unemployment. But she has also advocated interest rate increases when she felt the threat of inflation called for them.
"She is a strong person but she is also one who is open to other people's opinion and learns quickly," said Bill Rhodes, president of William R. Rhodes Global Advisors and a former senior vice chairman at Citigroup. "I think there has been a tendency to underrate her ability, frankly."
Yellen is the first person appointed to an initial term as Fed chair by a Democratic president since Jimmy Carter named Paul Volcker to head the U.S. central bank in 1979. Although both Bernanke and his predecessor Alan Greenspan were reappointed by Democrats, their initial nominations were made by Republicans -- George W. Bush and Ronald Reagan, respectively.
And with Obama already one year into his second and last term as president, Yellen's appointment means his influence on economic policy will extend beyond his presidency.
OLD HAND
Yellen's rise to the top of the world's most influential central bank marks an important milestone for women, long under-represented in the field of economics and finance.
"She is breaking an incredibly important glass ceiling," Terry O'Neill, president of the National Organization for Women, a liberal group that advocates for gender equality, told Reuters.
Even with the Fed's December decision to pare its bond buying and set out a road map for the wind-down, the Yellen Fed will have plenty of discretion. She could wait before making further reductions if the recovery stalls, or dial the program down faster should the job market strengthen unexpectedly.
The Fed sought to soothe investor angst over the reduction in asset purchases with a strengthened pledge to keep benchmark overnight interest rates low for a long time to come.
Maintaining the credibility of this pledge will be key to keeping rates from rising too far, too fast, a key challenge for Yellen as she faces the delicate task of setting the Fed back on the path to more normal monetary policy without rattling financial markets or disrupting the U.S. economic recovery.
As she confronts that assignment, Yellen will draw on years of experience as a top economic policymaker, including her six years as chief of the San Francisco Fed and her more than three years as the central bank's No. 2 official.
She also served on the Fed's board in the 1990s when Alan Greenspan was chairman and as a top economic adviser to President Bill Clinton.
Yellen is a well-respected economics scholar and has taught at the Harvard University, the London School of Economics and the University of California, Berkeley.
Her research, some of it conducted with her Nobel-laureate husband George Akerlof, includes papers on topics as disparate as the rise in single motherhood, wage inflation and the negative effects of advertising.
As the Fed's vice chair, she spearheaded the central bank's adoption of a 2 percent inflation target and has championed the forward guidance the Fed has used to shape market expectations about the path of interest rates.
The central bank has said since December 2012 that it would hold rates near zero at least until unemployment falls to 6.5 percent, as long as inflation stays in check. Last month it said it expected to hold rates steady "well past" the time the jobless rate threshold is reached.
FILLING HOLES
Obama is expected to nominate former Bank of Israel head Stanley Fischer, an American-Israeli, to replace Yellen as vice chair.
But he will need to fill at least two other seats on the seven-member Fed board. One was left vacant when Elizabeth Duke departed in August and another is expected to be vacated soon when Sarah Bloom Raskin departs for the No. 2 job at the U.S. Treasury.
Yellen's road to the helm of the central bank was a highly political one that ran through last summer.
Obama only settled on her after his former economic adviser Lawrence Summers withdrew from consideration in the face of fierce opposition from within the president's own Democratic Party. That opposition, centering on questions about Summers' temperament for the top Fed job and concern over his part in deregulating the banking industry, raised doubts about his chances of winning Senate confirmation.
(By Thomas Ferraro and Richard Cowan; Writing by Ann Saphir, additional reporting by Jonathan Spicer in New York; editing by Tim Ahmann and Leslie Adler)