Romney's Hedge-Fund Backers Ready to Party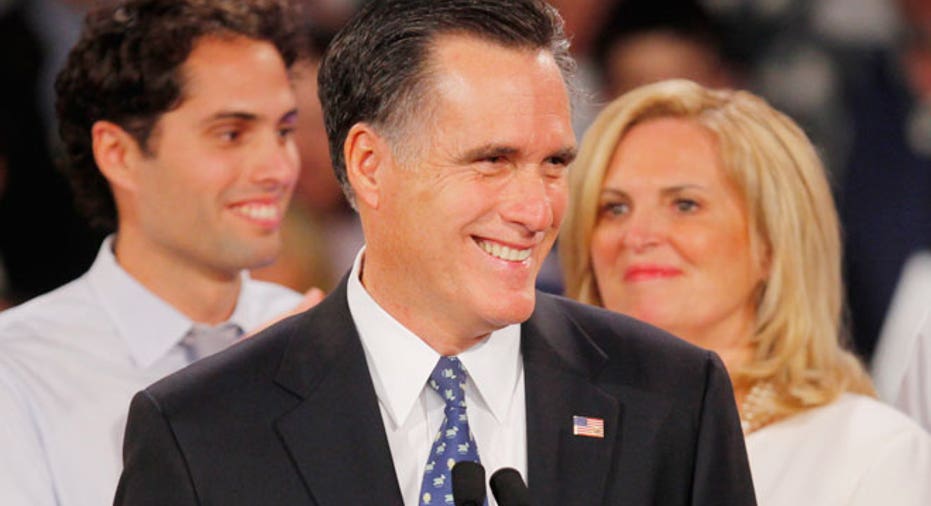 There is one group of voters Mitt Romney should win in a landslide in Tuesday's U.S. presidential election: hedge fund managers.
Most of the best-known hedge fund managers threw their support and, more importantly, their dollars behind the Republican presidential hopeful long ago.
Now, some heavyweights of the $2 trillion industry plan to break out the champagne and party in style Tuesday night as they cheer on their man at events in Boston, New York and even Las Vegas, according to people familiar with the Romney campaign and some of the big contributors.
Julian Robertson, a billionaire hedge fund manager who helped launch the careers of more than a dozen other money managers, will be in Boston, where Romney and his family will be watching the results come in.
Robertson and Romney have known each other for decades, going back to when Romney was running Bain Capital and Robertson's Tiger Management was one of the largest hedge funds around. At the height of Tiger's success, the fund was overseeing more than $20 billion.
Conventional wisdom suggests that if Romney defeats President Barack Obama, he will be less likely to raise taxes on the rich and will ease off on tough regulation of Wall Street. The stock market is expected to rise as a result.
It is a scenario that appeals to many hedge fund managers, many of whom feel Obama has demonized Wall Street and the rich in general while backing tougher regulations on the financial sector.
Joining Robertson in Boston will be other big donors to the Romney campaign, including New York Jets owner Woody Johnson and controversial casino magnate Sheldon Adelson, who has emerged as one of the biggest contributors to Republican candidates this year.
Anthony Scaramucci, founder of investment firm Skybridge Capital, organizer of the popular SALT hedge fund conference in Las Vegas and a long-time Romney supporter, is also heading to Boston. Paul Singer, who runs the $20 billion Elliott Associates hedge fund and has been another strong Romney supporter, was invited to spend the evening in Boston but his plans are unknown.
People familiar with the campaign say Romney's biggest donors and fundraisers will be attending a private party at the Westin Hotel next to the Boston Convention and Exposition Center, where Romney is scheduled to speak after the election results are announced.
PAULSON
But not all of Romney's most loyal backers in the hedge fund world are traveling to Beantown.
A Republican political adviser said less prominent Wall Street fundraisers for Romney will be gathering at Brinkley's Station, a bar and restaurant on Manhattan's Upper East Side. It is unclear who will be attending that event, or what will be on the menu, but Brinkley's features a $23.75 lobster club sandwich and $12 Bloody Marys.
John Paulson, who made billions betting on the collapse of the U.S. housing market, is hosting a small election party at his Upper East Side townhouse. Paulson, whose Paulson & Co hedge funds have endured two rough years, has long been a reliable host for Romney events, throwing parties for the candidate at his summer and regular residences.
Hurricane Sandy, which has caused devastation and hardship throughout the New York metropolitan area, has caused other money managers to alter their election-night plans.
One partner at a New York-based hedge fund with more than $10 billion under management had planned to host a party for both Republicans and Democrats at his Lower Manhattan apartment. But after Sandy hit, the soiree was canceled because there was too much damage to the host's apartment, according to a person who had been invited to the event.
Money manager Jason Ader, who gained prominence as a Wall Street gaming analyst and is backing Romney, had been planning to travel to Las Vegas for an election night "watch party" at the Venetian Resort Hotel Casino.
But in the aftermath of Sandy, Ader says he has decided to stay home. The manager of Ader Investment Management, which provides funding to small hedge funds, "will vote and watch at home with my young kids and educate them about the process and the returns," he said.
The Venetian is owned by Las Vegas Sands Corp, a casino and hotel company that is led by Adelson, and Ader is a board member. The invite for the party promises "remarks" by "special guests." A company spokeswoman declined to comment on the guest list.
Representatives for a number of other prominent Romney supporters in the hedge fund industry, such as Citadel's Kenneth Griffin and Third Point's Dan Loeb, declined to comment on how they plan to spend election night.
Robertson and Griffin have each donated more than $1 million to a Romney-friendly SuperPAC called Restore Our Future, campaign records show.
On the Democratic side, the big election-night parties will be in Chicago, where the Obama campaign is based. Mark Gilbert, a director at Barclays Wealth, the private banking arm of Barclays Plc, plans to attend a big Chicago event, according to a person who knows the Florida-based banker.
The few prominent hedge fund managers backing Obama appear to be taking a low-key approach to election night, especially in New York. A person close to Marc Lasry, founder of Avenue Capital Group, who has hosted fundraisers for Obama in the past, is not planning anything special tonight.
The smaller celebrations from Democratic-leaning money managers may be a reflection of the much larger amount of support Romney is getting from the industry.
But even some who favor Romney say they see no reason to get together with friends to celebrate because they expect Obama to be reelected.
David Hinman, chief investment officer of SW Asset Management, a Newport Beach, California-based investment firm, said in an email: "100 percent Obama wins; no reason to party."