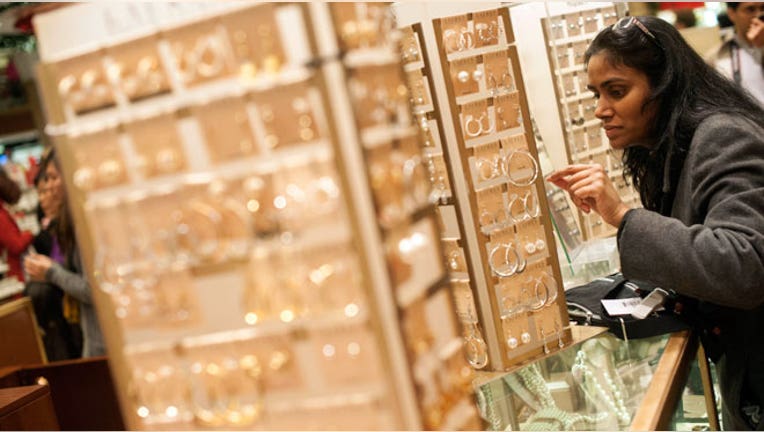 A gauge of U.S. consumer spending rose in September as Americans likely snapped up Apple's new iPhone and bought leisure goods, but falling sales of automobiles pointed to sluggish economic growth during the third quarter.
Other data on Tuesday showed lackluster demand was keeping inflation muted, with wholesale prices unexpectedly falling last month. That should provide the Federal Reserve with ammunition to maintain monthly bond purchases for a while as it tries to nurse the economy back to health.
Retail sales excluding automobiles, gasoline and building materials, increased 0.5 percent last month after a 0.2 percent gain in August, Commerce Department figures showed.
The so-called core sales correspond most closely with the consumer spending component of gross domestic product, which is expected to suffer under the impact of a 16-day government shutdown in October as politicians faced off over the U.S. budget. Economists polled by Reuters had expected core retail sales to increase 0.4 percent in September.
"This report points to continued resiliency in U.S. consumer spending activity," said Millan Mulraine, an economist at TD Securities in New York. "However, given the drag on confidence from the government shutdown and protracted debt ceiling fight earlier this month, this resiliency is expected to be tested."
In a separate report, the Labor Department said its seasonally adjusted producer price index dipped 0.1 percent last month, the first decline since April, after advancing 0.3 percent in August.
A Reuters survey of economists had forecast prices received by the nation's farms, factories and refineries would rise 0.2 percent in September.
In the 12 months through September, wholesale prices rose 0.3 percent, the weakest reading since October 2009. That compared to a 1.4 percent increase in August.
The tame wholesale inflation reading, coming on the heels of weak home sales and manufacturing production, as well as sluggish hiring, could see the Fed take its time to start scaling back monthly bond purchases aimed at stimulating the economy through low interest rates.
Officials from the central bank meet on Tuesday and Wednesday to assess the economy and deliberate on monetary policy. They are expected to keep the monthly $85 billion bond purchasing program in place until at least next March, according to a Reuters poll.
The dollar extended gains versus the euro and the yen after the data was released. Prices for U.S. government debt and U.S. stock index futures were little changed.
APPLE LIKELY LIFTED SALES
Core retail sales last month were boosted by a 0.7 percent advance in receipts at electronics and appliance stores.
Economists polled by Reuters had expected core retail sales to increase 0.4 percent in September.
The increase last month probably reflected sales of Apple's new iPhone. Those sales likely boosted receipts at non-store retailers, mostly Internet sites, which increased 0.4 percent in September. Apple said it sold 33.8 million iPhones in the September quarter.
While Americans bought smart phones, they cut back on automobile purchases, with sales at auto dealers falling 2.2 percent, the biggest drop since October last year.
That pushed down overall retail sales, which fell 0.1 percent in September. It was the first decline since March and followed a 0.2 percent gain in August. Economists had expected retail sales to edge up 0.1 percent last month.
Retail sales excluding automobiles rose 0.4 percent. Households also bought furniture, sporting goods and some building materials and garden equipment. Receipts at service stations were flat. Clothing sales fell 0.5 percent, the biggest drop since April 2012.
While core retail sales implied some strength in consumer spending, that probably will not alter views that economic growth slowed in the third quarter.
Data on home sales, manufacturing production and hiring have all suggested growth took a step back from the second quarter's 2.5 percent annual pace.
A drop in wholesale food prices offset a rise in the cost of energy, depressing overall producer prices in September. Food prices fell 1.0 percent as the cost of processed poultry recorded its biggest decline since February 2011.
Wholesale gasoline prices fell 0.1 percent.
Core PPI was lifted by a 0.9 percent increase in the price of light motor trucks, which was the biggest gain since July 2012, while cosmetics prices recorded their largest rise since June 2010.