Report: ECB Eyes Unlimited Bond Buying, No Yield Cap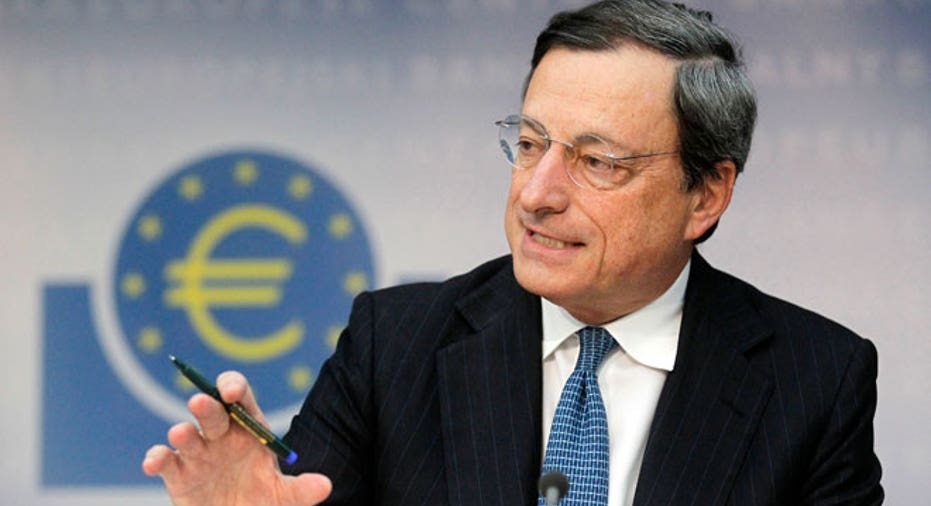 European Central Bank President Mario Draghi is reportedly planning to unleash an unlimited bond-buying program aimed at quelling tensions in the embattled eurozone, but won't set public yield caps.
According to Bloomberg News, the bond-buying plan will be "sterilized" to ease concerns about fueling inflation by removing from the financial system the same amount of money it spends.
ECB officials were set to debate the merits of the plan on Wednesday and could unveil it at the central bank's regularly-scheduled press conference on Thursday, the report said.
Policy makers are likely to sign off on the Draghi plan, with just Germany objecting, Bloomberg reported.
The global financial markets have turned their attention to the ECB this week amid hopes the central bank will take concrete steps to keep the tumultuous currency union intact.
Concerns have increased about the health of the eurozone in recent months, spreading from relatively small economies like Greece and Portugal to much larger Spain.
Despite reports suggesting the ECB would publicly announce caps on bond yields, the Bloomberg report said Draghi's plan would refrain from setting a cap and would only focus on government bonds of short-dated maturities of up to three years.
The plan would also be conditional, with the ECB likely to stop buying the bonds of governments that failed to meet bailout conditions, Bloomberg reported.
The global markets had a mixed response to the news with the Euro Stoxx 50 gaining 0.58%, Spain's IBEX 35 advancing 0.46% and Greece's ASE Composite surging 3%. The euro was recently up 0.24% to $1.2594, while the S&P 500 dipped 0.18% to 1402.37.