Rep. Weiner Admits Tweeting Photo, Will Not Resign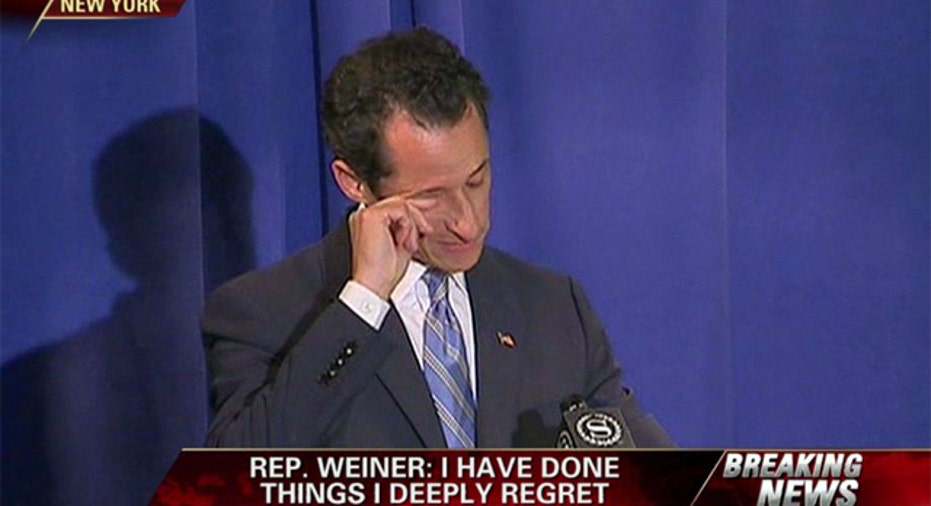 Representative Anthony Weiner on Monday tearfully admitted having a number of inappropriate relationships with women over the Internet, saying he was deeply ashamed but would not resign.
Weiner, a New York Democrat and leading liberal voice in the House of Representatives who was expected to run for mayor of New York City in 2013, admitted to inappropriate Internet and telephone conversations with six women but said none of them developed into a physical relationship.
"I'm deeply regretting what I have done and I'm not resigning," Weiner, who had been seen as a rising star among Democrats, told a news conference while wiping away tears as he apologized for his actions and for lying in the cover-up.
"I tweeted a photograph of myself that I intended as a direct message as part of a joke to a woman in Seattle," he said of an image sent over Twitter of a man in his underpants, which sparked the scandal more than a week ago.
"Once I realized I had posted it to Twitter, I panicked. I took it down and said that I had been hacked. I then continued to stick to that story, which was a hugely regrettable mistake," he said. "The picture was of me, and I sent it."
Calling his actions "very dumb" and "destructive," he stressed he did not have sex with any of the women.
Weiner is married to Huma Abedin, a longtime aide to Secretary of State Hillary Clinton. The couple was married in a ceremony officiated by former President Bill Clinton.
"I love my wife very much and we have no intention of splitting up over this," he said, adding she was disappointed by his actions.
Last week, Weiner denied tweeting a photo of a man's bulging boxer briefs to a 21-year-old female student in Washington state, insisting his account had been hacked.
FORGET ABOUT MAYOR?
Weiner said his affairs were conducted over several years on Twitter, Facebook, email and by phone with women he met online, primarily on Facebook. Among other things, he said he sent the women explicit pictures of himself.
"Certainly he can forget about mayor," said Doug Muzzio, a professor of public affairs, at Baruch College in New York, adding that while Weiner might weather the storm, he will likely face a tough challenge if he seeks re-election in 2012.
"It proves the rule that nothing is too stupid for American politicians," Muzzio said. "You think you've seen everything but in a sense, you ain't seen nothing yet."
It was not immediately clear if Congress would or could take any action against Weiner, who said he broke no law and mostly used his home computer and never used his congressional mobile device in any of his inappropriate actions.
House Democratic Leader Nancy Pelosi said, "I am calling for an Ethics Committee investigation to determine whether any official resources were used or any other violation of House rules occurred.
Paul Lindsay, a spokesman for the House Republican campaign committee, said, "It's time for Democratic leadership to explain why Congressman Weiner's actions never aroused any suspicion, and why they rushed to his defense."
Earlier this year, two other members of Congress, both Republicans, stepped down amid scandal. John Ensign resigned from the Senate amid an ethics committee probe into his extramarital affair with a campaign aide. And Representative Chris Lee resigned after he posted a shirtless and flirty photo of himself online.
On Monday, more pictures of Weiner, this time of him from the waist up sitting at his desk naked, surfaced online.
On Monday he characterized his relationships with the women as "a frivolous thing" and admitted that the affairs were conducted both before and since he was married.
Weiner's denials and subsequent admission was evocative of then President Bill Clinton who in 1998 admitted having an affair with White House intern Monica Lewinsky after vigorous denials.
Unlike Clinton, who was accused of being evasive even after admitting his dalliance, Weiner took many questions from the press on Monday, answering them plainly as he choked back his emotions, pausing to sip water on several occasions.
Unusual revelations by politicians in the New York metro area are nothing new. Former New York Governor Eliot Spitzer resigned after frequenting prostitutes and former New Jersey Governor James McGreevey, who was married, tearfully resigned after it was revealed he had a homosexual affair with an aide.
Still Weiner being undone by his own actions while using social media tools such as Twitter which he was successfully using to bolster his personal political brand is certainly a modern twist.