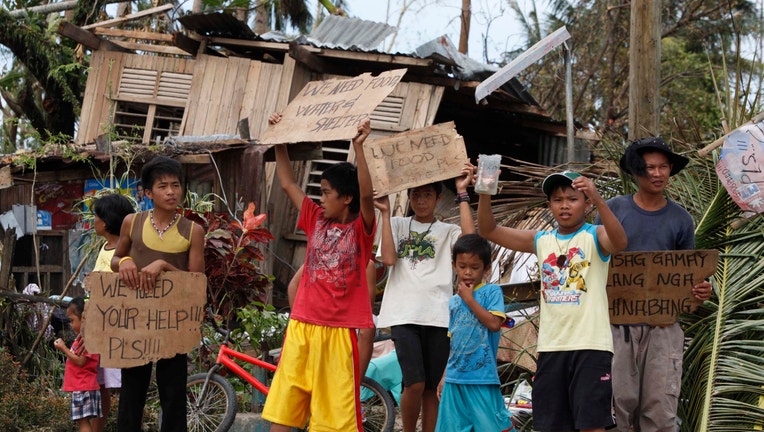 Thousands are feared dead in what is believed to be one of the worst natural disasters to ever hit the Philippines, a storm so deadly it makes Hurricanes Katrina and Sandy look weak in comparison.
But while early calculations will likely put the economic toll of Super Typhoon Haiyan far below those of less powerful storms in more affluent regions, don't be fooled by the numbers.
History shows third-world catastrophes, while initially appearing to have a weaker economic impact, actually have far more devastating and longer-lasting effects.
"There is clear evidence that emerging countries are hit particularly hard by natural catastrophe losses," Munich Re said in a recent report.
It's a fact that plagues most emerging countries wrought with poverty and void of the wide-scale insurance coverage experienced by the world's richer regions. Given their comparatively low access to private-sector aid, disasters are harder to recover from, their economic impacts far outlasting those in more developed countries.
The earliest available estimates shows that Typhoon Haiyan shaved roughly $14 billion from the Filipino economy, according to data from risk-assessment firm Kinetic Analysis, cited by USA Today, mostly because it missed the capital of Manila, responsible for a third of the country's $250 billion annual economic output.
However, most experts believe it is still too soon to give a ballpark figure of the total economic and long-term damage caused by Haiyan, known locally as Yolanda.
Rescuers are still making their way into the country's remotest regions, bringing food and water to the needy, counting and gathering the dead. It will likely take years to assess all of the destruction.
By The Numbers
The deadliest typhoon on record prior to Haiyan was Super Typhoon Bopha in 2012, which killed 1,000 but cost just $1 billion in total economic losses.
Compare that to Katrina, which killed 1,800 and triggered a whopping $108 billion in losses, and Sandy, which killed 286 people and cost more than $80 billion. (A majority of Sandy's costly damages occurred in the U.S., though a majority of her deaths were in the Caribbean.)
That is not to say the damage in the Philippines isn't as bad. On the contrary, the storm could end up costing ten times as many lives as Katrina. The comparatively lower figure is more a reflection of the country's deep poverty and weaker GDP.
"If we compare the relativities of the economic losses for these events to the individual country GDPs then they are in some way comparable," said Neena Saith, director and meteorologist at catastrophe risk modeling firm, RMS.
The distinguishing factor here, she says, is in relation to the economic development of the countries in question. The U.S. is obviously much more developed, with higher-value personal and commercial exposures, especially along the coast, and more developed infrastructure that is very expensive to fix when broken.
When comparing apples-to-apples by GDP, the real damage becomes evident.
For example, at a cost of $82 billion, Sandy made up about 0.52% of the U.S.'s $15.7 trillion GDP, while Bopha, at cost of $1 billion, made up 0.39% of the Philippines' $257 billion GDP, according to data compiled by RMS.
In a separate survey by reinsurer Munich Re, direct losses from natural catastrophes was found to total an average of 2.9% of the gross domestic product in emerging countries each year. That figure was just 0.8% in industrialized countries.
The Insurance Effect
At the same time, the non-life insurance market in the Philippines, while growing rapidly in recent years, still has low penetration when compared with other markets in the Far East.
If there is a lower insurance density, government debt per capita rises, weighing on the country's ability to recover following a catastrophe.
Despite the frequency of typhoons in the region -- Haiyan is the fourth typhoon and the fifth named storm to impact the Philippines in 2013 -- they have not been costly overall for the insurance industry, according to RMS.
However, Munich Re expects that penetration to rise out of pure necessity, arguing in a recent report that insurance against natural catastrophes makes "particular economic sense in these countries," a statement it says is backed by strong evidence from studies it conducted with the University of Wurzburg in Germany.
Other research, including that conducted by the Bank for International Settlements, indicates that major natural catastrophes cause "losses in wealth in the long term."
So while the initial economic numbers coming out of the Philippines may seem smaller in comparison, the unseen toll along the vulnerable islands might serve as a cataclysmic blow to the emerging country.
"With urbanization and the concentration of assets on the rise in many Asian countries, typhoons represent a huge and evolving risk," said Peter Hoeppe, head of Munich Re's GeoRisksResearch.
Fewer tropical cyclones rammed through the Northwest Pacific Basin over the last decade, however Hoeppe says greater storm activity is on the rise, expected to reach "a new relative maximum" in the early 2020s.