Qatar must shutter Al-Jazeera to restore ties, Arab coalition says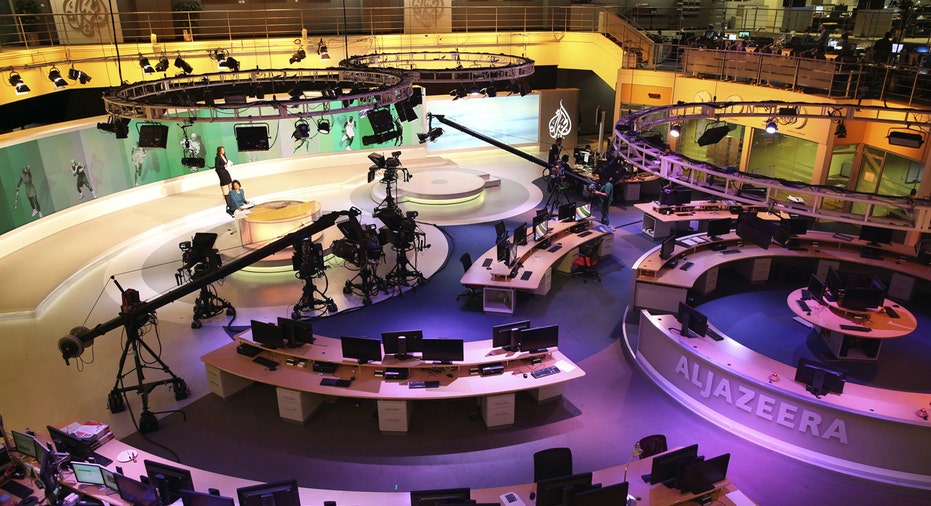 A coalition of Arab nations involved in a tense dispute with Qatar demanded Friday the beleaguered country shut down the Al-Jazeera news network as part of a list of 13 demands required to restore normal diplomatic relations.
The coalition, which includes Saudi Arabia, says Qatar must shutter both Al-Jazeera and its affiliates, which would include its English-language network. Based in the Qatari capital city of Doha, Al-Jazeera is one of the Middle East's most popular news services, but it has drawn criticism from Saudi Arabia and its partners due to perceived favorable coverage of certain viewpoints and groups, including the Muslim Brotherhood.
Attempts to shut down Al-Jazeera and its affiliates are "nothing but an attempt to muzzle a voice of democracy in the region and suppress freedom of expression," Giles Trendle, acting managing director of Al-Jazeera's English-language sister network, told the Associated Press.
In addition, the coalition demanded that Qatar cease funding several other news outlets, including Middle East Eye. Al-Jazeera shuttered its American channel, Al Jazeera America, in April 2016, citing competition in the media industry and subpar profits.
Calls to shutter Al-Jazeera were part of a 13-item list of demands to Qatar, including calls to sever any ties with the Muslim Brotherhood.
Saudi Arabia, Egypt, the United Arab Emirates and Bahrain broke ties with Qatar this month over allegations the Persian Gulf country funds terrorism — an accusation that President Donald Trump has echoed. Those countries have now given Qatar 10 days to comply with all of the demands, which include paying an unspecified sum in compensation.
Qatari officials in Doha did not immediately respond to a request for comment from the AP. But the list included conditions that the gas-rich nation had already insisted would never be met, including shutting down Al-Jazeera. Qatar's government has said it won't negotiate until Arab nations lift their blockade. The demands were also likely to elicit Qatari objections that its neighbors are trying to dictate its sovereign affairs by imposing such far-reaching requirements.
Only a day earlier, Secretary of State Rex Tillerson had warned the demands must be "reasonable and actionable." The U.S. issued that litmus test amid frustration at how long it was taking Saudi Arabia and others to formalize a list of demands, complicating U.S. efforts to bring about a resolution to the worst Gulf diplomatic crisis in years.
According to the list, Qatar must refuse to naturalize citizens from the four countries and expel those currently in Qatar, in what the countries describe as an effort to keep Qatar from meddling in their internal affairs.
They are also demanding that Qatar hand over all individuals who are wanted by those four countries for terrorism; stop funding any extremist entities that are designated as terrorist groups by the U.S.; and provide detailed information about opposition figures that Qatar has funded, ostensibly in Saudi Arabia and the other nations.
Qatar vehemently denies funding or supporting extremism. But the country acknowledges that it allows members of some extremist groups such as Hamas to reside in Qatar, arguing that fostering dialogue with those groups is key to resolving global conflicts.
Qatar's neighbors have also accused it of backing al-Qaida and the Islamic State group's ideology throughout the Middle East. Those umbrella groups also appear on the list of entities whose ties with Qatar must be extinguished, along with Lebanon's Hezbollah and the al-Qaida branch in Syria, once known as the Nusra Front.
More broadly, the list demands that Qatar align itself politically, economically and otherwise with the Gulf Cooperation Council, a regional club that has focused on countering the influence of Iran. Saudi Arabia and other Sunni-led nations have accused Qatar of inappropriately close ties to Iran, a Shiite-led country and Saudi Arabia's regional foe.
The Iran provisions in the document say Qatar must shut down diplomatic posts in Iran, kick out from Qatar any members of Iran's elite Revolutionary Guard, and only conduct trade and commerce with Iran that complies with U.S. sanctions. Under the 2015 nuclear deal, nuclear-related sanctions on Iran were eased but other sanctions remain in place.
Cutting ties to Iran would prove incredibly difficult. Qatar shares a massive offshore natural gas field with Iran which supplies the small nation that will host the 2022 FIFA World Cup its wealth.
If Qatar agrees to comply, the list asserts that it will be audited once a month for the first year, and then once per quarter in the second year after it takes effect. For the following 10 years, Qatar would be monitored annually for compliance.
The Associated Press contributed to this report.