Putin meets Volkswagen CEO, offers help in Russia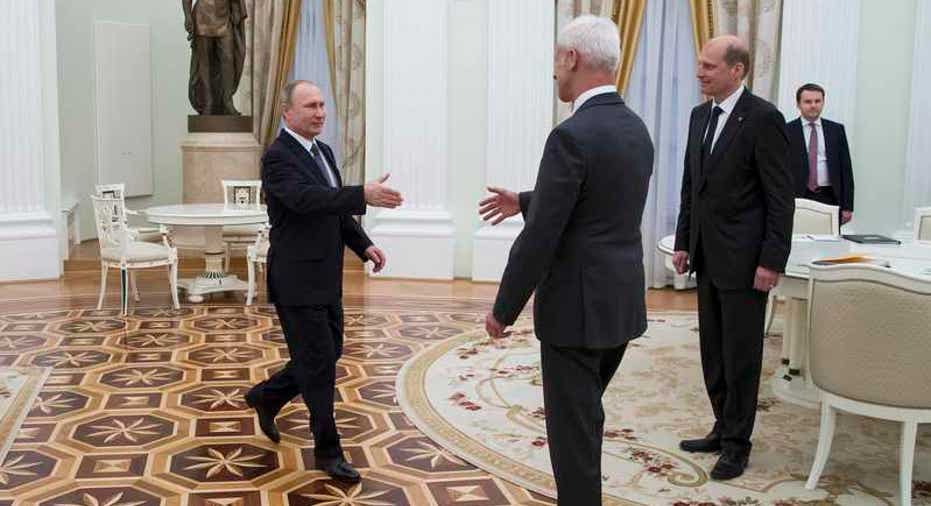 President Vladimir Putin met Volkswagen Chief Executive Matthias Mueller in Moscow on Wednesday and said he was ready to help the German car giant develop its business in Russia at a time of sliding sales and weak demand.
Putin said he understood the challenges the car maker faced in Russia, where the country's once-booming auto market has fallen victim to a sustained economic downturn.
"We are very happy that your business as a whole is doing well, although we understand there are certain difficulties," Putin said after the meeting, a rare face-to-face between the Russian leader and a major European industrialist after the West sanctioned Moscow for its 2014 annexation of Ukraine's Crimea.
"We are always ready to discuss any questions you have to help you develop further in our country."
VW Group, which produces the Volkswagen, Audi, Seat and Skoda brands, is Russia's largest foreign car maker by sales and revenue. But its sales fell by 5 percent in Russia last year, according to the Association of European Businesses (AEB) lobby group, as the wider market fell by 11 percent year-on-year.
Some foreign car makers, such as General Motors , have quit Russia, but Volkswagen has sustained investment, betting sales will one day recover to their 2012 peak of almost 3 million vehicles a year from around 1.4 million vehicles now.
The company makes cars at a factory in Kaluga, some 170 kilometers (105.63 miles) southwest of Moscow, and started production at a new engine plant in the city in 2015. It also has two other production sites.
An industry source said Mueller's meeting with Putin had been to discuss "exclusive benefits" for his company.
Volkswagen said in a statement it was committed to the Russian market, where it said it provided 6,800 direct and 50,000 indirect jobs, and planned further development there.
"We are thinking ahead over the future and looking for the ways of implementing our global strategy at the Russian market," the company said.
Putin told reporters tax privileges offered by the Russian government were already helping support Volkswagen's sales.
The AEB sees Russian car sales increasing by 4 percent in 2017 after four consecutive years of decline, but said on Wednesday they had fallen 5 percent in January. VW Group sales increased 2 percent for the month.
Volkswagen has fared worse elsewhere. After admitting in September 2015 that it cheated U.S. diesel emissions tests, it is still battling regulatory investigations, investor and consumer lawsuits, and striving to rebuild its reputation.
(Additional reporting by Andreas Cremer in Berlin; Editing by Andrew Osborn)