Prosecutor: Evidence Against Rajaratnam 'Overwhelming'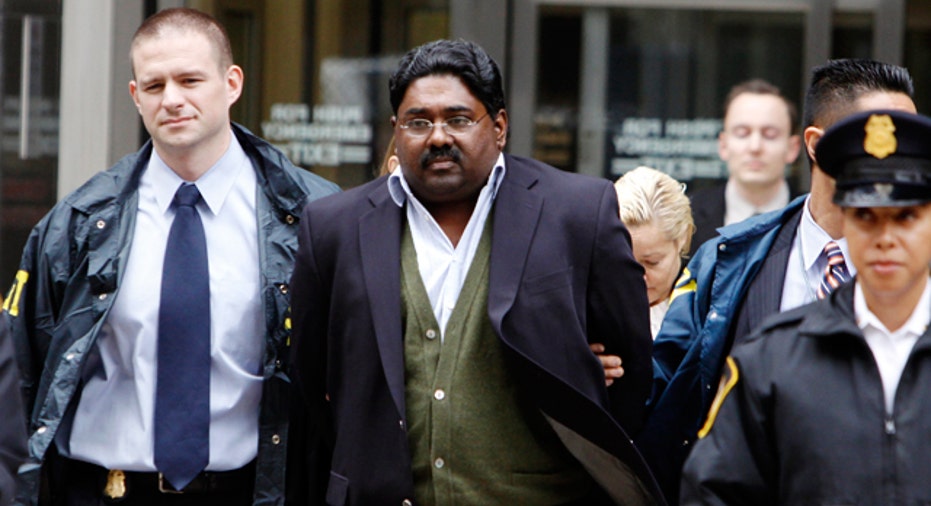 Raj Rajaratnam wanted to "conquer the stock market at the expense of the law," a U.S. prosecutor said in closing arguments of the hedge fund manager's insider trading trial Wednesday.
Rajaratnam's voice rumbled over speakers in a New York courtroom as prosecutor Reed Brodsky replayed excerpts of phone taps that he repeatedly said amounted to "overwhelming" evidence of guilt.
"You heard the defendant committing his crimes time and time again in his own words," Brodsky told the jury in summing up the government's evidence that Rajaratnam made an illicit $63.8 million between 2003 and March 2009 based on timely tips from highly placed corporate sources.
Chief defense lawyer John Dowd will later present the jury with his summation of the case on behalf of Rajaratnam, who sat expressionless in the crowded courtroom as the prosecutor spent hours underlining signature pieces of government evidence against him.
"The defendant's insider trading scheme helped him pad his profits that kept him at the top in a game to be the best, and conquer the stock market at the expense of the law," Brodsky told the 12 jurors and four alternates, who have paid close attention since the trial opened on March 9.
The jury could start deliberations as soon as Thursday.Rajaratnam, 53, is the central figure in a sweeping U.S. government probe of insider trading at hedge funds, and the only defendant so far to go on trial.
Rajaratnam was surrounded by at least 10 lawyers and a few friends as he listened to Brodsky's summation.
If convicted, Rajaratnam could be sentenced to up to 25 years in prison on charges of conspiracy and securities fraud relating to secrets about earnings or acquisition activity of more than a dozen companies.
Brodsky, replaying some of the secretly recorded phone calls previously heard by the jury, also reminded them of the testimony of key witnesses who have admitted conspiring with the Galleon Group hedge fund founder.
They included one-time friends -- former McKinsey & Co consultancy partner Anil Kumar and former Intel Corp executive Rajiv Goel -- and a former Galleon employee, Adam Smith."Corrupting his friends and his employees, he gained access to secret information to gain an advantage over ordinary investors in the stock market," Brodsky said.
He reminded the jury of payments the prosecution said Rajaratnam made to Kumar and Goel in exchange for inside information and which the two men admitted to on the witness stand.
TOMORROW'S NEWS TODAY
Brodsky said that by receiving information on technology companies such as chipmakers Advanced Micro Devices Inc and Intel and the Internet search company Google Inc, "the defendant knew tomorrow's news today, and that meant big money."
Kumar, Goel, Smith and a former New Castle Funds trader Danielle Chiesi -- who was also featured on key phone taps -- are among 19 people who have pleaded guilty out of 26 charged in the broad Galleon case.
During its side of the case, Rajaratnam's lawyers had countered by showing jurors a slew of graphs, charts and other documents to argue their client relied on public information and old-fashioned research to make trades.
To convict, the government must convince jurors beyond a reasonable doubt that Rajaratnam received material non-public information from people who had a duty not to disclose it, and that he knew it was wrong to trade on it.
A second trial with five defendants is scheduled to begin on May 16 before a different Manhattan federal judge.
Preet Bharara, the U.S. attorney in Manhattan, sat in the courtroom as Brodsky closed the government's case. Bharara has called insider trading on Wall Street "rampant" and instructed his prosecutors to continue investigations.
The case is USA v Raj Rajaratnam et al, U.S. District Court for the Southern District of New York, No. 09-01184.
(Reporting by Grant McCool and Jonathan Stempel, editing by Matthew Lewis)