Police, protesters clash in New Year's rally in Hong Kong
The new year started in Hong Kong the way last year ended, with huge, violent protests.
Hundreds of thousands of people packed Hong Kong streets for an annual New Year's Day protest march as the pro-democracy movement extended into 2020 with further violence between police and demonstrators.
Police said they arrested some 400 people for unlawful assembly and carrying offensive weapons as hard-line, black-clad youths broke off from the main group of marchers and attacked banks and ATM machines with spray paint, hammers and Molotov cocktails.
They smashed crossing lights, ripped bricks from sidewalks and barricaded roads in the downtown financial district.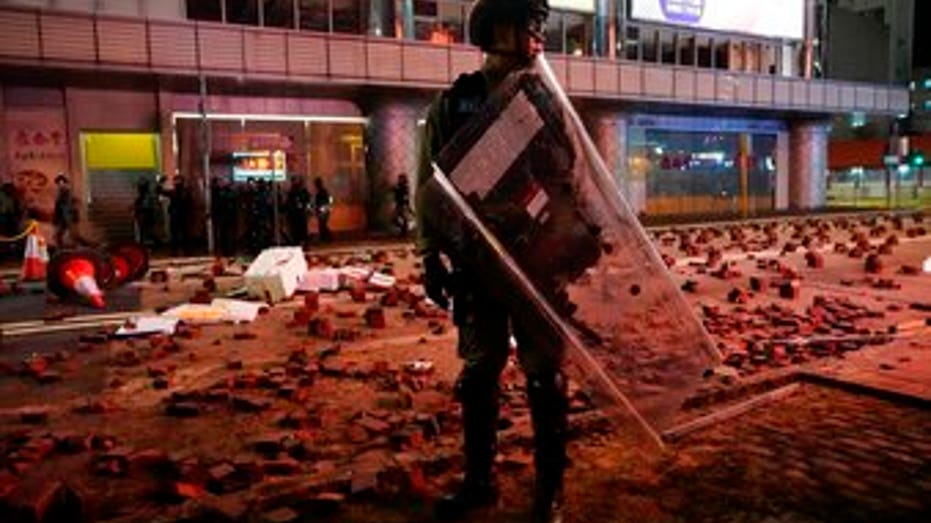 Banks and businesses identified with mainland China have been frequent targets of hardcore protesters.
Police used pepper spray, tear gas and a water cannon to drive off the demonstrators, although a government statement said officers were "deploying the minimum necessary force."
Senior Superintendent Ng Lok-chun told reporters that "rioters" hijacked the protest march and at one point endangered police officers by surrounding and throwing objects at them, which led to police ordering the rally to be called off at 6:15 p.m. Thousands, however, remained in the area and many had yet to set off from the starting point at Victoria Park.
The massive rally followed overnight clashes between police and protesters on New Year's Eve in a densely populated shopping district.
GET FOX BUSINESS ON THE GO BY CLICKING HERE
Hong Kong protesters formed giant human chains and marched through shopping malls on New Year's Eve.
People were urged not to give up the fight for democracy in 2020.
Hong Kong toned down its New Year's celebrations amid the protests that began in June and which have dealt severe blows to the city's retail, tourism and nightlife sectors.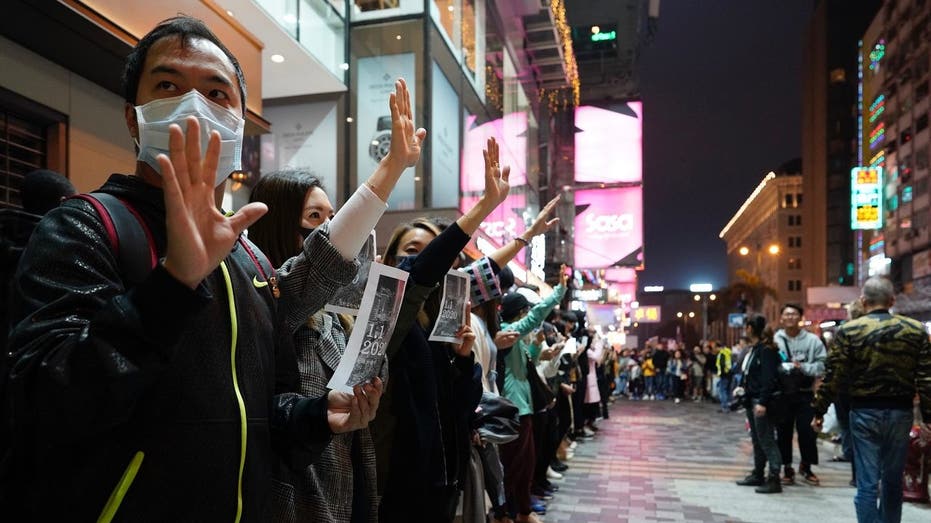 Such marches have often devolved at their conclusion into violence. Both sides have been accused of provoking clashes, and nearly 6,500 protesters as young as 12 have been arrested in scores of incidents on streets, in shopping malls and on college campuses.
This year's event appeared to be significantly larger than in past years, although estimates of the numbers of participants often vary widely between organizers and police.
HONG KONG PROTESTERS STAGE NEW YEAR MARCHES AS AUTHORITIES CANCEL MIDNIGHT FIREWORKS
The protests began in June over proposed legislation that could have allowed residents to be extradited to China where they could face possible torture and unfair trials. The legislation was withdrawn, but not before the protests expanded to wider calls for reforms in the semi-autonomous Chinese territory.
In her New Year's address, Hong Kong leader Carrie Lam said the months of protests had brought "sadness, anxiety, disappointment and even rage," and she vowed to tackle underlying social and economic problems in the coming year.
Lam said she would "listen humbly" to help bring an end to the protests but also reinforced the importance of the "one country, two systems" framework under which China rules Hong Kong and which brooks no challenge to the ruling Communist Party's ultimate authority.
CLICK HERE TO READ MORE ON FOX BUSINESS
In his own New Year's address, Chinese President Xi Jinping referred to the protests, saying "Hong Kong's prosperity and stability is the wish of Hong Kong compatriots and the expectation for the people of the motherland."
The Associated Press contributed to this article.