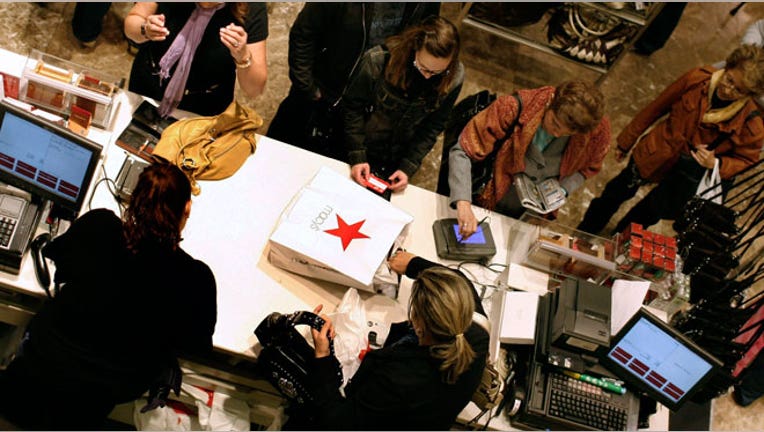 U.S. consumer spending barely rose in February as households boosted savings to their highest level in more than two years, the latest sign that the economy hit a soft patch in the first quarter.
Economic growth has been undercut by bad winter weather, a strong dollar, a now-settled labor dispute at busy West Coast ports and softer demand in Europe and Asia. The slowdown in activity, however, is expected to be temporary.
"Even if the first quarter is weak, the outlook for consumption over the remainder of this year looks good," said Paul Ashworth, chief U.S. economist at Capital Economics in Toronto.
"Households are still flush with the money saved from the big drop-off in gasoline prices and, with the labor market still on fire, incomes should continue to increase at a solid pace."
The Commerce Department said on Monday that consumer spending edged up 0.1 percent after dropping 0.2 percent in January. Households cut back on purchases of big-ticket items like automobiles, but a cold snap lifted spending on utilities.
Economists polled by Reuters had expected consumer spending, which accounts for more than two-thirds of U.S. economic activity, to increase 0.2 percent last month.
When adjusted for inflation, consumer spending dipped 0.1 percent last month, the weakest reading since April of last year, after rising 0.2 percent in January.
The dollar rose against a basket of currencies after the data. Stock index futures also were trading higher, while prices for U.S. Treasury debt fell.
Consumption has cooled since the fourth quarter, when it hit its fastest pace in more than eight years.
The soft consumer spending data could see economists further lower their first-quarter growth estimates, which currently range between a 0.9 percent and 1.4 percent annualized pace. The economy grew at a 2.2 percent rate in the fourth quarter.
"At first glance, it looks like we could be tracking a full percentage point lower on first-quarter real consumption growth. However, the surprise weakness in consumption suggests we could see a greater build in inventories in the first quarter," said Laura Rosner, an economist at BNP Paribas in New York.
While households appear to have pocketed the bulk of their savings from lower gasoline prices or used the money to pay down debt, economists expect improved household balance sheets and a tightening labor market to boost consumer spending this year.
Last month, income rose 0.4 percent after a similar gain in January. Savings jumped to $768.6 billion, the highest level since December 2012, from $728.7 billion in January.
The saving rate rose to 5.8 percent, also the highest since December 2012, from 5.5 percent in January.
There was a slight uptick in prices last month, suggesting a recent disinflationary trend had run its course, but inflation remains well below the Federal Reserve's 2 percent target.
Fed Chair Janet Yellen signaled on Friday that the U.S. central bank would likely start raising interest rates later this year, even with inflation running low. The Fed has held its key short-term interest rate near zero since December 2008.
A price index for consumer spending increased 0.2 percent in February after falling 0.4 percent in January. In the 12 months through February, the personal consumption expenditures (PCE) price index rose 0.3 percent.
Excluding food and energy, prices edged up 0.1 percent after a similar gain in January. The so-called core PCE price index increased 1.4 percent in the 12 months through February.
(Reporting by Lucia Mutikani; Editing by Paul Simao)