Pence Says United States Will Honor Refugee Deal With Australia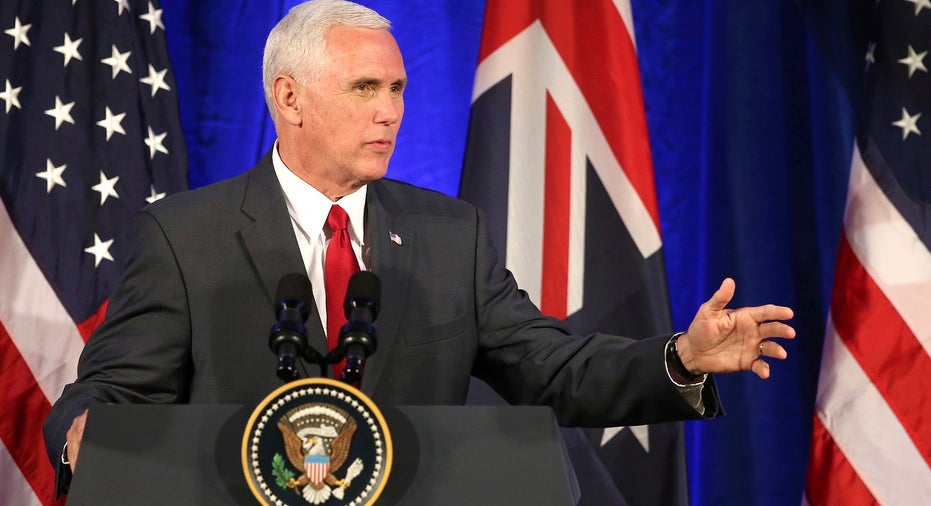 U.S. Vice President Mike Pence said on Saturday the United States would honour a controversial refugee deal with Australia, under which the United States would resettle up to 1,250 asylum seekers, a deal President Donald Trump had described as "dumb".
Pence told a joint news conference with Australian Prime Minister Malcolm Turnbull that the deal would be subject to vetting, and that honouring it "doesn't mean that we admire the agreement".
"We will honour this agreement out of respect to this enormously important alliance," Pence said at Turnbull's harbourside official residence in Sydney.
Australia is one of Washington's staunchest allies and has sent troops to fight alongside the U.S. military in conflicts in Iraq and Afghanistan.
Under the deal, agreed with former President Barack Obama late last year, the United States would resettle up to 1,250 asylum seekers held in offshore processing camps on South Pacific islands in Papua New Guinea (PNG) and Nauru.
In return, Australia would resettle refugees from El Salvador, Guatemala and Honduras.
The White House has already said it would apply "extreme vetting" to those asylum seekers held in the Australian processing centres seeking resettlement in the United States.
The deal has taken on added importance for Australia, which is under political and legal pressure to shut the camps, particularly one on PNG's Manus Island where violence between residents and inmates flared last week.
Asylum-seeker advocates welcomed the U.S. commitment, although they remained concerned that "extreme vetting" could see fewer than 1,250 resettled in the United States.
"What still isn't clear is how many people will have this opportunity, and that clarity must be provided," said Graham Thom, Refugee Coordinator at Amnesty International Australia.
"The violence on Manus Island last weekend only further demonstrates that the Australian government needs to give a clear commitment that no refugee or person seeking asylum will be left behind in Papua New Guinea or Nauru," he said.
ACRIMONIOUS CALL
An inquiry by an upper house Senate committee in Australia said the government must be more transparent about the operations of the processing centres in PNG and Nauru, which are run by contractors.
The report, released on Friday, also said the Australian government had a duty of care to the asylum seekers being held in the camps.
Australia's relationship with the new administration in Washington got off to a rocky start when Trump lambasted Turnbull over the resettlement arrangement, which Trump labelled a "dumb" deal.
Details of an acrimonious phone call between the pair soon after Trump took office made headlines around the world.
Turnbull acknowledged Trump's reluctance, but said the U.S. commitment was a measure of Trump's new U.S. administration.
"It speaks volumes for the commitment, the integrity of President Trump," he said.
Pence was speaking on the final leg of a 10-day tour of the Asia-Pacific region that included meetings with political and business leaders in South Korea, Japan and Indonesia.
His trip to Australia is the first by a senior official in the Trump administration as the United States looks to strengthen economic ties and security cooperation amid disputes in the South China Sea and tension on the Korean peninsula.
(Reporting by Roberta Rampton and Colin Packham; Additional reporting by Peter Gosnell; Writing by Paul Tait; Editing by Jacqueline Wong)