One Man's Trash an Economist's Treasure?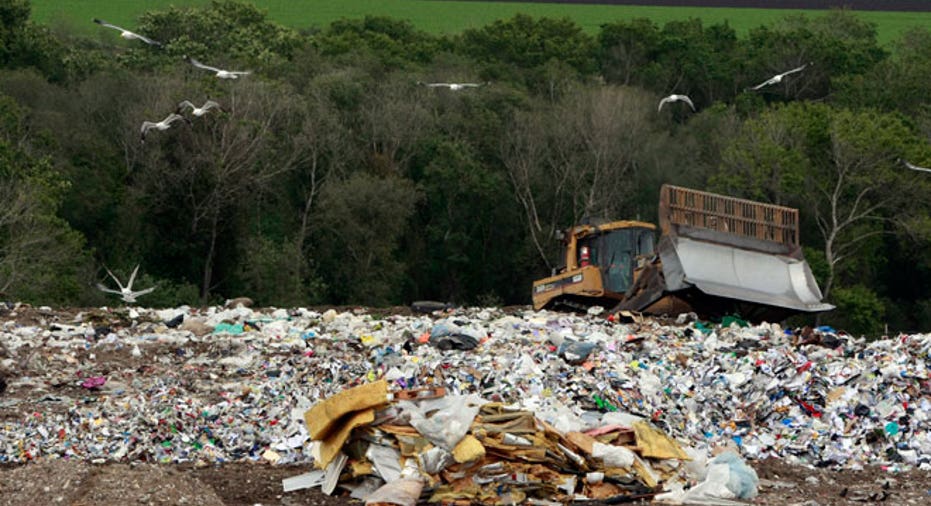 The health of the U.S. economy is often measured by the amount of stuff -- everything from clothes to computers to cars -- that Americans consume.
But what about the mountains of stuff consumers toss in the trash each week?
It turns out economists have found some real value in measuring waste generation per capita, which tends to be correlated with gross domestic product. In other words, the more trash Americans generate, the faster the economy seems to expand.
"While most of us think our garbage is just that -- worthless -- in a different light it's a useful (and underappreciated) indicator of the state of the U.S. consumer, business cycle, and the economy as a whole," Sarah Millar, a market strategist at ConvergEx Group, wrote in recent note to clients.
One form of waste that is seen as an alternative economic barometer is municipal solid waste, which is the trash like food scraps, furniture and clothing that is hauled away to landfills each week.
Millar said total and net waste generation (total waste less recycled waste) correlates "very strongly" with GDP growth, spiking in the mid-1970s and early 1980s when the U.S. surged out of recessions with robust recoveries.
Of course, trash is an imperfect way to measure the progress of the economy and isn't likely to replace traditional metrics like retail sales and durable goods orders. Still, the relationship between waste and GDP growth does make some sense, as the more that consumers buy, the more they need to eventually get rid of.
The latest data on municipal solid waste paint a dreary picture about the current economic recovery, which has largely been fragile and lackluster.
According to the Environmental Protection Agency, total waste generation has declined 1.1% since the agency's last survey in 2010 and net waste generation has tumbled 5.1%, Millar said.
"More trash is typically the result of booming businesses, manufacturers, and even households -- all of which this recovery has yet to see in big numbers," she said.
After rising only 2% in the first quarter of the year, U.S. GDP growth slowed to just 1.5% last quarter amid the worsening sovereign debt crisis in Europe and tough domestic labor conditions.
Furthermore, waste carloads have slumped more than 20% so far in 2012, according to the Association of American Railroads, echoing a deep decline before the Great Recession.
Yet waste carloads aren't as helpful as a barometer of overall growth because few cities outside of New York and Seattle ship municipal solid waste by rail. Waste carloads have also been impacted by larger secular changes, including a drop-off in construction and growth in multifamily dwellings, which tend to create less waste, Millar said.
Outside of traditional trash, there are other forms of waste that can help hint at the direction of the U.S. economy, such as carbon dioxide emissions from energy use.
"CO2 emissions are very highly correlated to GDP growth. Logically this makes perfect sense, as the more industrial activity there is, the higher emissions will be," said Millar.
According to the U.S. Energy Information Administration, carbon dioxide emissions have plunged in recent years as industrial, transportation and residential activity has slumped, highlighted by a first-quarter reading that was the lowest since 1992. The EIA cited the sluggish economy as one factor behind the 20-year low.
However, this metric's use as an economic barometer has become clouded by a shift toward more environmentally-friendly energy like natural gas instead of coal. The EIA said conservation efforts and rising renewable energy were also drivers for the low first-quarter C02 reading.
While readings on C02 and municipal waste suggest an anemic economic recovery, the level of recycled gold paints a more optimistic picture.
The price of gold, which is seen as an important hedge against inflation, has surged from around $835 a troy ounce in August 2008 to an all-time record of $1,888 three years later.
Yet the World Gold Council said the global supply of recycled gold actually declined 3.1% in 2011 and is on track to dip further this year.
"That could be good news on the consumer front: less gold sold possibly means less distress," said Millar.