Obama Visits Disaster-Stricken Alabama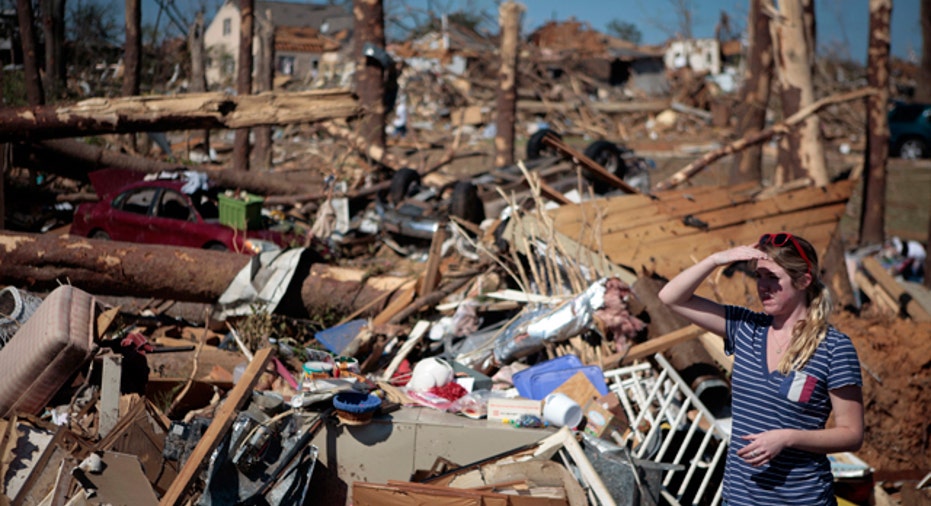 President Barack Obama flew to the epicenter of one of the United States' worst ever tornado disasters Friday to pledge federal support for recovery after 310 people were killed by destructive twisters.
The president and his family visited the wrecked university city of Tuscaloosa in Alabama, the hardest hit of seven states that were blasted this week by tornadoes and storms that flattened whole neighborhoods. It was the worst U.S. natural catastrophe since Hurricane Katrina in 2005.In Alabama alone, 210 people lost their lives.
Approaching the airport in Tuscaloosa, Air Force One flew over the tornado strike zone, giving Obama and his family a clear view of a wide brown scar of devastation several mileslong and hundreds of yards wide.
The president is eager to show that federal relief is on its way and that he is not taking the disaster lightly. His predecessor President George W. Bush was fiercely criticized for what was viewed as a slow response to Hurricane Katrina.
White House spokesman Jay Carney said Obama "wants to put a spotlight for the rest of America on the suffering that a storm like this implies for so many families."
Recovery could cost billions of dollars and even with federal disaster aid it could complicate efforts by affected states to bounce back from recession. It will place an added burden on municipalities grappling with fragile finances.
Tornadoes are a regular feature of life in the U.S. South and Midwest, but they are rarely so devastating. Deaths also were reported in Mississippi, Tennessee, Arkansas, Georgia, Virginia and Louisiana.
The tornadoes ravaged Alabama's poultry industry - the state is the No. 3 U.S. chicken producer -- and battered at least one coal mine and other manufacturers and industries.
The second-biggest U.S. nuclear power plant, the Browns Ferry facility in Alabama, may be down for weeks after its power was knocked out and the plant automatically shut, avoiding a nuclear disaster, officials said.
Apparel producer VF Corp said one of its jeanswear distribution centers, located in Hackleburg, Alabama, was destroyed and an employee killed.
At first light Friday, state authorities deployed teams in Tuscaloosa, home to the University of Alabama, to help survivors still picking up the pieces after the tornadoes Wednesday devastated homes and businesses.
The twisters, including one a mile -wide that cut a path of destruction, reduced houses to rubble, flipped cars and knocked out power and other utilities.
"We are bringing in the cadaver dogs today," said Heather McCollum, assistant to the mayor of Tuscaloosa, who put the death toll in the city at 42 but said it could rise. She said 900 people were injured.
Hundreds of people were left homeless by the tornadoes and stayed in shelters. A curfew would be renewed Friday night to prevent looting, although there had been almost none, she said.
WRECKED SHOPS, UNIVERSITY CLOSED
The city has been inundated with offers of help from around the country, McCollum told Reuters.Wrecked McFarland Boulevard, normally one of the busiest streets, was largely blocked off and state troopers and city police patrolled its shattered shops and houses.
The storms left up to 1 million homes in Alabama without power. Because of damage to infrastructure and gas stations, Alabama and the neighboring state of Tennessee advised people traveling to affected areas to fill up their tanks with gas.
Water and garbage collection services were also disrupted in some areas.
Alabama's Jefferson County, which is fighting to avoid what would be the largest municipal bankruptcy in U.S. history over a $3.2 billion bond debt, suffered damage and 19 dead but said the storms would have little direct impact on its finances.
"It won't directly impact us in that the president (Obama) has declared a national disaster which requires grants," county commission president David Carrington said.
The storm threw into turmoil the University of Alabama. Two students died off campus and administrators canceled final exams and postponed graduation until August.
Many students slept in dorm rooms without power overnight and large numbers were heading home on Friday. "Everyone is getting out," said Katie Bayless, 19, whose parents had driven through the night from Houston, Texas, to collect her.