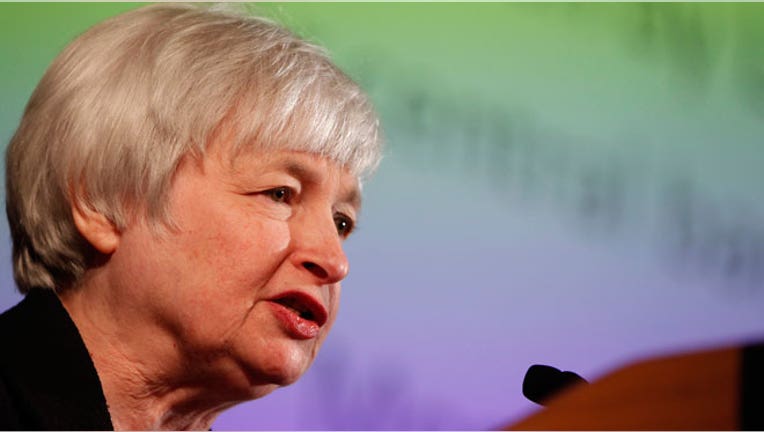 President Barack Obama will announce his intent to nominate Federal Reserve Vice Chairwoman Janet Yellen to become the U.S. central bank's new head on Wednesday, a White House official said late Tuesday.
The president is expected to hold an event at 3:00 p.m. ET on Wednesday to make the announcement. President Obama will be joined by current Federal Reserve Chairman Ben Bernanke and Yellen.
"She's an excellent choice and I believe she'll be confirmed by a wide margin," Senator Charles Schumer, D-N.Y., said in a statement following the news of the Wednesday announcement.
On Tuesday Schumer predicted that Janet Yellen will win "by a wide margin" Senate confirmation to be the next head of the Federal Reserve Board.
If confirmed, Yellen would replace Ben Bernanke, whose current term as head of the Fed ends in January. Yellen, 67, would be the first-ever woman named as Chair of Board of Governors of the Federal Reserve System.
The widely-expected nomination was first reported by the Wall Street Journal Tuesday evening.
Obama turned to Yellen after his former economic adviser Lawrence Summers withdrew from consideration amid fierce opposition from within Obama's own Democratic Party, which raised questions about his chances of being confirmed in Congress.
In contrast, Yellen has enjoyed strong support from Democrats. In an unusual move, 20 Senate Democrats signed a letter pressing Obama to turn to the former professor from the University of California at Berkeley.
Her backing on the Republican side of the aisle is much softer. Many Republicans worry the Fed's policy of holding overnight interest rates at zero and the massive bond purchases it has pursued to drive other borrowing costs lower threaten to create asset bubbles and spark an unwanted pickup in inflation.
Still, Yellen is expected to garner enough support to secure the 60 votes needed to overcome any procedural hurdles in the 100-seat Senate. Democrats control the chamber 54-46.
A respected economist whose research has taken her deep into theories of monetary policy, Yellen has earned a reputation as one of the Fed officials most worried about unemployment and least worried about inflation.
FOX Business's Rich Edson and Reuters contributed to this report.