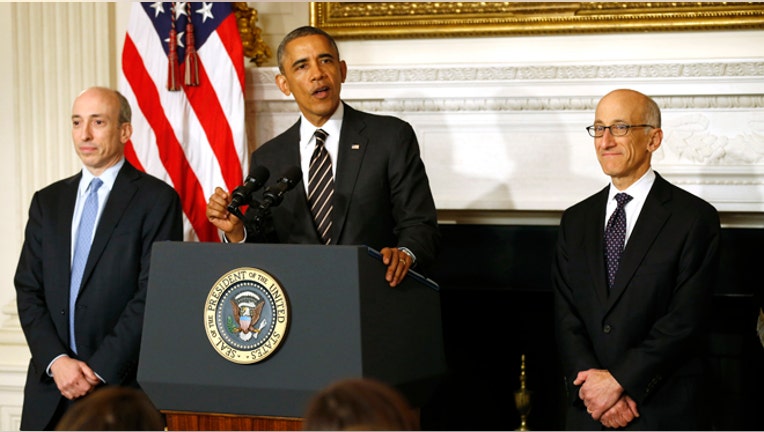 President Barack Obama named Timothy Massad, a lawyer who earned his spurs at the country's bank bailout program, as the next head of the U.S. swaps regulator, according to a White House official.
If the Senate confirms Massad at the Commodity Futures Trading Commission, he would head an agency that was given vast new regulatory powers after the 2007-09 crisis to rein in the uncontrolled trading of complex derivatives - a $630 trillion market - on Wall Street.
The nomination is a last-minute solution to avoid a leadership vacuum at the powerful regulator, since current CFTC Chairman Gary Gensler's term expires on Jan. 3, 2014.
"Tim's a guy who doesnt seek the spotlight, but he consistently delivers," Obama said on Tuesday. "I have every confidence that he's the right mean to lead an agency designed to prevent future crises."
The CFTC, long an unexciting agency overseeing agriculture futures, has only just been put in charge of the swaps markets, and has yet to write some of its planned rules.
Gensler has rushed through thousands of pages of new regulations in recent years, and the world's largest investment banks such as JP Morgan and Bank of America are now registered with the agency.
"Gary Gensler set a very high standard," Senator Elizabeth Warren said in an email. "I look forward to hearing more from Tim Massad about what steps he thinks the CFTC can take to further reduce the risk of future crises," said Warren, a Massachusetts Democrat fiercely critical of Wall Street.
The CFTC has reaped billions of dollars in fines - easily the highest in its history - in the Libor interest rate rigging case from a range of large banks including Switzerland's UBS and Britain's Barclays and RBS.
It has also charged Jon Corzine - the former New Jersey governor and U.S. senator who headed futures brokerage MF Global when it collapsed in 2011 - in a civil lawsuit, blaming him for being a key actor in the bankruptcy.
CONSENSUS BUILDER
Massad, 57, was born in New Orleans and spent most of his career as a lawyer at Cravath, Swaine & Moore LLP in New York and Hong Kong, working on a wide variety of corporate transactions. He joined the firm in 1984 and was made a partner in 1991.
He has an ability to get people to agree, a former colleague at the firm said, something that could set him apart from Gensler, who riled some on Wall Street because of the fast pace with which he adopted rules.
"He's someone I would expect to be a consensus builder and to be thoughtful about other people's views. He doesn't always agree, but he engages with people," said the former colleague, who asked not to be named.
Still, Massad - who has described how his Lebanese grandparents came to the United States as teenagers, barely able to speak English - has shown himself to be a loyal defender of the Dodd-Frank reforms before the U.S. Congress and in the media.
Massad has also had direct experience in the highly technical world of derivatives trading, the person said, as the two had drawn up legal documents to regulate trading when the swaps market kicked off in the late 1980s.
But he is likely less of an expert than Gensler, a former Goldman Sachs banker who helped write large parts of the Dodd-Frank law that the CFTC was then told to implement.
The White House praised Massad for turning a profit at the Troubled Asset Relief Program, the taxpayer-funded rescue mission for banks and other troubled companies.
Massad joined the Treasury in May 2009 after a brief spell at the Congressional Oversight Panel, the political body that oversaw TARP. He was closely involved and then headed the program from June 2011, when the Senate confirmed him as Assistant Secretary for Financial Stability.
Sharon Bowen, another New York lawyer, is being vetted to fill a second open Democratic position at the CFTC after Commissioner Bart Chilton last week said he would leave, observers have said.
Obama has already nominated Chris Giancarlo, a senior executive at New York derivatives broker GFI Group for a third spot, and is widely expected to ask the Senate to confirm the three in their new roles in one hearing.
(Reporting by Douwe Miedema, editing by G Crosse)