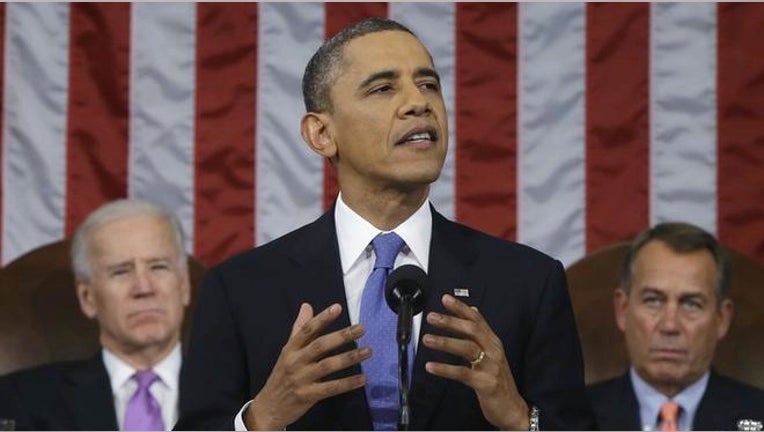 President Barack Obama unveiled an agenda Tuesday night to revive the ho-hum economy that he says will create jobs and reignite the middle class without worsening the country's $16 trillion debt problem.
"A growing economy that creates good, middle-class jobs – that must be the North Star that guides our efforts," the president said in the 92nd-in-person State of the Union address. "Every day, we should ask ourselves three questions as a nation: How do we attract more jobs to our shores? How do we equip our people with the skills needed to do those jobs? And how do we make sure that hard work leads to a decent living?"
The president pointed to recent economic strength such as businesses creating more than six million jobs since the end of the recession, a healing housing market and a thriving Wall Street. However, he recognized we still have further to go for a full recovery.
"…We gather here knowing that there are millions of Americans whose hard work and dedication have not yet been rewarded. Our economy is adding jobs – but too many people still can't find full-time employment. Corporate profits have rocketed to all-time highs – but for more than a decade, wages and incomes have barely budged."
In front of a joint session of Congress, the president also proposed education, tax and Medicare reforms, new infrastructure and work programs and pushed for mortgage refinancing legislation that he said will not increase the budget "by one dime."
"It's not a bigger government we need, but a smarter government that sets priorities and invests in broad-based growth."
Read the president's plan for a strong middle class here
The president called to raise the federal minimum wage to $9.00 an hour from $7.25. "This single step would raise the incomes of millions of working families. It could mean the difference between groceries or the food bank; rent or eviction; scraping by or finally getting ahead." He also introduced the Fix-It-First program that will put Americans to work on the country's crumbling infrastructure.
"We've been hearing about this idea from several different presidents, but it never seems to move to the forefront," says Derek Gabrielsen, wealth advisor with Strategic Wealth Partners in Seven Hills, Ohio. "But if he can do this, it would satisfy the goal to create jobs and bring back jobs from overseas with improving infrastructure."
The president also call for a divided Congress to prevent looming automatic spending cuts, known as the sequester, with a debt reduction plan that includes spending cuts and additional tax revenues.
"These sudden, harsh, arbitrary cuts would jeopardize our military readiness. They'd devastate priorities like education, energy, and medical research."
He called the proposal to only stop the cuts to defense by making more cuts to education, Medicare and Social Security "even worse."
"Yes, the biggest driver of our long-term debt is the rising cost of health care for an aging population. And those of us who care deeply about programs like Medicare must embrace the need for modest reforms – otherwise, our retirement programs will crowd out the investments we need for our children, and jeopardize the promise of a secure retirement for future generations."
Some experts were surprised by the little time dedicated to the deficit, but Michael Kazin, history professor at Georgetown University, says this forum wouldn't be appropriate to tackle the issue since many Americans don't really understand sequestration.
"He gave specific reforms on things he cares about: immigration, a vote on gun control, making sure every child has a good preschool to attend, on all of those things he was very specific. On topics like Medicare and deficit reduction, he was a little more vague."
The president asked Congress to change the Higher Education Act and for states to make high-quality preschool available to every child in the country.
Touching on the cost of health care and Medicare, the president proposed reducing taxpayer subsidies to prescription drug companies and to "ask more from the wealthiest seniors."
"We'll bring down costs by changing the way our government pays for Medicare, because our medical bills shouldn't be based on the number of tests ordered or days spent in the hospital – they should be based on the quality of care that our seniors receive."
Just two months after the horrific shootings at Sandy Hook Elementary School that left 26 children and teachers dead, the president called on Congress to vote on legislation that will make it harder for criminals to get a gun and restrict the sale of weapons of war and massive ammunition magazines.
"Each of these proposals deserves a vote in Congress. If you want to vote no, that's your choice. But these proposals deserve a vote. Because in the two months since Newtown, more than a thousand birthdays, graduations, and anniversaries have been stolen from our lives by a bullet from a gun."
Many lawmakers and people in the chamber wore green ribbons from the Newtown Action Alliance.
Obama also urged Congress to pass comprehensive immigration reform. "And real reform means fixing the legal immigration system to cut waiting periods, reduce bureaucracy, and attract the highly-skilled entrepreneurs and engineers that will help create jobs and grow our economy."
Obama also turned his attention to foreign policy elements on the day North Korea conducted its third underground test of a nuclear device.
"Provocations of the sort we saw last night will only isolate them further, as we stand by our allies, strengthen our own missile defense, and lead the world in taking firm action in response to these threats."