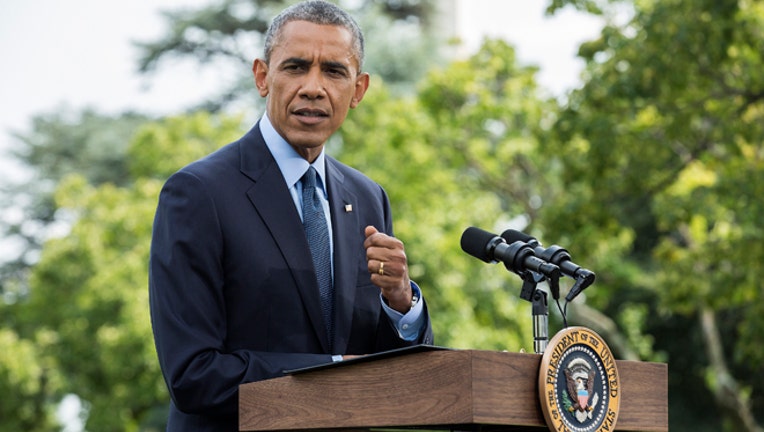 President Barack Obama announced a new round of economic sanctions against Russia on Tuesday in an effort to ramp up pressure on Russian President Vladimir Putin to end violence in the eastern Ukraine.
"The cost on Russia will continue to grow," the president said in a statement. "Today is a reminder that the United States means what it says."
Specifically citing the downing by missile of a Malaysian Airlines passenger jet earlier this month, Obama said in comments in Washington that the sanction will target Russia's energy, defense and banking industries.
Obama said Russia has failed to cooperate with an investigation into the downed plane and said the latest response by the U.S. represents the "most significant and wide-ranging sanctions to date."
The European Union also announced heightened sanctions against Russia earlier Tuesday.
Putin has been called on by U.S. and European leaders to seek an end to a separatist movement that has turned eastern Ukraine into a war zone, leading to the downing of the commercial airline that killed 298 people as it passed over the Ukrainian-Russian border.
Putin has so far resisted all efforts calling on him to end the violence.
This is the third round of sanctions imposed by the U.S. since Russia began supporting an effort by militant, armed separatists to split the eastern Ukraine off and join Russia.
After issuing sanctions in April against a group of Russian individuals with close political and business ties to President Vladimir Putin, the Obama administration earlier this month enlarged its scope, targeting Russia's biggest oil producer Rosneft, its second-largest gas producer Novatek and its third largest bank Gazprombank.
In each of the cases, the companies target by sanctions are all run by close allies of Putin.
Essentially, the sanctions have attempted to prevent the targeted firms from obtaining medium- and long-term funding in U.S. dollars.
Other Russian companies named so far in the sanctions include Vnesheconombank, VEB, a payment agent for Putin's government, and eight arms firms, including the manufacturer of the Kalashnikov assault rifle, many of which are exported to the U.S.
The sanctions have generally been applauded in Washington, even by Obama's Republican opponents. Although some have called for tougher measures.
Analysts have said the sanctions could backfire on the U.S. and Europe if Russia retaliates by cutting off businesses with targeted U.S. and European firms.