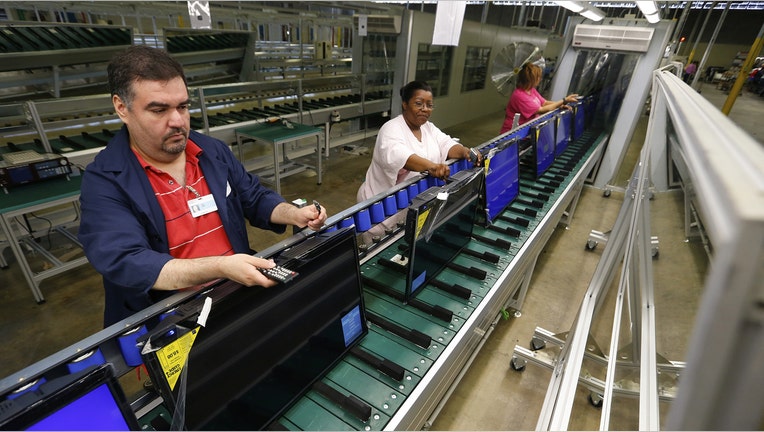 Healthy job and wage growth in November will almost certainly provide the final push the Federal Reserve needs as it mulls an interest rate hike later this month.
The U.S. added 211,000 jobs last month and the headline unemployment rate was 5%, according to figures released Friday by the U.S. Labor Department. Analysts had predicted 200,000 new jobs and that the unemployment rate would hold steady at 5%.
"This report provides the final green light for the Fed to make its interest rate increase in a couple of weeks," said Carl Tannenbaum, chief economist for Northern Trust in Chicago. "It's clear that the momentum in the labor markets has pushed us toward full employment."
Wages rose modestly, but any increase is a victory. Year over year, average hourly wages rose 2.3% in November, a bit less than the prior month's growth.
As has been the case in recent months, much of the focus by analysts and investors has shifted away from the top two headline numbers (job creation and the unemployment rate) in favor of wage growth.
"Wages are a very important contributor to the strength of an economic cycle," Tannenbaum explained. "The more we're paid, the more we spend. Consumption is terribly important for GDP."
Stubbornly weak wage growth has proven a thorn in the Fed's side as it waits for inflation to rise toward its 2% target. The Fed has said it won't raise rates until it is "confident" inflation is moving upward toward its goal.
"The most important number to look at in upcoming employment reports is the year-over-year change in average hourly earnings," said Scott Wren, senior global equity strategist at Wells Fargo Investment Institute, ahead of Friday's job report.
"Understanding where wages are going is key to figuring out where inflation is headed since approximately 70 percent of the cost to produce any good or service consists of worker compensation," Wren added.
The labor force participation rate was essentially unchanged in November at 62.5%, holding near a four-decade low. The rate is a key gauge of the percentage of working-age Americans currently employed and is also coming under close scrutiny as analysts try to determine whether large numbers of workers are still leaving the workforce each month either due to retirement or out of frustration in finding a decent job.
The Labor Department said job gains occurred in several key sectors, including construction, professional and technical services, and health care. Employment in construction rose by 46,000 in November, with much of the increase occurring in residential specialty trade contractors, which bodes well for the bellwether housing sector. Over the past year, construction employment has grown by 259,000, according to the Labor Department.
"It was heartening to see growth in construction and that manufacturing held steady, as these will be key industries to watch not only as bellwethers for overall economic growth, but because both are sensitive to higher interest rates," said Tara Sinclair, chief economist at jobsite Indeed.
Despite strong job growth throughout much of 2015 and a significant decline in the unemployment rate to a seven-and-a-half year low, wages haven't followed suit. Weak wage growth has prevented prices from rising and in turn lifting inflation to the Fed's target.
A surprisingly strong October report had already fueled expectations for a December rate hike. That report got even better on Friday when the number of jobs created was revised upward to 298,000 from 271,000. The September job growth figure was also revised upward by 7,000 to 145,000.
Over the past 3 months, job gains have averaged 218,000 per month, according to the Labor Department.
Fed Chair Janet Yellen on Thursday, referencing the October labor report, said there are "welcome hints" that wages are starting to rise. It may have been her strongest comment yet pointing toward a rate increase at the Fed's Dec. 15 and 16 meeting.
Yellen and her fellow central bankers have said repeatedly the decision to raise rates will be "data dependent." In particular, the Fed has been looking at wage growth. In theory, wages should be moving higher based on simple supply and demand. If more people are working it should be harder for employers to fill positions, forcing them to raise wages to fill empty jobs.
That hasn't been the case throughout much of 2015, however.
An excess of slack in the labor force has maintained a surplus of qualified workers, many of whom are working part-time or temporary jobs. That has allowed employers to dip into that pool to fill positions without having to significantly raise wages.
Yellen, pointing to recent labor market data, has said the numbers suggest that slack is tightening, which will (theoretically) create demand for workers and push wages higher. Once that happens inflation will also start moving higher.
By that time interest rates in all likelihood will also have moved higher.