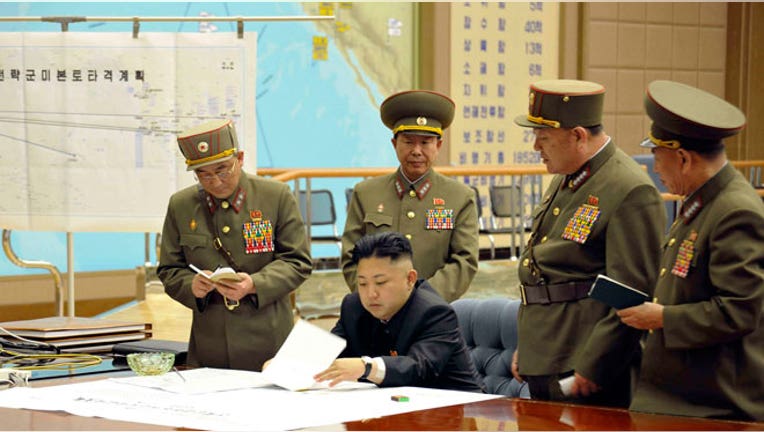 North Korea issued a warning to the United States on Monday that it would make the country "pay" for fresh U.N. sanctions approved following Pyongyang's most recent intercontinental ballistic missile test.
"We will make the U.S. pay by a thousand-fold for all the heinous crimes it commits against the state and people of this country," a statement run by the North's state-run Korean Central News Agency read.
Over the weekend the United Nations Security Council unanimously voted to adopt new sanctions that aim to stifle North Korea's economy, including a ban on coal, iron, lead and other exports. The ban also extends to countries importing the products and is estimated to be worth about $1 billion annually. U.S. ambassador to the U.N., Nikki Haley, called the U.S.-drafted resolution "the single largest economic sanctions package ever leveled against" North Korea.
North Korea's government said the sanctions were a "violent infringement of its sovereignty" that was caused by a "heinous U.S. plot to isolate and stifle" North Korea.
The North said it would take an unspecified "resolute action of justice" and would never place its nuclear program on the negotiating table or "flinch an inch" from its push to strengthen its nuclear deterrence as long as U.S. hostility against North Korea persists.
North Korean Foreign Minister Ri Yong-ho made similar comments during an annual regional security conference in Manila on Monday.
South Korea's government said that North Korea would face stronger sanctions if it doesn't stop its nuclear and missile provocation.
On Sunday, President Donald Trump said via Twitter that he spoke with the president of South Korea who was "impressed" with the sanctions implemented by the U.N.
Just completed call with President Moon of South Korea. Very happy and impressed with 15-0 United Nations vote on North Korea sanctions.

— Donald J. Trump (@realDonaldTrump) August 7, 2017
One country that the national community will be keeping an eye on when it comes to upholding the sanctions is China – North Korea's single most important trading partner. China accounts for an estimated 70% of Pyongyang's total trade, including essential goods and services like food and energy, according to 2016 data from the Congressional Research Service. In 2015 North Korea imported $2.95 billion worth of goods from China, and exported $2.83 billion there, according to data from the Observatory of Economic Complexity.
The Associated Press contributed to this report.