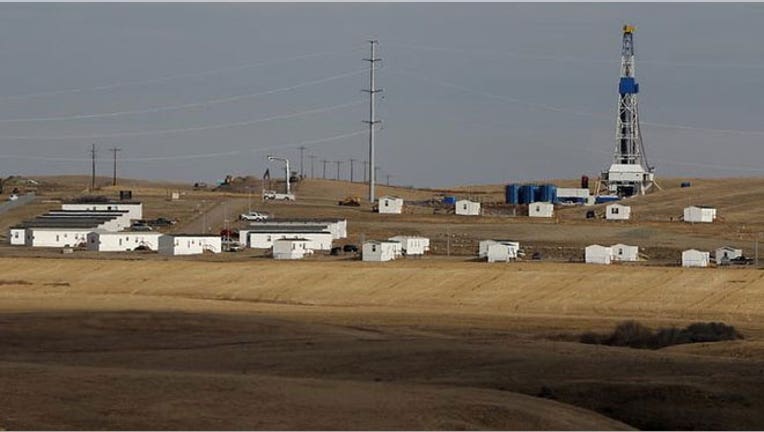 While much of the country crawls, North Dakota is sprinting.
The lowest unemployment rate of any state. The highest rate of population growth. The Roughrider State is far from an afterthought. It's become a destination in recent years as workers seek jobs in the oil industry there.
New technologies and drilling techniques propelled the oil industry—and economic activity—in North Dakota, making it the nation's second-largest producer of crude oil behind Texas.
But despite oil-related prosperity and a strong state-wide economy, North Dakota is trying to catch up to the rapid population and job growth. A lack of available housing and other constraints are weighing on communities that are poised to grow. In time, after continued development and infrastructure improvements, the region is expected to fulfill its economic potential.
"It's like remodeling a kitchen," said Shawn Wenko, assistant director of Williston Economic Development in Williston, N.D. "You're doing dishes in the bathtub and cooking on a hotplate. It's not the most ideal situation, but when we're done, we're going to have a pretty nice kitchen."
America's Oil Frontier
The Bakken formation, a subsurface rock formation that stretches 200,000 square miles within the Williston Basin, lies beneath 12 counties in North Dakota and parts of Montana and Saskatchewan, Canada. It was first discovered on North Dakota land owned by Henry Bakken, a farmer.
Hydraulic fracturing, a drilling technique that emerged in 2008, helped spur the boom in North Dakota's oil production. Fracking, as it's commonly called, is a process that uses pressurized fluid to expand or create conduits through which oil or natural gas can be retrieved from the rock.
North Dakota's Industrial Commission released a study last month that said 95% of drilling in North Dakota targets the Bakken and Three Forks formations, and according to the Energy Information Administration, the Bakken accounts for 90% of North Dakota's oil production. Three Forks runs along the outside of the Bakken shale.
In total, the Industrial Commission estimates 6.5 billion barrels of recoverable oil are available in the Bakken and Three Forks formations. Only 244 million barrels have been recovered so far.
As the oil industry continues to expand in North Dakota, employment and population have grown at an accelerated pace.
North Dakota is far and away leading the other 49 states in net migration, based on July 2012 estimates from the Census Bureau. As of last July, North Dakota's population was 699,628. That reflects a 4% increase in just two years, while the country's population rose 1.7% in the same period.
According to a state study, the western half of North Dakota, where the oil industry is concentrated, is expected to see its population climb 50% over the next two decades.
The Federal Reserve Bank of Minneapolis issued a memo in December that said employment levels increased by more than 60% in the Bakken area's 12 counties since 2009. At the end of 2012, the unemployment rate in the Bakken was a mere 1.8%. Unemployment across the state was just 3.2%.
"North Dakota was the first state to expand job growth from new fracking and horizontal drilling technologies," said economist Dean Bangsund, a research scientist at North Dakota State University's Department of Agribusiness and Applied Economics. "We don't have a lot of other states that have undergone this type of transformation. We're kind of in new territory."
Just the Beginning?
Economic constraints, particularly from the housing market, are holding back employment growth from reaching levels that would normally be expected during a flourishing economy.
"The oil industry expanded employment rapidly, and housing is in short supply," Bangsund said. "Overall permanent employment in the industry will be higher than what we traditionally see in the state. We also expect total regular employment to be sustainable."
Private equity firm KKR (NYSE:KKR), which launched a real estate unit in 2011, acquired land in Williston to develop a housing community for 4,000 people.
Economist Nancy Hodur, an associate research professor at NDSU, said there is a potential for 14,000 total new units in the boomtown.
"Some housing is getting better. Communities are building as fast as they can," Hodur said.
Home builders and the construction industry have run into some roadblocks, including supply constraints for materials like concrete.
"I like to describe it as a fair amount of resistance to allow the economy to expand at a rate it would like to," Bangsund said, explaining that metrics normally show multiple new jobs for every new job in the oil industry. "It will be challenging for the region to grow employment to what the metrics suggest. The region is not adding jobs at nearly the rate that people would have expected outside the oil industry."
Bangsund said the state is in the beginning stages of development that will create jobs related to infrastructure, especially as cities mobilize resources for housing.
North Dakota Governor Jack Dalrymple, a Republican, signed a bill last week that made $720 million immediately available for work on state highways and roads.
TransCanada's (NYSE:TRP) Keystone XL pipeline, which awaits U.S. government approval, would also bring additional jobs to the region. The pipeline would carry crude oil from Alberta, Canada, and from the Bakken shale formation to refineries in the Gulf Coast.
Open for Business
As more people move into the state, demand for businesses and services is growing. But there is a shortage of available workers, and wages have soared. According to the Fed, strong demand for labor drove wages higher across all sectors, particularly in the Bakken where average weekly wages are up 40% since 2009.
Hodur recalled the construction of a new McDonald's (NYSE:MCD) that was forced to delay its opening because it couldn't find enough people to staff the restaurant.
"You can see that in Williston. You're not seeing those businesses yet," Hodur said, referring to the lack of new establishments. "I expect there will be more growth if some housing issues are resolved."
The Fed also noted that the Bakken area is responsible for 53% of the total growth of North Dakota business establishments, and businesses in the Bakken now account for 17% of all businesses in the state.
"It's hard to get a dentist to open a business if he's living in a camper," Bangsund said. "To get someone to come in and work in the service sector, it's hard to compete for housing."
Williston is the center of North Dakota's oil boom. According to Williston Economic Development, the city is the fastest growing micropolitan area in the nation.
Located nearly 70 miles south of the Canadian border and 20 miles east of Montana, Williston is eyeing extensive development in infrastructure, housing and new businesses. The city topped $470 million last year in construction and remodel permit valuations and has added a dozen new hotels since 2010.
Wenko said oil and gas companies are contributing to the area's development.
"Companies don't like to toot their own horn if they're making donations," Wenko said. "It's an ongoing investment, and they understand the importance of a good community."
There is a lot of work to be done, particularly in the housing sector, and Wenko said the Williston area will "eventually get ahead of the game in a couple years." He noted the expansion of Mercy Media Center, expansion plans for the local school district.
"It's funny. We used to be in the business of finding jobs," Wenko added. "Now we're focused on the sustainability of the community, and attracting businesses other than oil and gas. We believe this is a long-term, sustainable thing."
No End in Sight
North Dakota, which has seen its share of oil booms sputter, is hedging its bets against long-term prosperity from the region's oil industry. The state is saving 30% of collected oil and gas taxes in a fund that will remain untouched until 2017, with the fund expected to accrue $3 billion to $4 billion by then.
Calming any concerns of a déjà vu bust is the sheer size and rapid acceleration of this oil boom, as well as North Dakota's strong economy and ongoing development projects in places like Williston.
The Fed's report noted that the current Bakken oil boom is five times larger than one that occurred in the 1980s.
"Even prior to 2009 and 2010, North Dakota had a strong farm economy. Even when the rest of the country tanked, we didn't see that. It's not just the oil patch communities," Hodur said.
"It's not going to go boom and then bust."