Norfolk Southern CEO apologizes for East Palestine, Ohio, train derailment in Senate testimony
Norfolk Southern President and CEO Alan Shaw tells Senate committee that he's 'deeply sorry' for East Palestine, Ohio train derailment
Norfolk Southern President and CEO Alan Shaw apologized before Congress Thursday for the Feb. 3 East Palestine, Ohio, train derailment. 
"I want to begin today by expressing how deeply sorry I am for the impact this derailment has had on the residents of East Palestine and the surrounding communities," Shaw told the U.S. Senate Committee on Environment and Public Works. 
"I am determined to make this right," Shaw continued. "Norfolk Southern will clean the site safely, thoroughly and with urgency. You have my personal commitment. Norfolk Southern will get the job done and help East Palestine thrive at the direction of and in collaboration with the U.S., EPA, state and local agencies."
Shaw said to consider the financial assistance from the railroad operator so far as just a "down payment."
NORFOLK SOUTHERN CONDUCTOR DEAD AFTER TRAIN COLLIDES WITH DUMP TRUCK IN CLEVELAND, OHIO, NTSB INVESTIGATING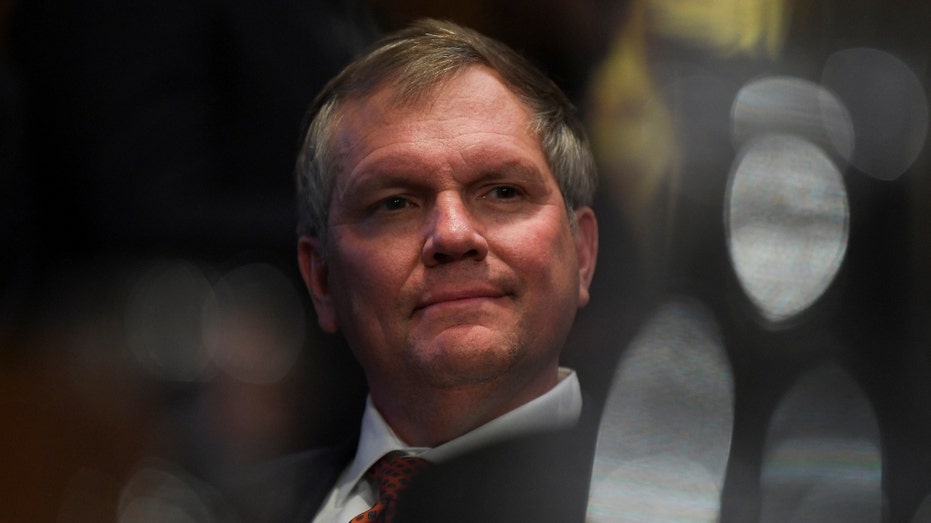 "Financial assistance cannot change what happened, but it is an important part of doing the right thing. To date, we have committed to reimbursements and investments of more than $20 million in total, including by helping more than 4,200 families through our Family Assistance Center located in East Palestine," he added in his written testimony. "Supporting first responders has been a particular area of focus, and our contributions include more than $3 million to assist the East Palestine Fire Department. I would like to express again my profound admiration for the first responders from Ohio, Pennsylvania, and West Virginia who responded to the derailment."
"The preliminary report found that the Norfolk Southern crew was operating the train below the speed limit and in an approved manner," he testified. "Yet it is clear the safety mechanisms in place were not enough. As the NTSB continues its work, we are not waiting to act. Shortly after the derailment, I instructed my team to look at steps we could take to improve safety immediately."
"The events of the last month are not who we are as a company," he said.
ANOTHER OHIO TRAIN DERAILMENT IN SPRINGFIELD INVOLVED NO HAZARDOUS MATERIALS, SPILLAGE, OFFICIALS SAY
NTSB and the Federal Railroad Administration both announced investigations this week into Norfolk Southern's safety culture. The NTSB said it will look into five significant accidents since December 2021.
The committee will also hear from Ohio and Pennsylvania senators — Republican JD Vance and Democrats Sherrod Brown and Bob Casey — who are pushing new safety regulations called the Railway Safety Act of 2023. Other witnesses are U.S. EPA Regional Administrator Debra Shore, Ohio EPA Director Anne Vogel, Ohio River Valley Water Sanitation Commission Executive Director and Chief Engineer Richard Harrison, and Beaver County Department of Emergency Services Director and Chief of Hazardous Materials Response Eric Brewer. 
"I want to hear what did they do wrong, what mistakes did they make," Committee Chairman Sen. Tom Carper said. "There's been a number of criticisms of what they did, and to have him respond to those criticisms on the record."
Carper joined the top Republican on the committee, Sen. Shelley Capito of West Virginia, in a call with reporters on Wednesday to emphasize they would work in bipartisan fashion "to deliver accountability to the communities and folks who have been impacted."
CLICK HERE TO GET THE FOX NEWS APP
Noting that a train had derailed in her home state of West Virginia on Wednesday, Capito cast the hearing as the Senate's first step among several on railway safety and emergency response. The new safety regulations would likely need to be considered in the Senate Committee on Commerce, Science, and Transportation.
The Associated Press contributed to this report.