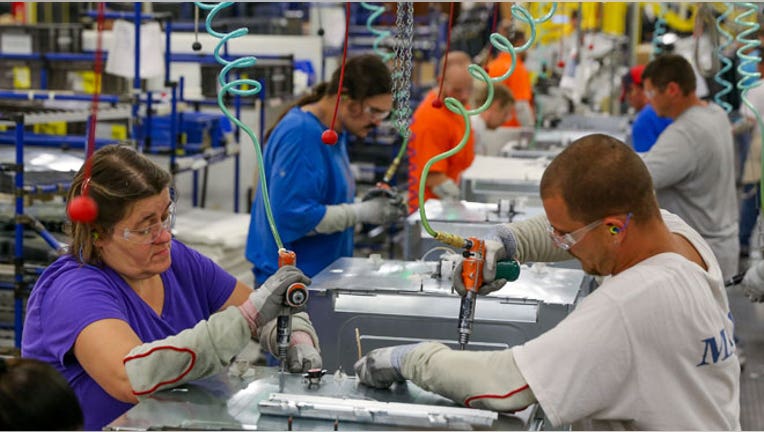 It won't come as a surprise Wednesday when the first-quarter GDP figure is released and the number proves what everyone already knows – the first three months of 2015 were another (minor) setback for the ongoing economic recovery.
It will only be a surprise if the gross domestic product number, which measures the growth rate of the value of all the goods and services produced in the U.S., comes in markedly higher than analysts' low expectations.
Another unusually harsh winter cut into retail sales and home buying, and despite an unexpected drop in gas prices during the winter that put more money in consumers' pockets, many Americans apparently chose to rein in spending during the quarter.
Economists at J.P. Morgan Funds are predicting a first-quarter gross domestic product of 0.9% growth over the fourth quarter of 2014, and that's at the higher end of most forecasts. There's a good chance it could come in below that estimate, and it's not out of the question that it could show a decline in growth just as it did a year ago.
The signs have been on the wall for months. Earlier this year a forecast model from the Federal Reserve of Atlanta suggested the economy was barely growing in the first quarter. The Atlanta Fed's GDPNow model forecast, which is well below most economists' forecasts, showed growth in U.S. gross domestic product was running at 0.2%. The GDPNow calculates the GDP using methods similar to the federal government's Bureau of Economic Analysis.
The latest GDPNow figure is well below the tracking estimates among Wall Street's top banks, whose economists downgraded their earlier first-quarter GDP forecasts in reaction to an array of  disappointing first-quarter data. In recent weeks Goldman Sachs (NYSE:GS) lowered its first-quarter GDP view to 1.8%, J.P. Morgan (NYSE:JPM) cut its outlook to 1.5% and Barclays reduced its forecast to 1.2%.
Seasonal Factors
David Kelly, chief global strategist at J.P. Morgan Funds, noted that if the number comes in as he projected at 0.9% quarter-to-quarter it represents 3.2% growth year-over-year. But that's cold comfort in many respects because GDP actually declined by 2.1% during the first three months of 2014 in the midst of a brutal winter of extreme cold and relentless snow.
Kelly explained that first quarter numbers tend to be negatively impacted by seasonal events, specifically harsh winter weather which keeps consumers indoors and away from malls where they can spend their paychecks. Those numbers are prone to turnaround in the second quarter as consumers get back outside and start spending again.
"As many economists have already pointed out, there appears to be some seasonality remaining in the government's supposedly seasonally-adjusted GDP data, which frequently results in weak first quarters," Kelly said. "In addition, some factors that were a drag in the first quarter, such as unusually harsh winter weather and the West Coast dock strike (which appears to have hurt our exports more than our imports), should set the economy up for stronger growth in the second quarter."
Besides, Kelly believes other economic indicators are currently more indicative of the health of the economy, data that includes consumer confidence, manufacturing activity, continuing unemployment claims and March home and car sales. And he believes those numbers will suggest that the economy will bounce back in the second quarter.