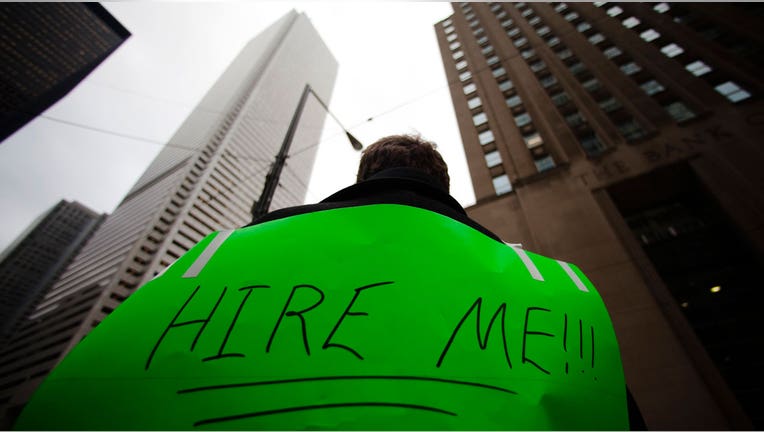 "It's a vicious cycle. The truth of the matter is that it's a national crisis."
John Fugazzie knows of what he speaks. The 58-year-old activist for the unemployed started Neighbors Helping Neighbors in early 2011 in Northern New Jersey as a support group for people who, like him, were out of work.
With President Obama reportedly set to make job creation a centerpiece of his State of the Union address tonight, Fugazzie said a concerted national focus on the plight of America's unemployed is long overdue.
"We're dealing with people you wouldn't normally think are out of work," he said.
People like himself, a small business owner until the recession took that away, and then a manager for 17 months at an A&P grocery store in Montvale, N.J., until he was laid off in October 2012 as part of a company-wide downsizing. He's been out of work and looking ever since.
The president tonight will call on major U.S. corporations to stop discriminating against people like Fugazzie. That is older, highly-qualified workers who have been out of the workforce for long periods of time.
As a category, nearly 4 million strong at last count, they are known as the long-term unemployed – or people who've been unable to find a job for 27 weeks or more – and their stories are as heartbreaking as any to emerge from the ruins of the 2008 financial crisis.
Homes lost to foreclosure, bankruptcies, divorce. These are the all-too-often consequences of an inability to land a full-time job with a decent salary and benefits.
"I've been through the ringer," said Fugazzie.
Earlier this month, Fugazzie traveled to Washington, D.C., with 19 other long-term unemployed workers to meet with Labor Secretary Tom Perez to discuss their plight and brainstorm ideas for solutions.
Fugazzie described the 90-minute meeting as very productive and said Perez seemed genuinely concerned and open to turning suggestions from the participants into policy.
Can You Tell The Long-Term Unemployed from the Employed?
To illustrate his point that members of the long-term unemployed don't fit a stereotypical description of people who are unable to find a job, Fugazzie posted a picture of the participants -- the long-term unemployed as well as Labor Department staffers -- at the meeting on Neighbors Helping Neighbors' Web site. In the caption Fugazzie asked, "Can you identify the long-term unemployed in this picture?"
You can't.
While some issues related to long-term unemployment are systemic – globalization, corporate consolidation – and can't be fixed through a single piece of legislation, other issues aren't as complex.
Take the matter of stiff penalties assessed on those who dip into (or exhaust) their 401(k) retirement accounts as a last resort in order to keep paying the bills and putting food on the table.
Fugazzie believes taxing these people amounts to another form of punishment on top of the frustration and humiliation that comes with not being able to find work and provide for their families.
I came across Fugazzie a week ago when I wrote a column citing an independent study from the National Bureau of Economic Research that suggested extending unemployment benefits is a job killer and thus harmful to out of work Americans in the long-term.
He disagrees with the NBER's findings -- and let me know it.
Transcends Partisan Politics
Congress is currently debating whether to extend unemployment insurance for 1.3 million Americans whose benefits ran out on Dec. 31. Naturally, the debate is split along party lines and the president is expected to make the Democrats' case for extending the benefits in his State of the Union address tonight.
From his perch on the front-lines, Fugazzie says the problem should transcend partisan politics. Naturally, it doesn't. Fugazzie lamented that the Democrats in power are loathe to admit how bad the problem is because they're in charge and don't want to accept the blame, and Republicans don't seem inclined to promote policies that rub their wealthy constituents the wrong way.
There are, he said, too many "clueless politicians who don't understand reality."
Then Fugazzie explained a situation that probably wouldn't occur to the average wealthy member of Congress: when he was last laid off he received $400 a week in unemployment benefits, or about $1,600 a month. Meanwhile, the cost to cover his COBRA healthcare insurance for him and his family came to $1,400 a month. So his family has gone without health insurance.
So the real solution isn't extending unemployment benefits for another three months (although Fugazzie said it would help). The real solution is creating good paying, full-time jobs with solid benefits, and then matching qualified workers, regardless of their age or how long they've been out of work, with those jobs.
"Until we start creating jobs there is going to be severe competition for the few jobs out there," he said. And that creates a reverse trickle down effect in which employers can pay lower wages because people are desperate to find work. Those lower wages translate into less consumer spending which reduces demand across the economy and eventually causes employers to layoff workers.
And the vicious cycle continues.