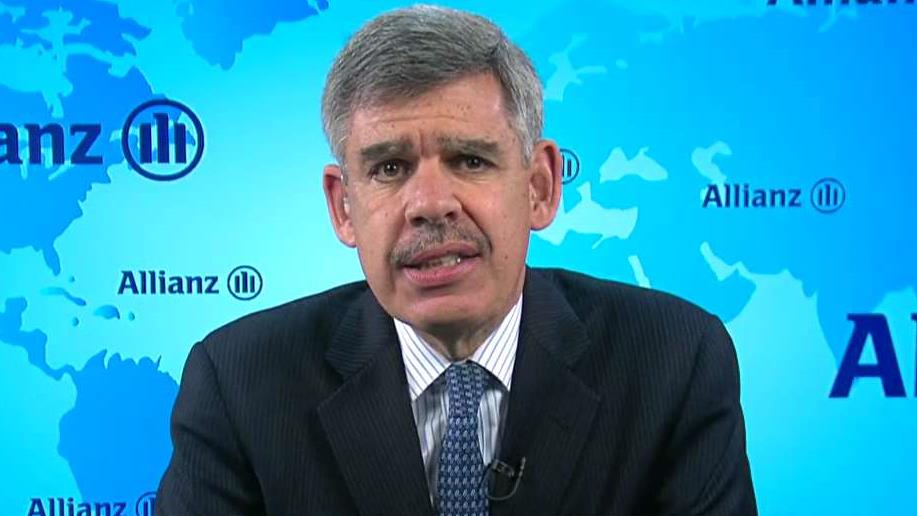 Less than a week into his tenure as president, Donald Trump is already well on his way toward fulfilling his campaign promises, pushing pro-business and pro-growth policies.
Mohamed El-Erian, chief economic adviser at Allianz, believes the new President's policies have fueled the recent market rally which has pushed the Dow Jones Industrial Average above 20000 for the first time ever.
"What keeps this rally and widens it is continuous signals that the Trump administration is moving on deregulation, on tax reform and on infrastructure. And that is the fuel for the rally—it has been and will continue to be," El-Erian told Liz Claman during an interview on FOX Business' "Countdown to the Closing Bell."
Speaking at a GOP retreat in Philadelphia on Thursday, Vice President Mike Pence announced the administration would relax Dodd-Frank's "overbearing mandates." El-Erian believes less regulation in combination with rising interest rates and higher economic growth form a trifecta of "enablers" for big banks.
"This is just going to reinforce the sense that financials are in a much better place than they've been for quite a long time," he said.
However, El-Erian explained he has serious concerns regarding the global economy that could weigh on the U.S.
"What I worry about most right now for markets is that the rest of the world is so behind the U.S.," he said. "The U.S. alone can take the market up to a certain level, but you also need the rest of the world to participate in this new policy pivot. Otherwise, the rest of the world is going to be constrained on how well the U.S. markets can do."