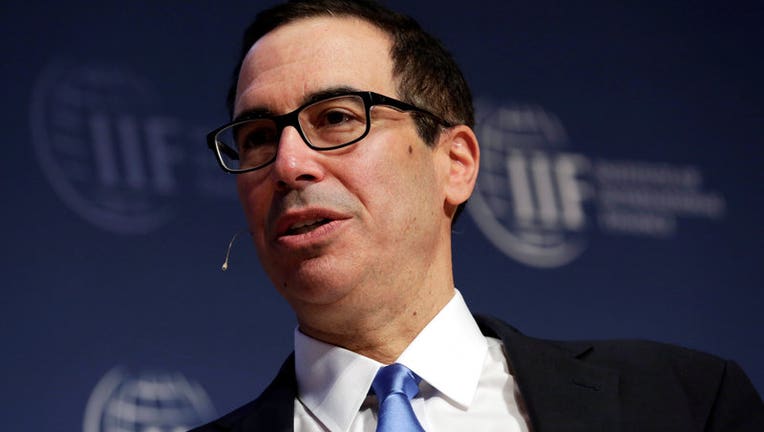 U.S. Treasury Secretary Steven Mnuchin on Wednesday urged Congress to raise the federal debt limit before lawmakers leave Washington for their August recess to avoid higher interest costs to taxpayers and market uncertainty about a potential default.
Mnuchin told a Senate Appropriations subcommittee that maintaining U.S. creditworthiness was of "utmost importance" and that the United States must pay its bills on time.
"As I've suggested in the past, based upon our best estimate at the time, we do have funding through September, but I have urged Congress to take this up before they leave for the recess," Mnuchin said.
The last extension of the federal borrowing limit expired in March with total debt of around $20 trillion, but the Treasury has extended its ability to issue debt by employing extraordinary cash management measures, including deferring reinvestment in federal employee pension funds and suspending sales of savings bonds and debt instruments to state and local governments.
But short-term Treasury bill markets have grown nervous about the potential for the Treasury to exhaust its borrowing capacity by mid-October, spiking yields higher and crushing demand for a recent 3-month bill auction.
More from FOXBusiness.com ...
Mnuchin said that the situation was costing taxpayers money and disrupting markets.
"Right now effectively, as opposed to borrowing in the market at lower rates, we're borrowing and making our trust funds whole at slightly higher rates, so there is a real cost to doing that," Mnuchin said. "There's also an implied cost of uncertainty into the market. And the longer we wait, that more that uncertainty will be."
Senator James Lankford, an Oklahoma Republican, said at the hearing that his best estimate, derived through working with Treasury officials, was that the use of extraordinary measures would amount to about $2.5 billion, largely because the government would have to cover interest owed to the affected pension funds.
Mnuchin did not dispute Lankford's estimate.
Regarding the Trump administration's tax overhaul plans, he said that they would be "sensitive to increasing the debt."
"We are very close to releasing a detailed plan and I can assure you that we believe that that detailed plan will be responsible on the impact on the economy and the cost to the debt," Mnuchin said.
He also said that he placed a "very, very, very high" priority on creating a territorial tax system in which companies' foreign operations pay taxes in the countries where they operate.
The U.S. global tax system has been criticized for encouraging companies to hoard cash overseas and creating incentives for corporate inversion transactions with foreign firms to gain a foreign tax domicile.