Mnuchin Insists Sanctions 'Work' as North Korea Threat Intensifies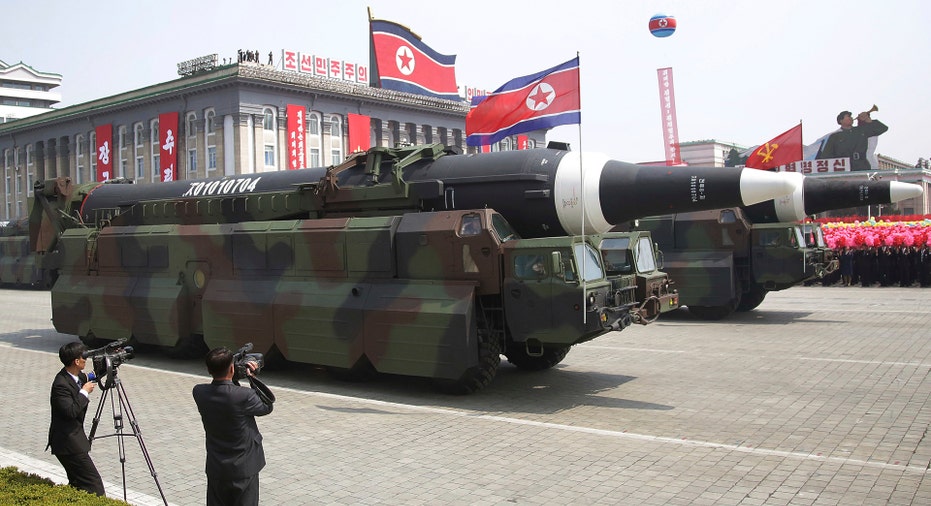 Congress will consider a new bill this week aimed at hitting North Korea's shipping industry with fresh sanctions, as the White House says shutting down the pressing military threat from Pyongyang is a top priority.
"The president is going to do what he has to do … to take [the North Korean] threat down. That is his number one priority right now," White House Press Secretary Sean Spicer said Monday afternoon.
President Trump told Bloomberg News on Monday that he would be willing to meet with leader Kim Jong-un under the "right circumstances," despite heightening international tensions.
Meanwhile, Treasury Secretary Steven Mnuchin said Monday the administration is keeping a close eye on its fiscal policies regarding North Korea, during an interview with FOX Business.
"We have put sanctions on North Korea, we will continue to look at this … the sanctions programs are very important to our national security," Mnuchin said.
Mnuchin's comments came as North Korea hinted Monday that it would continue to advance its nuclear program, after conducting another failed missile launch Saturday, despite growing global opposition and intimidations. Some foreign policy experts are concerned sanctions will not prove sufficient to deter Pyongyang from continuing its quest for nuclear weapons.
"North Korea already is one of the most heavily sanctioned countries in the world. Tighter, tougher sanctions are a necessary part of the mix of tools the U.S. should employ, but of themselves they have proven to be insufficient to change North Korea's calculus," Stephen Yates, professor of international business and politics at Boise State University and former deputy national security advisor to Vice President Dick Cheney, told FOX Business.
While multiple administration officials have insisted all options are still on the table when it comes to thwarting North Korea's nuclear power grab, Mnuchin hinted the administration is focused first on working toward a peaceful resolution. Amid criticism over the effectiveness of financial penalties, he said U.S. sanctions programs "work."
"[When the U.S. implements sanctions] we are cutting them off from the U.S. financial system and we are encouraging our partners around the world to do the same thing," he said.
Trump has looked to China, North Korea's single most important trading partner, to help put pressure on Kim Jong-un. China accounts for an estimated 70% of Pyongyang's total trade, including essential goods and services like food and energy, according to 2016 data from the Congressional Research Service. In 2015 North Korea imported $2.95 billion worth of goods from China, and exported $2.83 billion there, according to data from the Observatory of Economic Complexity.
If China fails to aid the U.S. in its efforts against North Korea, Yates said the most effective way to diffuse the situation would be to enact sanctions against China.
"The more effective course of action is to impose sanctions on third party enablers of North Korea's weapons and illicit finances, especially China. Not risk free, precedent exists demonstrating that it can work," Yates said.
In a tweet, President Trump framed North Korea's failed nuclear launch Saturday as a direct offense against China.
North Korea disrespected the wishes of China & its highly respected President when it launched, though unsuccessfully, a missile today. Bad!

— Donald J. Trump (@realDonaldTrump) April 28, 2017