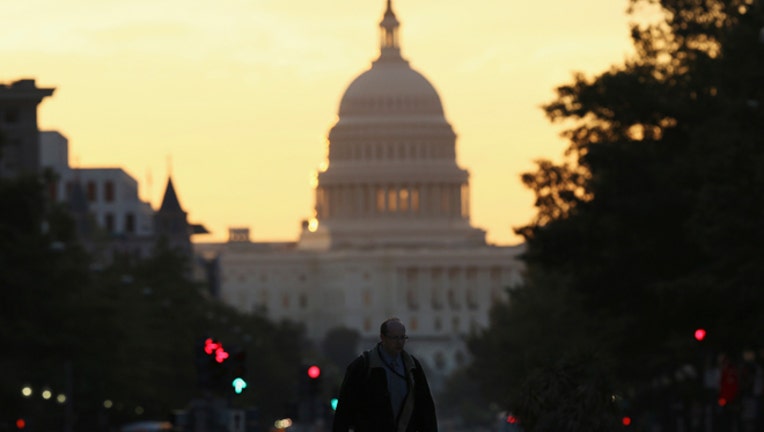 There could be a glimmer of hope on Capitol Hill after a turbulent day of non-starters and failed negotiations to raise the nation's borrowing limit.
After talks broke down in the Senate and progress seemed to be all but gone, the House of Representatives will bring a new plan to the floor for a vote Tuesday night.
The plan funds the government through December 15 – reversing the partial government shutdown now in its fifteenth day. The proposal would also raise the debt ceiling until February 7 and eliminate the Treasury Department's ability to enact extraordinary measures in the future. It also includes a provision to tack on the Vitter amendment, which mandates all Congress members, their staffs, administration officials, cabinet members, and their staffs will be included in the Affordable Care Act without federal subsidies or waivers.
A previous effort to include income verification has been pulled out of the proposal. This House proposal also does not include any medical device tax repeal provision – something that had been a sticking point among Democrats.
Meanwhile, talks between Senate Majority Leader Harry Reid and Minority Leader Mitch McConnell were on hold as the two leaders watched action in the House. Wall Street fluctuated as traders parsed through headlines from the Capitol. The Dow Jones Industrial Average fell more than 120 points at session lows, before bouncing back, and then dropping down sharply again.
Theoretically, the Senate could take another House-originated bill, strip it, and drop details of a tentative agreement between Senate leaders, but it has the potential to be subjected to two filibusters and the Democratic aide told FOX News "we aren't going to get it done by the deadline," if that happens.
Congress has fewer than 48 hours to outline, propose, and pass through both chambers and the president a deal to avert a debt ceiling breach Thursday.
What Exactly Happens on the 17th?
The October 17 deadline is the Treasury Department's self-imposed, drop-dead date for running out of "extraordinary measures" it has used for the past several weeks to allow the government to continue to pay its bills. However, as Treasury Secretary Jack Lew has reiterated time and again, on Thursday, those measures will be exhausted, and Treasury will have only $30 billion cash on-hand to allocate to its obligations. At that point, Lew warns failure to pay any legally obligated bill on time – not just debt payments – will result in a higher risk for default, and consequently a potential downgrade from ratings services like Standard and Poor's, Moody's, and Fitch.
In 2011, when the threat of default was present and Congress was up against a very similar deadline with the debt ceiling, the Dow plummeted 600 points in just one session on the heels of a credit downgrade from S&P from a platinum 'AAA' to 'AA+'.
Analysts worry a similar event could happen if S&P or other ratings services decide to downgrade its outlook on U.S. debt before or after the mid-week deadline approaches.
How is Wall Street Reacting?
Despite the looming, and increasingly likely, threat of missing Thursday's deadline, Wall Street remains optimistic. U.S. equity markets were flat to slightly lower in afternoon trading.
Societe General's Alvin Tan said the focus Tuesday remains largely on the Senate, and the outlook seems positive.
"The calculation is that a Senate fiscal deal that passes with strong support by Senate Republicans would permit the House Republican leadership to put the bill to a vote in the House of Representatives, where it would be passed by solid Democratic support with some Republican assistance," he wrote in a note to clients Tuesday.
Similarly, Nomura U.S. chief economist Lewis Alexander noted Tuesday the talks among Senate leaders Reid and Minority Leader Mitch McConnell were cordial and interpreted as positive at the end of the day, but said that House Speaker John Boehner was not included in the talks does not bode well for the passage of any legislation in the House. Additionally, he said the short-term nature of the bill and the possibility for more fiscal uncertainty as a headwind for growth outlook are also major concerns coming out of Monday's discussions into Tuesday.
Barclays remains optimistic about some kind of grand solution to the problem. In a note to clients Tuesday, Barry Knapp, head of U.S. equity strategy at the bank said the sand hasn't run out yet.
"We expect an increase in the debt ceiling and a continuing resolution combined with a House/Senate conference (don't call it a super committee) that is long enough to give the FOMC a reason to pass on restarting the reduction of asset purchases in October, thereby reducing the probability of December  taper," he wrote.
But not everyone on the Street believes s policymakers can put differences and desires aside ahead of Thursday's deadline. In a note to clients Monday, Goldman Sachs said if the House is eventually forced to take up and pass a Senate measure,  it's unlikely they'll be left holding an empty bag when time runs out – so they'll pass it. But that's not the be-all, end-all. The bank still ssees another possible outcome growing increasingly likely.
"There is still a chance Congress will manage to get the debt limit raised by October 17, but a resolution later this week or even this coming weekend also appears possible…Congress needs to raise the debt limit by October 17 to avoid disruptions, but missing the deadline by a few days would probably be manageable," the bank noted.
Potomac Research Group's chief economist, Greg Valliere said the October 17 deadline is looking increasingly likely to slip, and even if a deal is done in time, the nation still faces another fiscal crisis in the not-so-distant future.
"The pivotal event in the next 48 hours will be in the House, where Boehner faces the biggest decision of his career.  But even if a deal is done by late this week, another shutdown crisis will loom on Jan. 15, with a new debt ceiling deadline on Feb. 7," he said.