Michelle Obama: We Will Always Have Your Back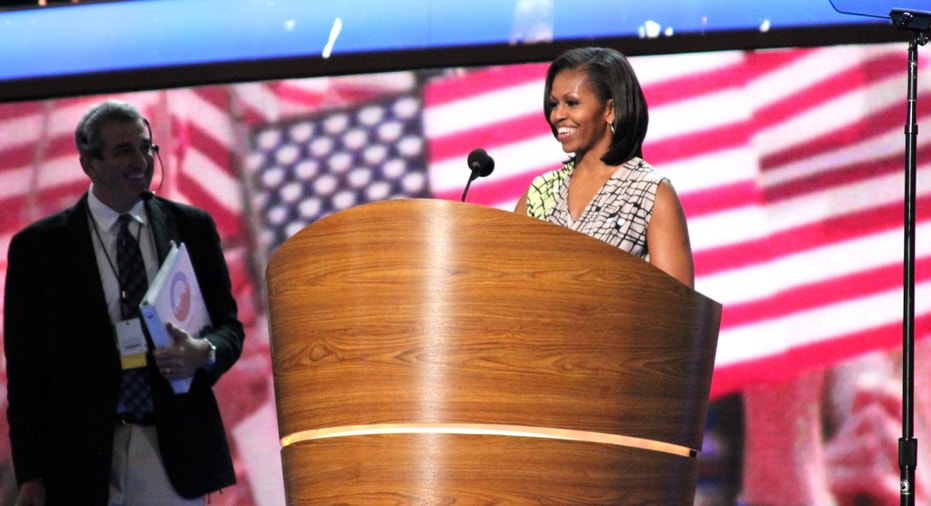 To an enthusiastic crowd chanting "four more years," First Lady Michelle Obama took the stage Tuesday night at the Democratic National Convention to explain why her husband, President Barack Obama, deserves a second term in office.
During her half hour speech, the first lady didn't lay out economic policy or talk about the challenges facing politicians in Washington. Rather, she described her husband on a more personal level, defining the first family's values.
Using personal stories, Michelle related the president to the average American, telling the crowd he understands the struggles facing the nation today, and given another term, he'll do all he can to restore confidence and prosperity to America.
"These issues aren't political, they're personal because Barack knows what it means when a family struggles, what it means to provide for your children and grandkids, he knows because he's lived it. He wants everyone to have the same opportunity no matter where we come from, what we look like, or who we love," Michelle said.
More than just anecdotal evidence, the first lady reminded Americans of the successes the president has enjoyed as commander-in-chief. Citing middle class tax cuts, job creation, and bringing the economy "back from the brink of collapse."
But Michelle didn't forget what could perhaps be considered a hallmark of her husband's presidency -- health care reform – saying the president didn't care about doing what was easy, but rather what he felt was right.
"He did it because grandparents should afford medicine, kids should see a doctor when they're sick, and no one should go broke because of an accident or illness. We're capable of making our own choices about our bodies and our health care. That's what my husband stands for," she said.
The first lady delivered a message of American values to the Charlotte, North Carolina crowd. Describing the struggles she and her husband faced as newlyweds and college graduates,  she said, "Even if you don't start out with much, if you do what you're supposed to do, you should be able to build a decent life for your children and grandkids…Helping others means more than just getting ahead yourself."
She continued,  telling the crowd, while making the right political decisions is the president's focus, the American people can be sure he's making those choices with their interests in mind.
"As president, you're going to get advice from all kinds of people but when it comes down to it, what you have to guide it are your own experiences," she said.